There are all kinds of streaming music services in the market, among which Spotify and Apple Music are the most popular ones, and recently Google is looking to dismantle the Spotify-Apple domination in music distribution.
Google unveiled a new music subscription service, named YouTube Music, on Tuesday. It is reported that its function is basically the same as Spotify and Apple Music, which undoubtedly makes a competition stir. How can we choose the best streaming music service? This article is going to share the similarities and differences among YouTube Music, Spotify and Apple Music for your reference.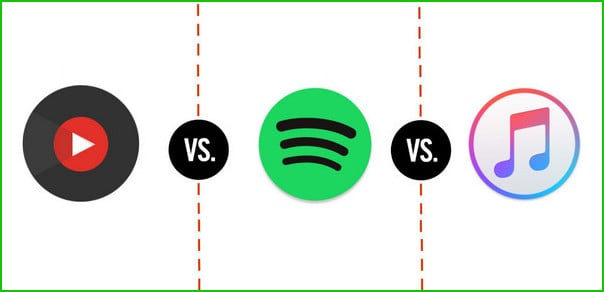 1. YouTube Music
The YouTube Music app was released in 2015 but didn't turn out to be a successfully one. On May 17, 2018, YouTube announced a new version of the YouTube Music app, which will include a desktop player and redesigned mobile app, more dynamic recommendations based on various factors, and use of Google artificial intelligence technology to search songs based on lyrics and descriptions.
YouTube Music is going to be an independent subscription service, offering ad-free audio-only / background streaming, and downloading for offline playback. The service's benefits will continue to be available as part of the existing YouTube Premium (formerly YouTube Red) service and Google Play Music subscribers.
The YouTube Music subscription charged at $9.99 per month while the price of YouTube Premium will concurrently increase $2 to $11.99 for new subscribers.
2. Spotify
Spotify is the largest subscription music streaming service with 220 million subscribers and 551 million users. With Spotify, you can select playlists from 100 million songs, select artist radios to listen to your favorites, or discover the latest music through Discover Weekly.
Spotify provides three tiers of subscriptions: Spotify Free, Spotify Premium ($9.99/ month) and Spotify Family ($14.99/month). Spotify Free users are able to randomly listen to unlimited ad-supported songs with limitations of skips and no access to offline listening mode while Spotify Premium subscribers have access to ad-free high-quality songs with unlimited skips and offline listening mode as well.
For Spotify Family users, the family account can be used with up to five members. And specially, Spotify offers discount price for students at $4.99 per month.
3. Apple Music
Apple Music is born from iTunes, providing the audience with 100 million high-quality music.
In terms of pricing, Apple Music offers three months of free trial for its subscribers on iPhone, iPad, Mac or PC. After then subscribers will be charged $9.99 per month by default if the subscription service is not cancelled, and accordingly they are able to get unlimited ad-free music up to 100 million songs, download 100,000 songs as well as listen to Beats 1 Radio.
Besides, it also offers Family subscription ($14.99 per month) and Student discounts ($4.99 per month). With Apple Music, you can also link your songs to other Apple products, such as iPhone, iPad as well as the new HomePod.
YouTube Music vs. Spotify vs. Apple Music
The subscription fees for each of the service mentioned above are about the same, at about $10 / month . But they differ from each other in many ways, such as popularity, music library, the recommendation part we are going to introduce, etc.
1. For Popularity:
Spotify is the current leader in music streaming services, with 551 million monthly users and 220 million paid users, followed by Apple's Apple Music, with about 98 million users, most of whom are paid users. And the newly-released YouTube Music is still to be seen whether it can surpass its strong competitors with a large user base.
2. For Music Library:
Due to the history of Apple Inc. and iTunes, Apple Music offers more songs (about 100 million) than Spotify (about 100 million). And YouTube, the world's largest and most popular video site also provides unbeatable music selection.
3. For Recommendations:
Spotify provides a lot of useful tools for finding new songs to suit your individual taste, among which, Discover Weekly, added to your feed every Monday morning, delivering a two-hour playlist of personalized music recommendations based on your listening habits, as well as the habits of those who listen to similar artists, in particular deserves high praise in the streaming world and provides fantastic opportunities for subscribers to follow new music.
As for Apple Music, upon creating an account, users are prompted to select some of their favorite artists so the service can get a sense of their tastes. The interface for this is a digital ball pit, each ball representing an artist, with users tapping particular balls to indicate artists they like or love.
However, it seems that YouTube Music, positioned to be a more direct competitor to Spotify and Apple Music, will make the best recommendations because it has been following your YouTube viewing history and Google searches.
In conclusion, if you refuse to pay for music, Spotify is the best choice. If you want to have access to more songs, Apple Music is the perfect one, and if you need the best recommendations with no idea what to listen to, YouTube Music may be your first choice.
Extra Tips You May Need
As we all know, all the songs on any streaming music service are in certain kind of encoded format, for which we are limited to listen to the music with the App and unable to download the songs to our local computer. What if we need to play the songs with other media player, transfer them to USB, import them to dj software, or just want to keep them forever for offline listening? Here are the articles that we collected for you:
1. How to Convert Apple Music to MP3 format?
https://www.noteburner.com/spotify-music-tips/convert-spotify-music-to-mp3.html
2. How to Download Music from Spotify Music with Spotify Free/Premium?
https://www.noteburner.com/spotify-music-tips/download-spotify-music-without-premium.html
3. How to Transfer Apple Music / Spotify Music to USB?
https://www.noteburner.com/apple-music-tips/transfer-apple-music-to-usb.html
https://www.noteburner.com/spotify-music-tips/transfer-spotify-music-to-usb.html
4. How to Download Music from YouTube?
https://www.any-video-converter.com/how-to-download-music-from-youtube.php
Choose the best streaming music service and enjoy them freely right now!