Are you a concerned pet owner who worries about leaving your furry companion alone at home? Well, worry no more! Spotify has introduced an innovative feature that combines our love for music with quality time spent with our pets. In this article, we will guide you through the process of creating, obtaining, and downloading your very own Spotify Pet Playlist. With Spotify's pet-friendly playlists, you can curate the perfect soundtrack for your pet's day, ensuring they have a paws-itively enjoyable experience.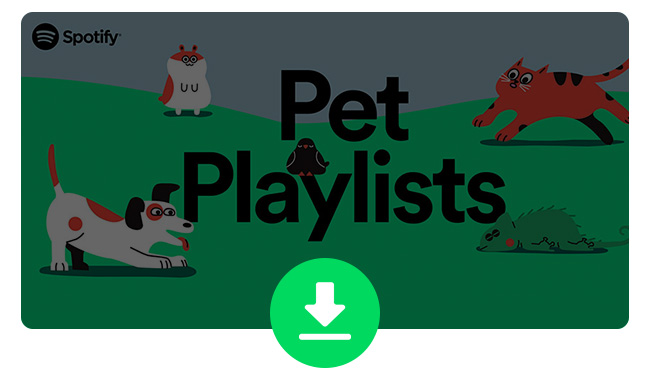 What is a Pet Playlist?
A pet playlist is a collection of songs specifically chosen to entertain and calm pets, particularly cats and dogs. These playlists are carefully curated to create a soothing and relaxing environment for animals, featuring gentle melodies, calming rhythms, and even nature-inspired sounds.
The main purpose of a pet playlist is to help alleviate stress, anxiety, or boredom in pets, especially when they are alone or separated from their owners. Although the effectiveness of pet playlists can vary from pet to pet, they serve as a valuable tool to enhance their overall well-being and provide them with a pleasant auditory experience. In simpler terms, pet playlists are like musical companions that help keep our furry friends happy and relaxed when we're not around.
How to Make a Pet Playlist on Spotify?
Making a pet playlist on Spotify is a fun way to personalize your pet's music experience. Whether you have a dog, cat, bird, or any pet, you can create a playlist that matches their personality and energy. Now, Spotify offers two methods: using their Pet Playlists feature or manually selecting songs. We'll explain both methods so you can easily create a pet playlist that keeps your pet happy and relaxed. Let's get started!
Method 1: Using Spotify's Pet Playlists Feature
Step 1 Head over to pets.byspotify.com and log into your Spotify account.
Step 2 Select your pet: On the Pets homepage, choose the type of pet you have (e.g., dog, cat, bird).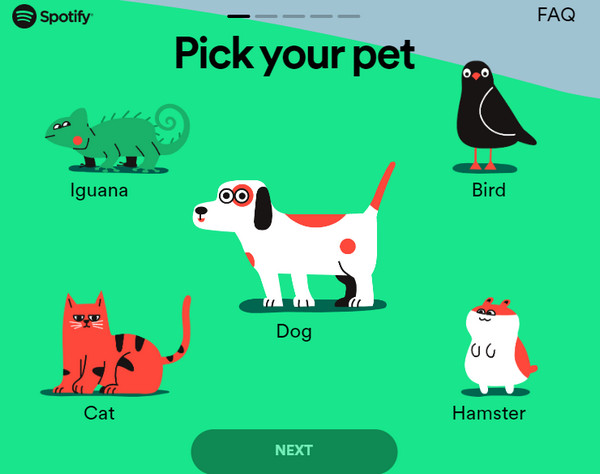 Step 3 Answer a few questions: Spotify will ask you a series of simple questions about your pet's personality and energy level. Pick or adjust the requested information to help tailor the playlist to your pet.

Step 4 After answering the questions, you need to input your pet's name and upload a picture of your pet.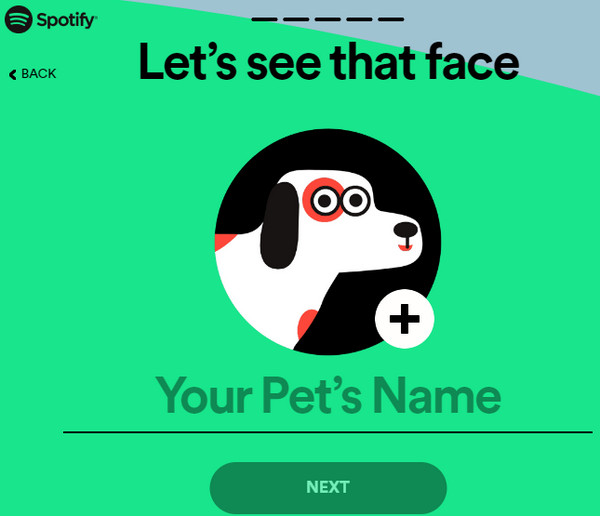 Step 5 Generate the playlist: Spotify will generate a personalized playlist specifically designed for your pet.
Step 6 Access and play the playlist: you can directly click the "Listen Now" button on your browser, or open the Spotify app or website, go to your playlists, and locate the pet playlist you created. Click on it to start playing the songs for your pet.
Method 2: Using Manual Selection Method
Step 1 Open the Spotify app, or Spotify web player and log in to your account.
Step 2 Create a new playlist by clicking on the "New Playlist" button. Give your playlist a name that reflects its purpose, such as "Pet Playlist" or "Music for My Pet."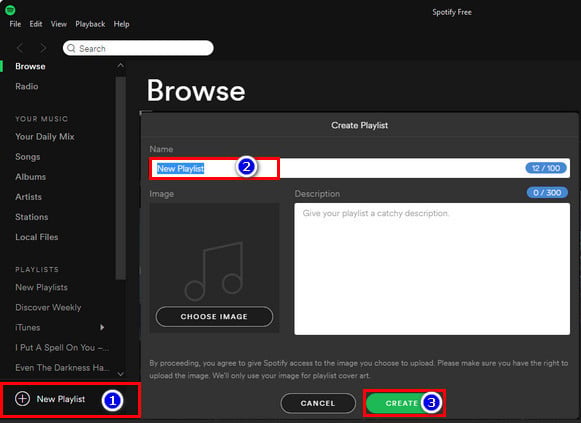 Step 3 Start adding songs to the playlist by searching for tracks that you think your pet might enjoy. Consider choosing songs with calming melodies and gentle rhythms.
Step 4 Once you have added enough songs to the playlist, rearrange them to create a cohesive flow of music.
How to Download & Get a Pet Playlist from Spotify?
Downloading Spotify pet playlists for offline access provides pet owners with convenience and flexibility. It allows them to enjoy the curated playlist even in areas with limited or no internet connectivity. Whether on a road trip, hiking adventure, or relaxing in a remote location, having the pet playlist downloaded ensures that the calming and soothing music is always accessible to create a peaceful environment for their furry friends. However, it's important to note that currently, downloading Spotify playlists is only available for Premium users, and there is no option to download with a Spotify Free account. To overcome this limitation, using tools like NoteBurner Spotify Music Converter is recommended.
Tool Required: NoteBurner Spotify Pet Playlist to MP3 Converter
NoteBurner Spotify Music Converter, also called NoteBurner Spotify Music to MP3 Downloader, is one of the most professional tools to download your tracks and playlists from Spotify to MP3 format on a PC or Mac computer. With this smart tool, both Spotify Free and Premium users can download pet playlists from Spotify in plain MP3, AAC, FLAC, AIFF, WAV, or ALAC format which can be used on any popular device and player freely.
In addition, you'll get the audio files with the same quality as you heard on Spotify and also keep the ID3 tags and metadata.
Features of NoteBurner Spotify Podcast Converter:
Convert Spotify music to MP3, AAC, WAV, AIFF, FLAC, and ALAC;
Up to 10X faster conversion speed;
Record songs at a faster speed with 100% lossless quality kept;
Keep ID3 tags & lyric after conversion;
Burn Spotify music to CD easily.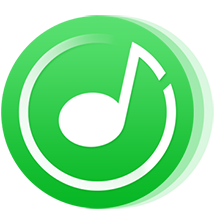 The following is a detailed tutorial about how to use NoteBurner Spotify Music Converter to download a pet playlist from Spotify to MP3 on your computer. Please download this tool on your computer first before getting started.
Tips: NoteBurner Spotify Music Converter supports both Windows and Mac OS.
Step 1:

Run NoteBurner Spotify Music Converter

Launch NoteBurner Spotify Music Converter. Then it's suggsted to choose to download songs from "Spotify App".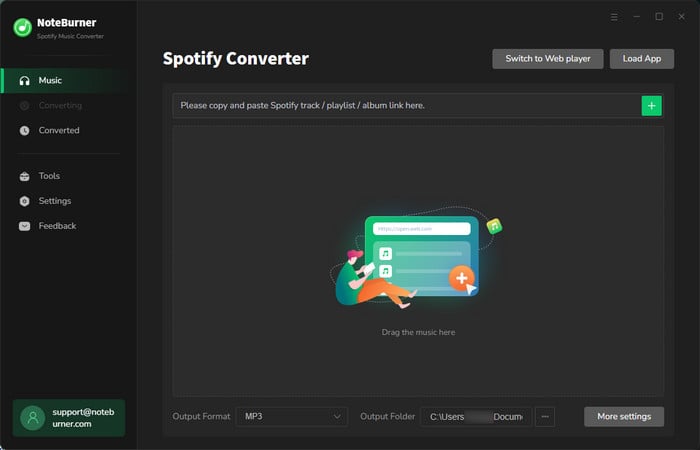 ---
Step 2:

Choose MP3 Format and Customize Other Settings

Directly click the Settings button in the bottom left corner to adjust some output parameters. You can choose output format (MP3, AAC, FLAC, AIFF, WAV, or ALAC), output quality (320kbps, 256kbps, 192kbps, 128kbps), and also change the output folder here as you prefer.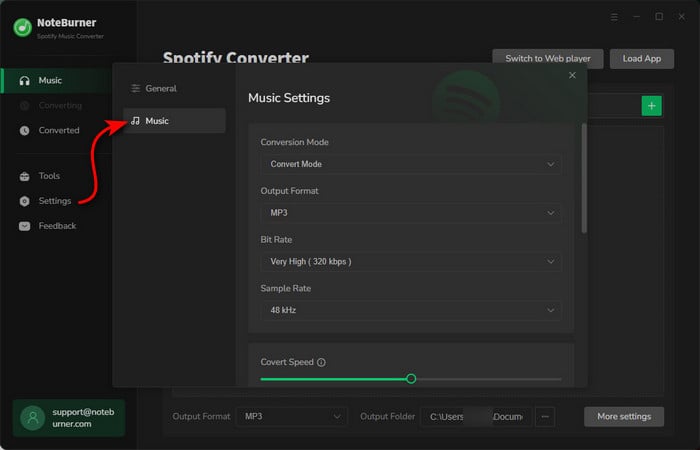 ---
Step 3:

Add a pet playlist from Spotify to NoteBurner

You can drag and drop a pet playlist from your Spotify App to NoteBurner. Or copy and paste the playlist link to NoteBurner. Then choose the tracks you would like to convert, and click "Add".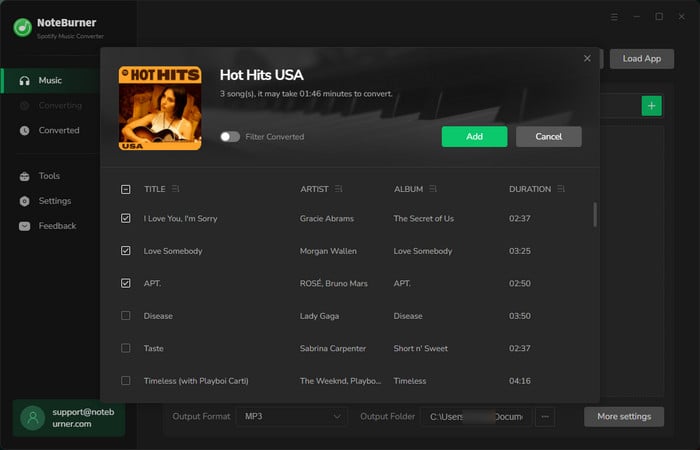 ---
Step 4:

Start Downloading the pet playlist from Spotify

After customization, click the "Convert" button to start conversion. After conversion, you can find the converted Spotify songs by clicking the "Converted" button.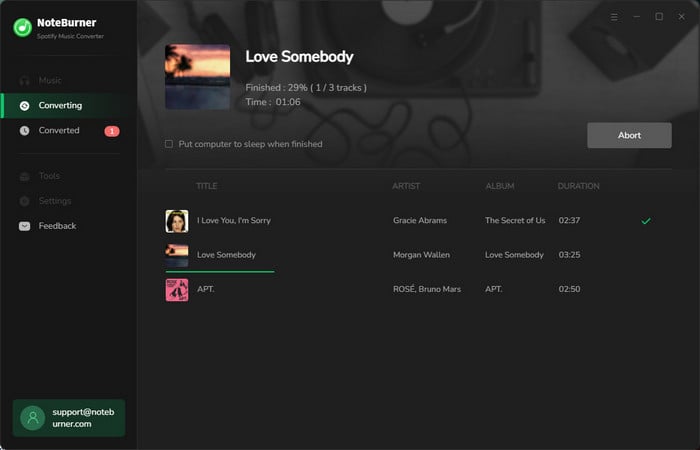 Now the Spotify pet playlist is downloaded from your Spotify to your computer, you can directly play the playlist for your pet or transfer them to your MP3 player for playback, letting them enjoy a soothing and tailored musical experience.
Conclusion
Spotify's pet playlists have transformed how we care for our pets. They offer custom music with soothing melodies and calming rhythms that make our furry friends happier. Whether we use Spotify's Pet Playlists or make our own, creating a personalized music experience for our pets is enjoyable and rewarding. We can even download the pet playlists in MP3 format for freely playing with tools like NoteBurner Spotify Music Converter. These playlists create a peaceful and comforting atmosphere for our pets, reducing their stress and keeping them entertained. Whether you're a concerned pet owner or just want to provide extra comfort, Spotify's pet playlists are a fantastic way to make your pet's alone time more enjoyable.
Note: The free trial version of NoteBurner Spotify Music Converter allows you to convert the first 1 minute of each audio. You can buy the full version to unlock this limitation.