10 Ways to Fix Spotify Keeps Pausing Issue
If you're a Spotify user, you may have encountered the frustrating problem of music pausing unexpectedly. This issue can arise from a variety of sources, from a poor internet connection to outdated app settings. However, there are several approaches you can take to fix this problem and enjoy your music without interruptions. Read on and get to know more about this.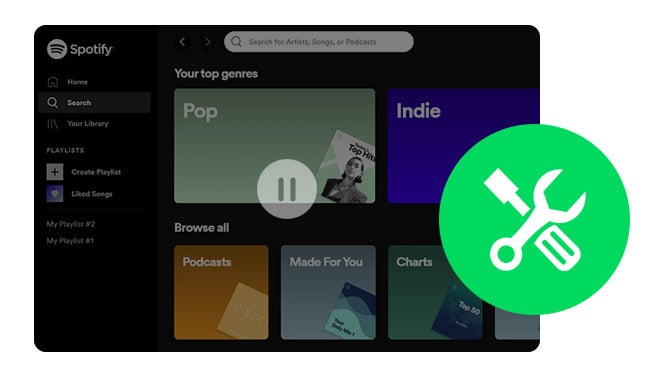 Part 1. Why Did Spotify Keep Pausing?
Several users reported that the Spotify music streaming service's playback was being interrupted frequently, even though they have paid for the Premium subscription. This issue has been a source of frustration and why would this happen? Here're some of the most possibilities:
1. Unstable Internet - Spotify may pause and buffer when it detects an unstable WiFi network connection to avoid audio distortion. Also, if you find yourself in an area with low cellular coverage, this could be the root cause of your Spotify pausing.
2. Multiple Devices Logged In - When you forget to log out of your Spotify account on a different device, or a family member or friend unknowingly accesses and listens to music on your account, it could cause unexpected pauses during playback.
3. Unstable Bluetooth Connection - Bluetooth connection between your headphones (or iPod) and your mobile device might be interfered with by Wi-Fi, microwave ovens, or even physical obstructions. In such a case, your Spotify will keep stopping.
4. Overmuch Cache files - Spotify usually saves data as cache files, which include passwords, downloads, searches, and more. This can become corrupted when left unchecked for extended periods of time and ultimately contribute to app crashes or malfunctioning.
5. Outdated Spotify Version - Those who haven't regularly updated their Spotify version may encounter frustrating issues, like the music pausing.
Part 2. How to Fix Spotify Keeps Stopping?
If you're a devoted Spotify user, you may have noticed that your music pauses unexpectedly at times. However, fret not, as there are some troubleshooting solutions listed below and they can help you resolve easily.
2.1 Refresh Internet Connection
Try to turn off and turn on the internet connection on your device, or switch from WiFi to your cellular network (or vice versa). This straightforward troubleshoot may be the solution to Spotify keeps stopping playing problem.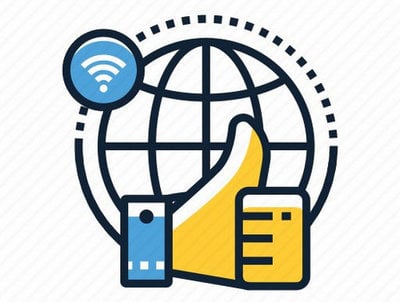 2.2 Turn Off Data Saver Mode
This Spotify track pausing during playback issue can often be caused by the Data Saver feature on your phone, which is designed to conserve your mobile data usage. If that's the case, try going to "Settings" and then "Data Saver", and turn it off.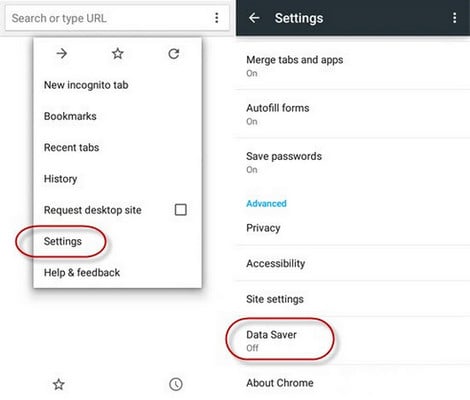 2.3 Turn Off Low Power Mode
Some Spotify users found that Low Power Mode can cause some playback issues, including constant disruption. Head to your Battery option on mobile settings, find out the Low Power Mode, and turn it off for a try.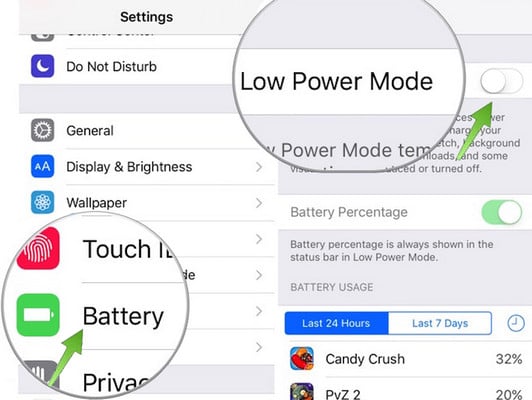 2.4 Sign Out of All Devices
One of the most common reasons for this pesky playback-stopping problem on Spotify is multiple devices being logged into your account simultaneously. When someone else hits play on their device, your playback will come to an abrupt halt.
Luckily, resolving this issue is as straightforward as logging out of all your connected devices. Just head to your Spotify account page online, sign in, and click "Sign out everywhere". By doing so, you can get back to your music control back. Also, it's suggested to change your Spotify password by the way.

2.5 Download Your Music Again
When downloading Spotify songs and being interrupted for some reason, this could lead to corrupt files and playback pausing issues. Go to Spotify Library, and click the "Download" icon again to re-download your Spotify music offline.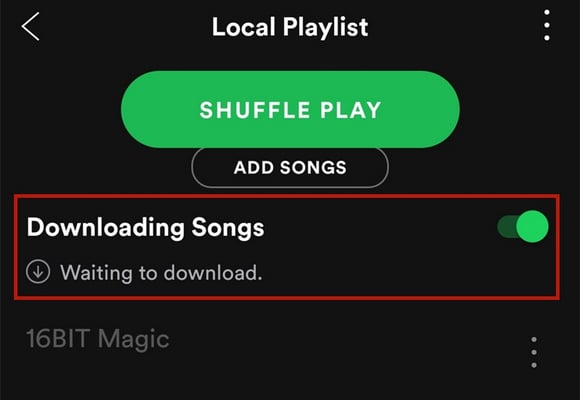 2.6 Check Headphone Connection
If you use headphones (iPod) to stream Spotify, but face problems such as frozen tracks or disruptions, this may be caused by your headphone itself.
For wired headphones, it's worth checking whether any damage has been done to the cable or audio jack. If so, reach out to the manufacturer for assistance.
When it comes to wireless headphones, Bluetooth connectivity can sometimes be disrupted by other devices or signals. Just try to ensure that your headphones and device are kept close to each other, avoid interference, and even turn off other electronics in the area.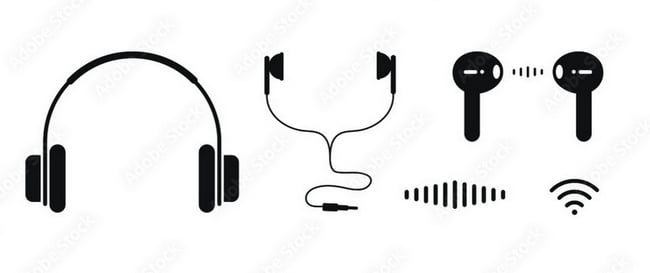 2.7 Disconnect with Third-Party App
The frequent interruptions while using Spotify may be due to a third-party app connected to your Spotify account. Specifically, apps like Discord have been known to cause such a problem. And this is also due to Spotify's terms of service. Now, try to disconnect the connection between Discord and Spotify.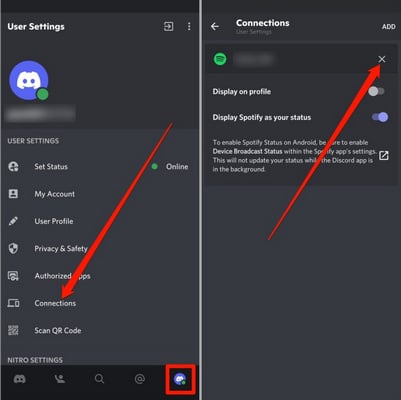 2.8 Clear Spotify Cache
A high volume accumulation of Spotify data on your device's memory can break and lead to unexpected interruptions during streaming. Fortunately, the solution can be simple and quick: clearing the cache.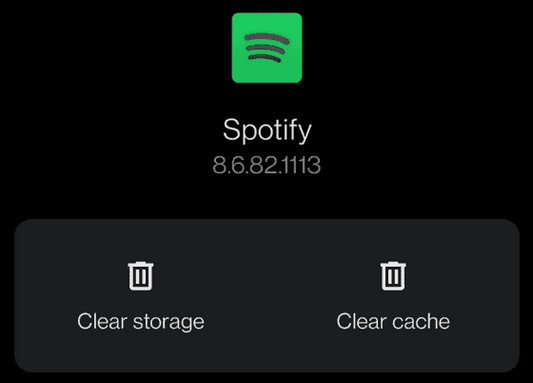 2.9 Restart the Spotify App or Your Device
Restart either the Spotify app or the device itself. By doing so, you can refresh the system and clear up any memory or processing issues, allowing you to resume your music streaming without interruption.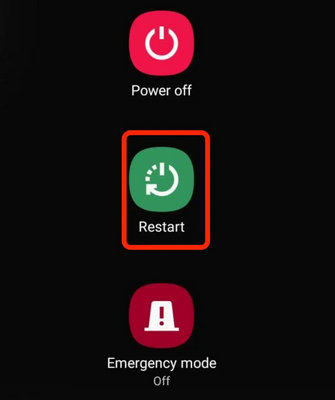 2.10 Uninstall and Reinstall Spotify App
Directly uninstalling and reinstalling the Spotify app could fix a lot of glitches. By navigating to the official Spotify download site and downloading the app once again, you can refresh the software and potentially eliminate any bugs or errors.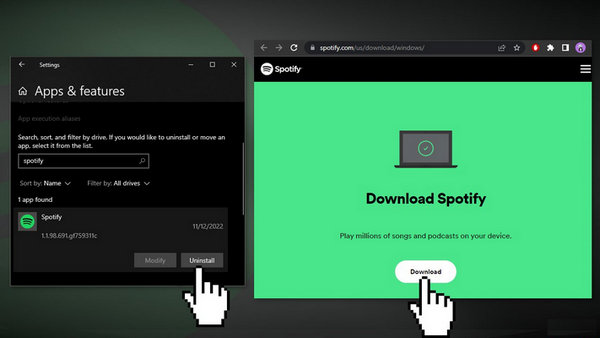 Extra Tips: Extract MP3s from Spotify to Play More Stable
If you're tired of dealing with the frustrating issue of Spotify repeatedly pausing, you could choose to use Spotify downloader to obtain local MP3 files of your favorite Spotify songs. This will allow you to enjoy your Spotify music on the go without any interruptions.
One noteworthy Spotify playlist downloader that stands out from the rest is NoteBurner Spotify Music Downloader. This powerful tool makes it possible to record and convert any Spotify music to popular audio formats such as MP3, AAC, FLAC, AIFF, WAV, or ALAC easily.
Meanwhile, this NoteBurner program also supports to retain 320kbps lossless sound quality and ID3 tags after the batch 10X speed downloading process. Give this NoteBurner a try, and you'll be able to download your desired Spotify playlists to computer local drive, and enjoy Spotify playback freely.
See Also: How to Download Spotify Music to MP3 - Top Best Spotify Music Converter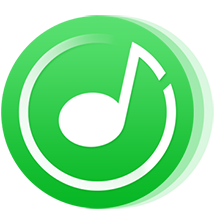 Features of NoteBurner Spotify Music Converter:
Extract MP3, AAC, FLAC, AIFF, WAV, or ALAC files from Spotify.
Record songs at 10X speed with 100% lossless quality.
Keep ID3 tags metadata & lyric.
Support burning Spotify music to CD in one-click.
Upload converted Spotify music to iTunes/Music directly.
Ease to use and support batch conversion.
Try It Free

Try It Free

Free Upgrade
Step-by-Step to Download Spotify Music to Offline MP3
Step 1 Open NoteBurner Spotify Music Converter and go to the Settings window. Here please select "MP3" as the output format.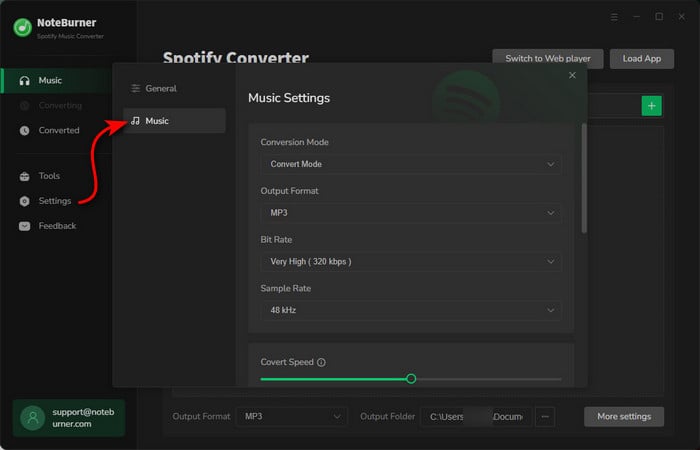 Step 2 Go to the Spotify app, then drag and drop a playlist to NoteBurner for adding songs.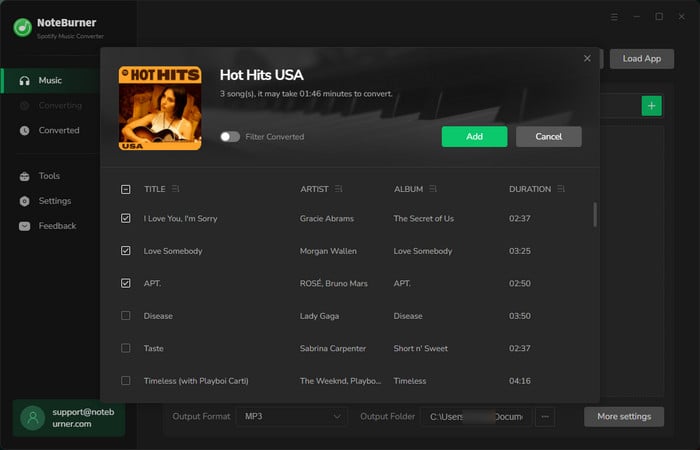 Step 3 Click "Convert" to start getting Spotify songs offline.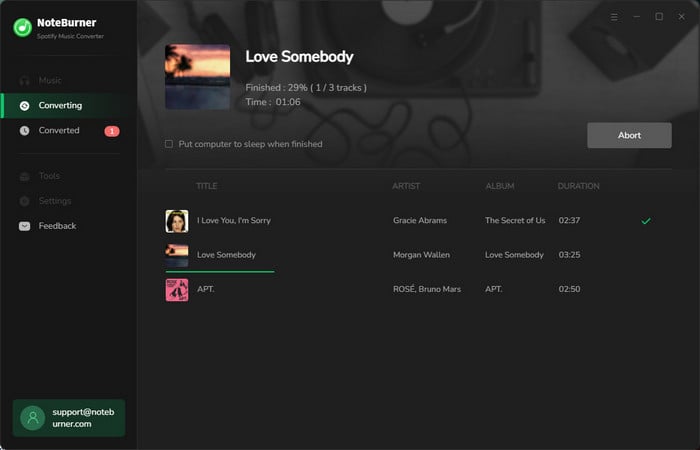 Step 4 Once it's successfully downloaded, go to the "Converted" window and you'll find all download history.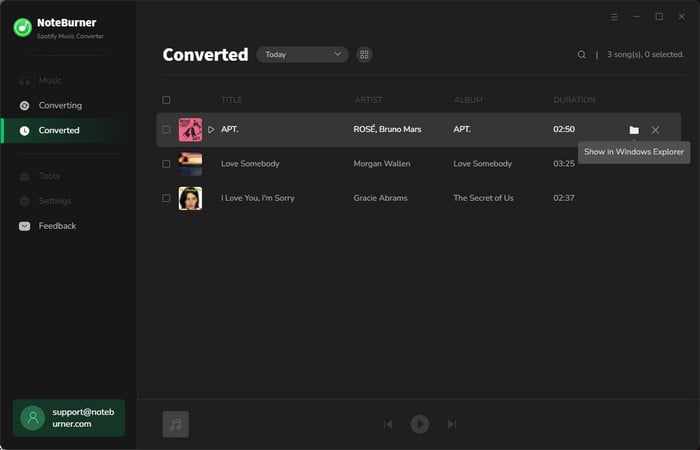 Final Words
Why Spotify always pauses the playback? this page should exactly answer your question and give you the solutions! Besides that, you'll also get a tool, NoteBurner Spotify Music Downloader, to help you truly download Spotify songs as audio files. So after that, you could stream Spotify songs more smoothly on any device.
Note: The free trial version of NoteBurner Spotify Music Converter allows you to convert the first 1 minute of each song. You can buy the full version to unlock this limitation and enable all its features.
What's next? Get the full version of NoteBurner Spotify Music Converter now!
---
YouTube Video: How to Record Spotify Songs as MP3 Files: