Best Audials Alternative: A Comprehensive Comparison
In today's era of streaming music, the desire for dependable tools to capture and savor your cherished tracks offline is at an all-time high. Audials Music, a reliable choice for music enthusiasts, empowers users with the ability to record and curate playlists from a range of streaming platforms. However, competition in the software landscape is fierce, and alternatives like NoteBurner Music One have emerged with compelling features.
This article explores Audials Music 2023's features, pros, and cons, acknowledging its value for Windows users. However, it's worth noting that Audials Music has faced criticism due to occasional bugs and a less frequent upgrade cycle, which can potentially impact the user experience. We'll also introduce NoteBurner Music One as a formidable alternative. A comprehensive comparison between Audials and NoteBurner will help you make an informed choice about the streaming music recorder that best suits your needs.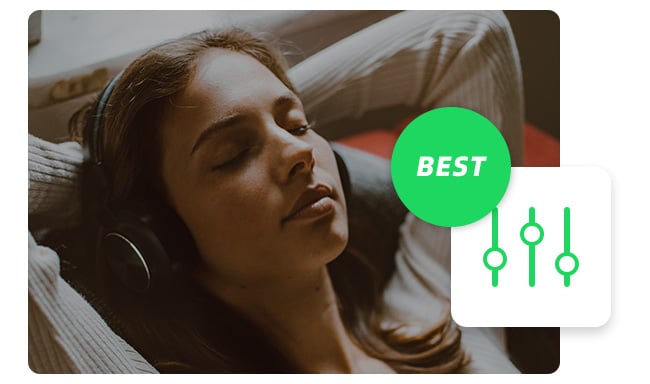 Part 1. What is Audials Music 2023?
Audials Music 2023, developed by Audials, caters to music lovers and collectors by allowing them to record music from popular streaming platforms. It supports major services like Spotify, Apple Music, Amazon Music, and more, making it easy to build your music library. With features for music organization, personal playlist creation, and automatic song identification, Audials Music enhances your music management and listening experience. It's a valuable tool for anyone looking to enjoy and curate their music collection.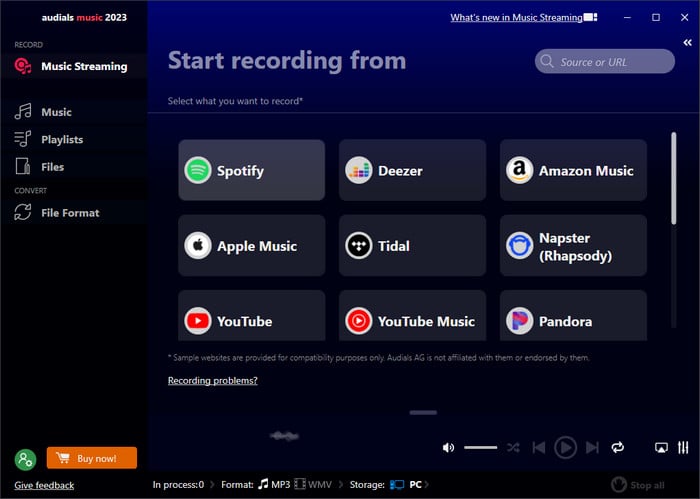 Can you get a free trial version of Audials Music? Yes, you can, but the free version of Audials Music comes with some recording limitations. You can only record up to 25 files, and music conversions are restricted to 2 minutes per file. Additionally, you can record only one audio stream simultaneously. To enjoy longer recordings or capture multiple audio streams at the same time, you'll need to upgrade to the paid version.
1.1 Pros and Cons of Audials Music
Audials Music is a software designed for music lovers who want to record and edit their favorite tunes. It comes with some exciting benefits, but there are also a few downsides to consider. In this section, we'll break down the pros and cons of Audials Music, helping you decide if it's the right tool for you.
Pros:
Supports recording from most major streaming music services.
Supports dual recording mode.
Fast recording speed.
Provides many features, such as an audio editor and CD burner.
Supports output format: AU, CAF, OGG, WMA.
Cons:
No Mac version.
The program interface is not user-friendly.
Lacks frequent upgrades and updates.
Doesn't support AIFF and ALAC output format.
Only supports 5 languages: English, Japanese, Spanish, German, and French.
1.2 How to Record Music with Audials Music 2023?
Step 1 Download, Install, and Launch Audials Music
Go to the Audials website, download, and install the Audials Music on your computer, then open the Audials program.
Step 2 Set Recording Preferences
Go to "Settings" and choose your preferred audio format and storage location.
Step 3 Select Source and click the streaming service tile.
Choose "Music Streaming" as the source, then pick Spotify or other platforms as the streaming service.
Step 4 Start Recording
Play the music you want to record on Spotify and click the "Record" button in Audials Music. Wait until Audials has finished recording all the songs, and then click the "Stop" button to save the recorded music on your computer.
Part 2. Your Best Audials Music Alternative - NoteBurner Music One
NoteBurner Music One is your go-to solution for capturing audio from leading streaming platforms like Spotify, Apple Music, Amazon Music, Tidal, YouTube Music, Deezer, Line Music, and Pandora. Whether you want to download Spotify playlists to MP3, transfer music to your iTunes library, or extract tracks from YouTube Music, NoteBurner's versatility has you covered. It ensures top-notch audio quality and preserves essential ID3 tags.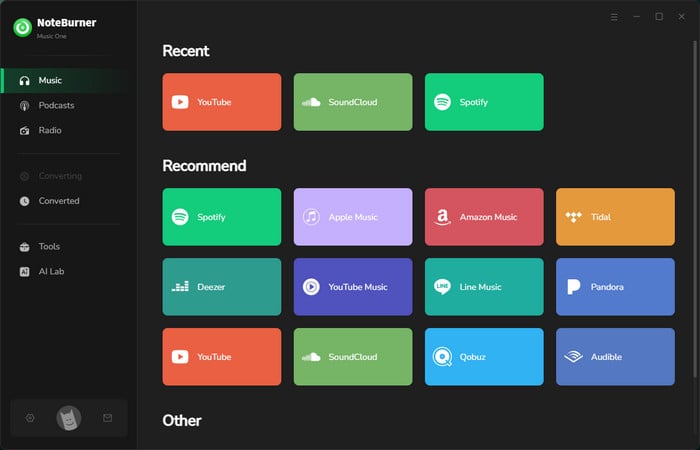 NoteBurner has a rich history of 17 years in multimedia software development, pioneering the first Apple Music to MP3 converter (known as NoteBurner iTunes Audio Converter) and offering popular music conversion software that saves music as MP3 from platforms like Spotify, Amazon Music, Line Music, YouTube Music, Tidal, and more. In August 2023, NoteBurner launched "NoteBurner Music One," an all-in-one solution that integrates eight music conversion tools into a single package. With NoteBurner's special recording tech, your converted music stays top-notch, giving you an outstanding listening experience. Leave behind any constraints and enhance your music journey with NoteBurner Music One.
Can you get the free trial version of NoteBurner Music One? Certainly, you can access a free trial version of NoteBurner Music One for a sample test. With the trial version, you can convert the initial 1 minute of each song. To remove this limitation and enjoy the full suite of features, you can purchase the full version.
2.1 Key Features of NoteBurner Music One
2.2 How to Use NoteBurner Music One
NoteBurner Music One is a versatile music conversion tool that seamlessly works with both Windows 7-11 and Mac 10.15-14. Its user-friendly interface ensures a hassle-free experience. With NoteBurner Music One, you can effortlessly obtain high-quality streaming music from a variety of music platforms by following straightforward steps.
YouTube Video: How to Use NoteBurner Music One:
Step 1 Select the App or Web Player Record Mode
Download and open NoteBurner Music One on your desktop, then just select a specific music service and download mode.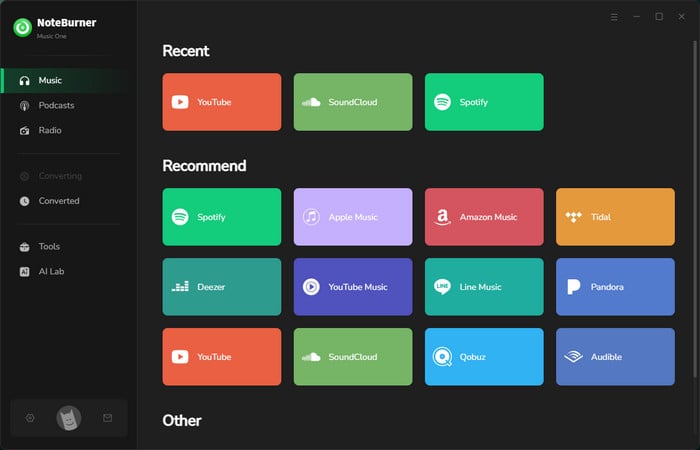 Step 2 Choose Output Settings
On the lower left, click the "Setting" button so that you are able to select output format, output quality, output path, and other settings as required.
To download a lyric file for your music track, please tick on "Save Lyric (If provided)" in this setting window.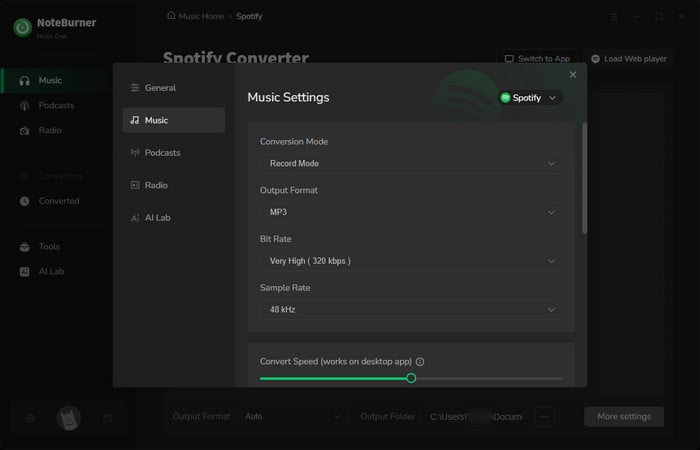 Step 3 Add Songs or Playlists
Simply drag & drop the playlists from your music app to NoteBurner, or you can also copy and paste the playlist link to NoteBurner for adding. When your selected songs are listed, click "Add".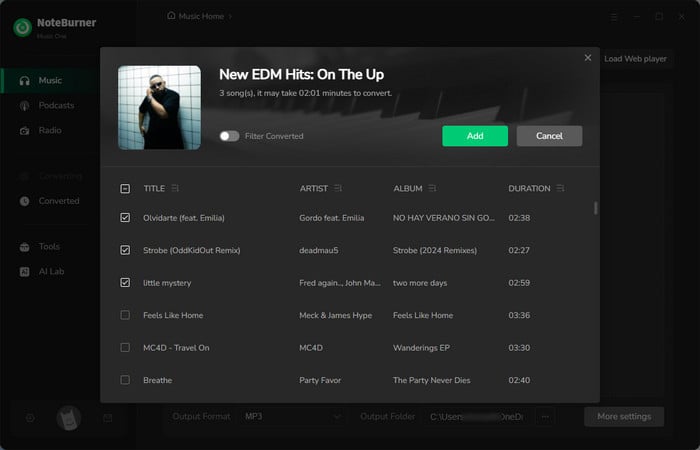 Step 4 Convert Streaming Music to MP3
The next step is to click the "Convert" button to start downloading music from your music platform. This step will be finished soon.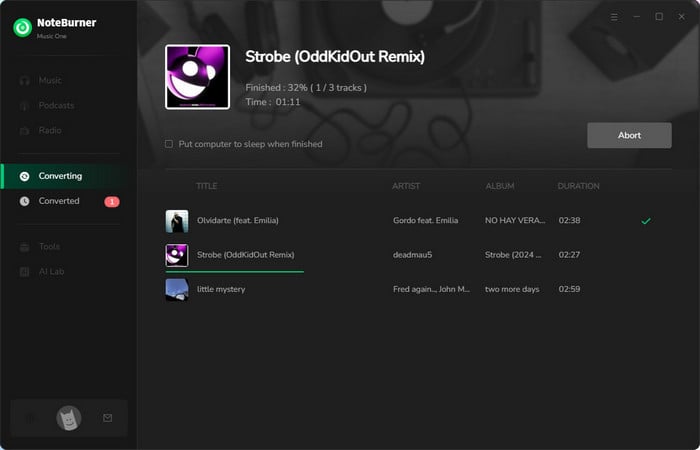 Step 5 Find Downloaded Music Files
When it's completed, go to the "Converted" tab on NoteBurner and you will find all your converted songs are downloaded to the computer's local drive.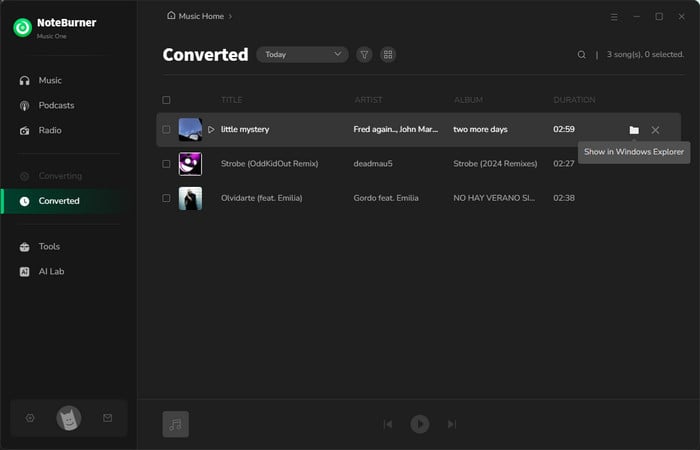 Part 3. Audials vs. NoteBurner: Which One is the Best Streaming Music Recorder?
When it comes to choosing an all-in-one streaming music recorder, Audials and NoteBurner are two popular options that offer unique features and functionalities. In this comparison, we'll assess various aspects of both software to help you decide which one suits your needs best.
| | | |
| --- | --- | --- |
| | Audials Music | NoteBurner Music One |
| Price | $39.95/year | $29.95/month; 199.95/lifetime |
| Supported Platform | Spotify, Apple Music, Amazon Music, Tidal, YouTube Music, Deezer, Line Music, Pandora, YouTube, SoundCloud, Qobuz, Dailymotion, Vimeo | Spotify, Apple Music, Amazon Music, Tidal, YouTube Music, Deezer, Line Music, Pandora |
| Record Mode | Music App and Web Player | Music App and Web Player |
| Output Format | MP3/AAC/FLAC/WAV/WMA/OGG/AU/CAF | MP3/AAC/FLAC/WAV/AIFF/ALAC |
| Max Conversion Speed | 30X | 10X |
| Keep Original Quality and ID3 Tags | | |
| Batch Download | | |
| Save Lyrics | / | |
| Classify by Artist/Album/Playlist | Artist/Album | |
| Keep Original Music Order | / | |
| Additional Features | Edit ID3 Tags and Burn CD Only | Edit ID3 Tags, Burn CD, Format Converter, iTunes/ Apple Music Uploader |
| Supported Language | 5 languages | 25 languages |
| System Support | Windows only | Windows & macOS |
| Easy-to-use interface | NO | |
---
Conclusion:
In the world of streaming music, finding the right recording tool is crucial. While Audials Music 2023 boasts several merits, such as catering to Windows users with its support for major streaming services, fast recording speed, and extra features, NoteBurner Music One provides a compelling alternative. With support for major platforms, versatile recording modes, and budget-friendly pricing, it's a strong choice. NoteBurner Music One stands out with its affordability, extensive language support, and compatibility on both Windows and macOS. Whether you want to edit tags, burn CDs, or convert formats, it's got you covered.
Ready to enhance your music experience? It's time to give NoteBurner Music One a try. Elevate your music experience, break free from limitations, and explore the world of offline music at your fingertips.
---
What's next? Download NoteBurner Music One now!
---