Ultimate Guide to Cancel Spotify Premium in 2023
If you find yourself in a situation where you need to cancel your Spotify membership, the good news is that Spotify makes it easy to do so. You can log in via the website or app and head to the account settings to cancel your subscription. After this, you'll still be able to enjoy all the benefits of Premium until your next payment is due.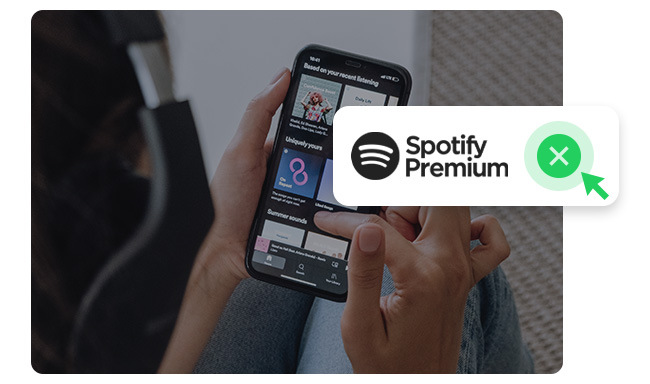 Part 1. Cancel Spotify Premium on Browser
If you're looking to cancel your Spotify auto-renew subscription, it's important to know the most direct path to take - visit your Spotify account management page on a browser and cancel the Premium. This method is feasible on desktop, mobile, iPad or any other devices.
Step 1 Go to https://www.spotify.com/account and log into your Spotify Premium or Free Trial account.
Step 2 Click the "Available Plan" in the left-hand side menu.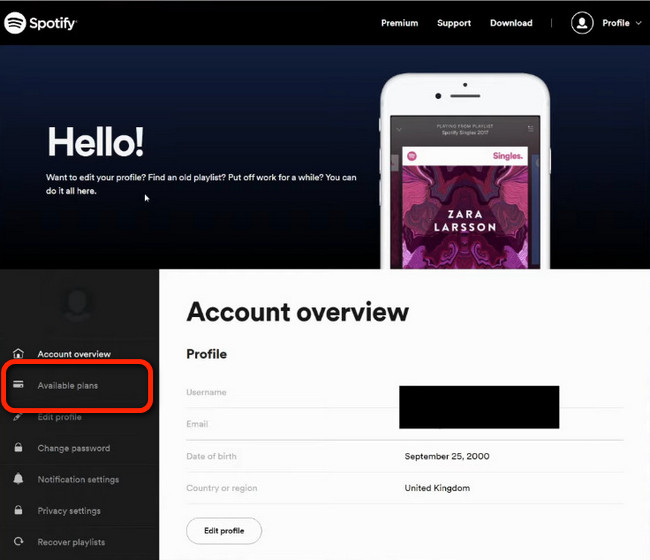 Step 3 On the new page, scroll down and find "Spotify Free". Click "Cancel Premium" in that box to switch to Spotify Free.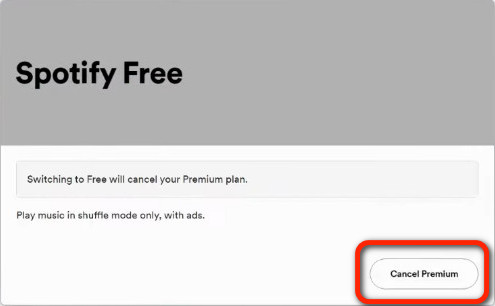 Step 4 Next, just follow the prompts and continue to cancel.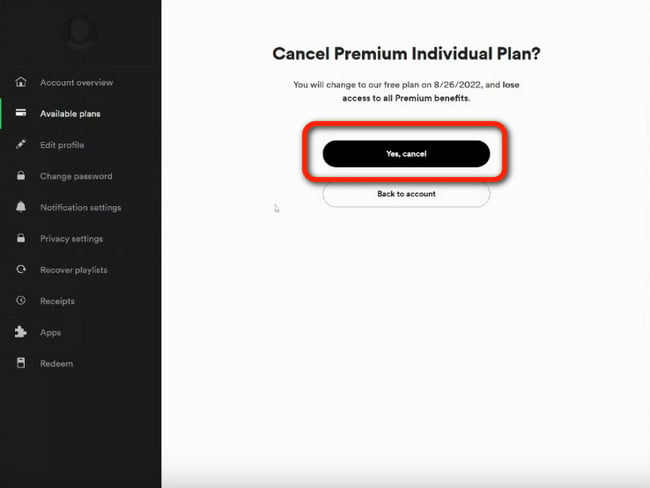 Part 2. Cancel Spotify Premium on iTunes
If you've previously purchased Spotify through iTunes, you'll have to go to your Apple account to cancel the Premium.
Step 1 Open "Settings" on your iPhone or iPad, tap your profile, then "Subscription".
Step 2 Find Spotify Premium subscription there, tap "Cancel Subscription" and confirm it.
For more details, please refer to cancel a subscription from Apple.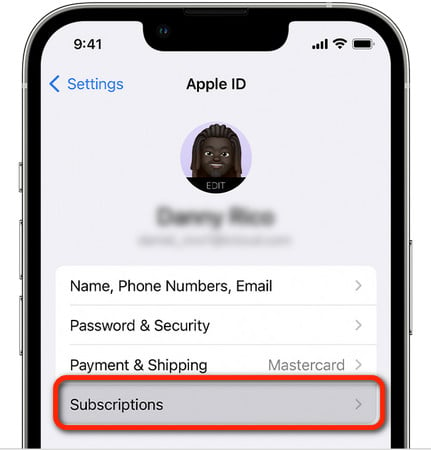 Part 3. Cancel Spotify Premium on Mobile App
You may also wonder if is it possible to cancel Spotify Premium from an app on Android or iPhone mobile. The good news is yes! You can now change your Spotify Premium to Spotify Free within the setting window. Here's how to.
Step 1 Open Spotify app on your phone, and log into the paid account.
Step 2 Click the "Settings" icon at the upper right and click "Premium Plan", then "Premium Individual".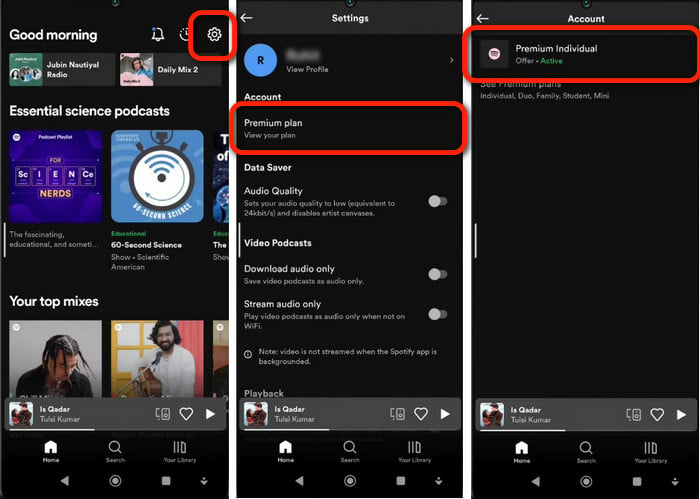 Step 3 In this window, it's showing you the details about your current Spotify plan. Click "See other plans" at the bottom and "Change your plan".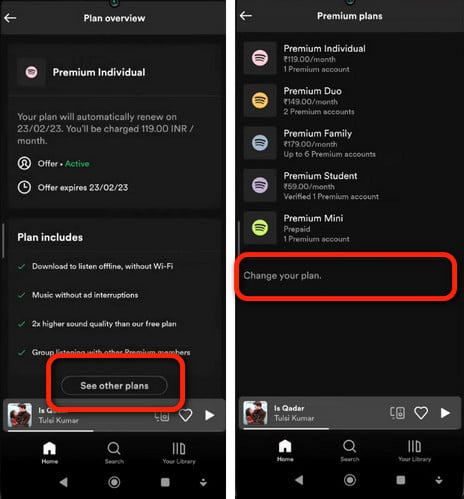 Step 4 This time, Spotify shows you the plans you can switch to. Scroll down to Spotify Free, and click "Cancel Premium".
Step 5 Eventually, just follow the notices to confirm your cancelation.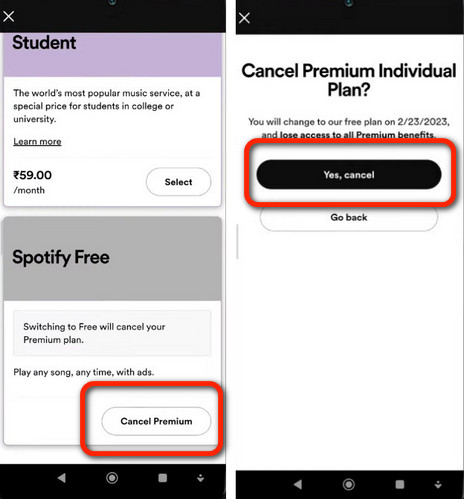 Part 4. FAQs to Cancel Spotify Subscription
If you're considering canceling your Spotify paid subscription or ending Spotify Premium during Free Trial, you're not alone. Millions of users have canceled their accounts for various reasons, ranging from financial constraints to switching to a different music app. If you're still confused about the cancellation of Spotify Premium, keep reading the FAQs listed below.
Q1:

Is it possible to cancel Spotify Premium without logging in?
A: Are you a Spotify Premium user who is considering cancelling their subscription, but can't remember your login information? Fortunately, you can contact Spotify's customer support team to request assistance with canceling your Premium account.
You can contact Spotify team by filling in this contact form, messaging to the Spotify Twitter page, or directly emailing [email protected]
Q2:

How to cancel Spotify Premium and get refund?
A: If you're a Spotify user looking to get a refund for Spotify Premium, you've come to the right place. If you meet these conditions, you can request a refund:
You need to make the refund request within 14 days of your purchase.
You should not have used Spotify Premium during this 14-day period.
If you meet the above conditions and wish to reimburse your Premium purchase, you can request a refund by sending an email to [email protected] and it will process your refund request accordingly.
Q3:

Why can't I cancel Spotify subscription?
A: If you find yourself struggling to cancel your Spotify subscription, it's possible that you purchased your subscription from a third-party provider, such as your mobile, or internet provider. If so, you may need to contact their support team and ask for help.
Q4:

Can I get Spotify Premium for free?
A: Are you wondering if you can get Spotify Premium for free? The answer is yes - Spotify offers a free trial period for its Premium subscription service. This gives you the opportunity to test out all the features of the Premium plan without committing to a full subscription right away.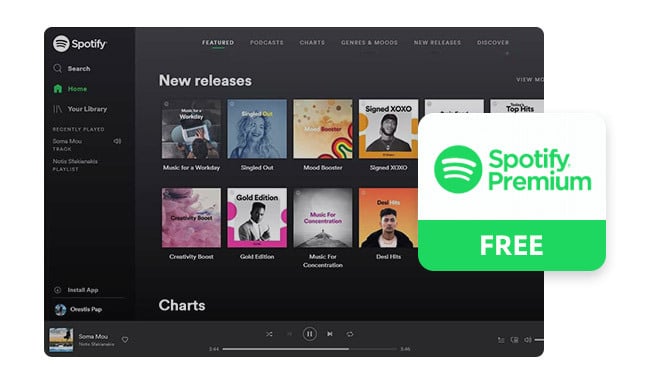 This page has collected various methods to get a free trial of Spotify Premium for up to 6 months long. Don't miss it!
Q5:

What happens when canceling Spotify Premium?
A: What happens when you cancel Spotify Premium? Well, the answer is quite simple. Once you cancel your Premium account, your Premium benefits will still stay until the next payment date.
When it's expired, you will be reverted back to the free version of Spotify which will have ads, lower sound quality, and no offline playback. Your playlists and like music will still be there, but you won't be able to access some of the exclusive Premium features.
Q6:

Can I keep Spotify downloads after cancelling Premium?
A: If you don't want to lose all Spotify downloaded content after you cancel your subscription, you'll have to use an extra tool, NoteBurner Spotify Music Converter, to extract regular MP3s from your Spotify Premium account.
NoteBurner Spotify Music Converter is a popular and 100% clean program used to convert any song from Spotify to MP3, AAC, FLAC, WAV, AIFF, or ALAC format, with up to 320kbps high quality kept. After downloading, you could save all your Spotify playlists on local computer drive forever!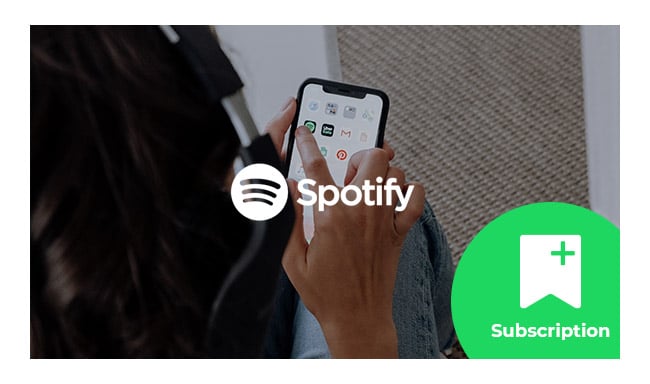 Are you seeking a way to keep Spotify music playable after canceling subscription? This article will introduce a brilliant program to record Spotify music and keep them playable after canceling Premium account.
Final Words
Sometimes, users might want to cancel their Spotify subscription due to various reasons. Here on this page, we've listed a few methods to close your Spotify Premium on webpage, phone app, or Apple iTunes.
If you wanna keep downloaded Spotify tracks forever, it's suggested to use NoteBurner Spotify playlist downloader to download all your Spotify playlists to computer. By this, you can make backup for your Spotify titles for good!
Note: The free trial version of NoteBurner Spotify Music Converter allows you to convert the first 1 minute of each song. You can buy the full version to unlock this limitation and enable all its features.
What's next? Get the full version of NoteBurner Spotify Music Converter now!
---
YouTube Video: How to Record Spotify Songs as MP3 Files: