How to Upload Local Music to Spotify on Android or iPhone
Spotify, one of the world's leading streaming platforms, has become an essential tool for music lovers. However, many musicians still struggle to upload local music to Spotify so that they can mix them with native Spotify playlists to listen to altogether. Is it still possible to import music to Spotify on phone in 2023? The following detailed guidance you could have a test: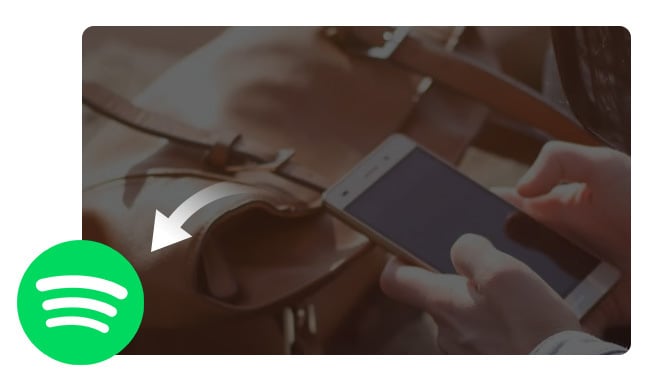 Part 1. How to Upload Music to Spotify on Phone
Uploading music to Spotify on your Android or iPhone can be a quick and straightforward process. You can directly import the local files stored on your phone to Spotify library, or sync local files from desktop to mobile through the Spotify app. Here's how:
Note: Spotify only supports to play files in MP3, MP4, M4P, M4A, FLAC format.
1.1 Directly Upload Local Music to Spotify on Phone
The following part is showing you how to add music files, which are stored on your phone, to Spotify.
Step 1 Open Spotify app on Android or iPhone device, then tap the "Home" button.
Step 2 At upper right, click the "Settings" icon. (On iOS device, also tap "Local Files".)
Step 3 Switch on "Show audio files from this device".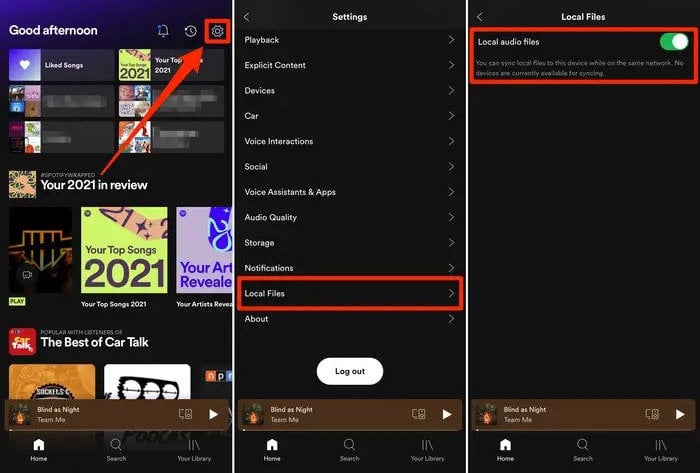 1.2 Sync Local Music to Spotify From Desktop App to Mobile App
You can also upload music to Spotify from the desktop app, then sync them to the mobile app. But be sure that this method is only feasible for the Spotify Premium subscribers.
Step 1 On Spotify desktop app, click your profile icon and click "Settings".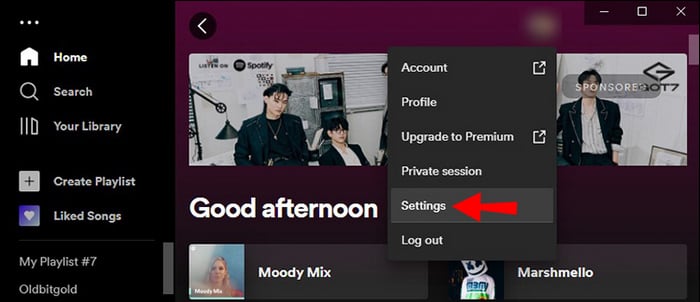 Step 2 From the Local Files setting, switch it on, then click "Add a source", and locate your local music files for adding.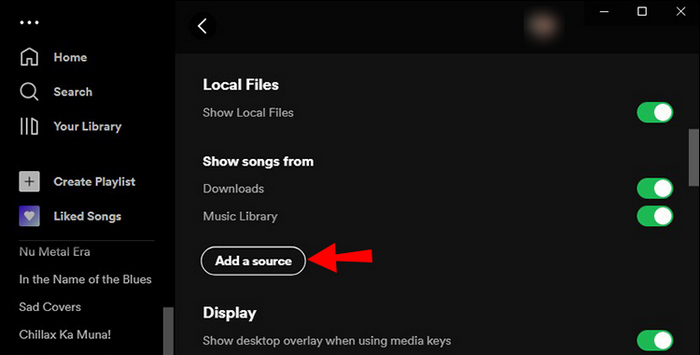 Step 3 Once your local audios have been uploaded to Spotify, just create a new playlist and add all of them to it.
Step 4 On Spotify mobile app, go to "Setting > Local Files" and also enable "Local audio files".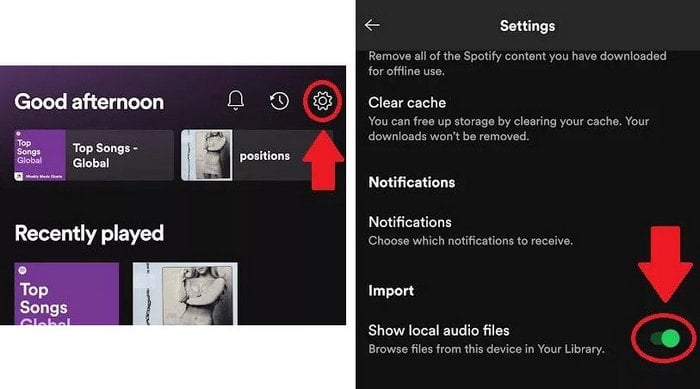 Step 5 Connect your phone and computer with the same WiFi internet. After that, you should find out the newly created playlist from the "Your Library" tab. You can choose to download these well-synced local files to your mobile.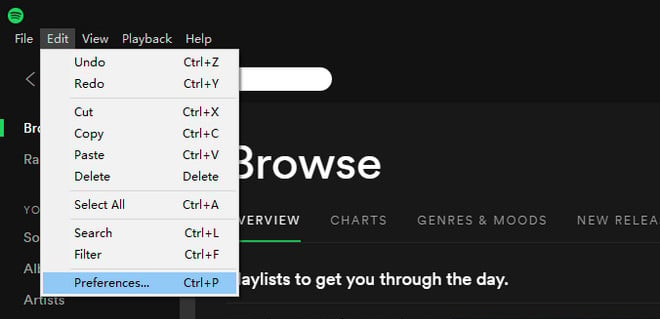 How to sync your local music to Spotify? Follow this Spotify tutorial to see how to add your local music file to Spotify and play them on Spotify.
Part 2. How to Fix Spotify Local Files Not Syncing Issue
If you have ever encountered the frustrating issue of Spotify local files not syncing from computer to mobile, you know the pain of not being able to access your favorite tracks. Fortunately, there are several troubleshooting steps you can take to fix this problem.
Check Internet & Spotify Account Connect: In order to sync your local files on both your desktop and mobile device while using Spotify, it is essential to use the same Spotify account and the same WiFi network on each device to make connection.
Make Sure Your Spotify App is Up-to-Date: In terms of the Spotify app, keeping it regularly updated is particularly crucial for anyone who wants to sync local files seamlessly or use other new features. This will not only improve your user experience, but also prevent any potential glitches or issues that might arise from using outdated software.
Clear Cache on Spotify App: The Spotify-associated data, or caches, that populate over time may interfere with its functionality. To use Spotify smoothly on your phone or desktop, it is essential to delete the caches regularly.

Re-enable the "Show Local Files" Setting: Occasionally, users may experience malfunctions while modifying their settings. In these instances, Spotify may not update your choices, leaving you feeling frustrated and stuck. So, just go to its "Local Files" setting and turn it off and on, you can give Spotify a chance to refresh its system and fix it.
Bonus: Save Spotify Music as Local Files Forever
Except for uploading local songs to Spotify, do you also want to extract Spotify songs as local files? As a music lover, there's nothing better than saving your Spotify playlists as offline local audio files forever.
Fortunately, with this NoteBurner Spotify Music Converter, you can download any song, podcast, radio, or audiobook from Spotify to MP3, AAC, FLAC, WAV, AIFF, or ALAC with ID3 tags retained. What's more, if you're downloading Spotify Premium songs, it will even export your Spotify music tracks in 320kbps high quality after conversion.
With a few steps on NoteBurner Spotify downloader, you can enjoy your favorite Spotify tracks even when you haven't a stable internet connection, or you just want to unsubscribe from Spotify Premium, you can still continue to access your offline Spotify playlists for good.
Are you seeking an easy way to download music from Spotify to computer for free? Just look at here! There is a step-by-step guide for you to download and save music from Spotify to computer for free!
Conclusion
For music lovers, uploading your favorite playlists to Spotify on phone has never been easier! This can be done by importing local files stored on your mobile device directly to Spotify, or syncing them from a Spotify desktop app to your Spotify mobile app.
Furthermore, if you desire to take your Spotify playlists offline, NoteBurner Spotify Music Downloader is an excellent tool. This NoteBurner program can convert any Spotify playlist into MP3, AAC, FLAC, WAV, AIFF, or ALAC with 320Kbps audio quality, ensuring you never miss a beat. With these simple steps, you can add to your Spotify library and enjoy your music to the fullest.
Note: The free trial version of NoteBurner Spotify Music Converter allows you to convert the first 1 minute of each song. You can buy the full version to unlock this limitation and enable all its features.
What's next? Get the full version of NoteBurner Spotify Music Converter now!
---
YouTube Video: How to Record Spotify Songs as MP3 Files: