As the top subscription-based music streaming service providers, Tidal and Spotify have gained a lot of popularity worldwide. If you're looking to start your music streaming life but are confused about which to choose, there are several aspects that need to be compared. The following section will provide you a detailed comparison based on their price, content, etc.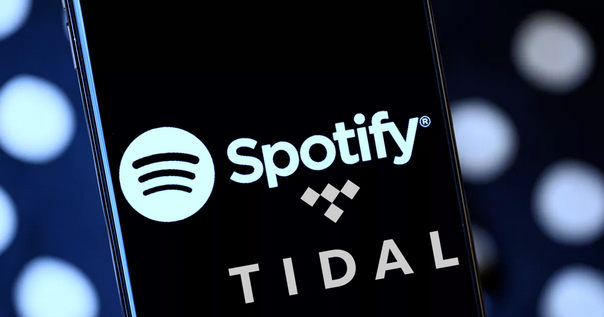 1. Tidal vs Spotify: Plan price
Tidal offers two tiers for subscriptions. Tidal Premium offers a maximum of 320kbps audio quality, you can access their exclusive music, videos, events, and editorial playlists. Another one is Tidal HiFi, offering a lossless and high bitrate audio files, Sony 360 Reality Audio, and Dolby Atmos Music. Both Premium and HiFi offer family subscriptions which allow up to six accounts. On the other hand, Spotify only has one type of subscription, Premium membership, but offers different sign-up types as illustrated below. Both Spotify and Tidal provide a 30-day free trial on any selected plan.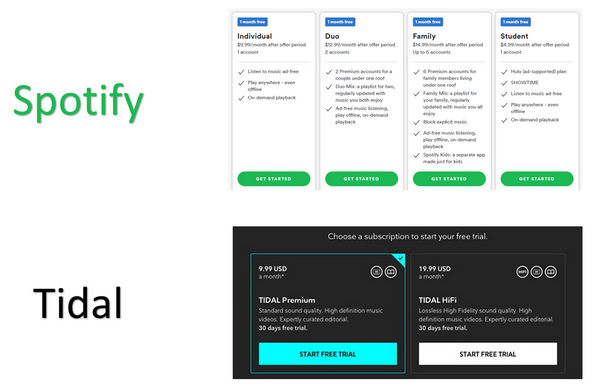 2. Tidal vs Spotify: Stream quality
Audio quality is the most significant part that must be presented for Tidal. Many people are confused with the term "HiFi", for Tidal HiFi quality, you can get a maximum of FLAC, CD streaming experience. The Tidal HiFi membership offers three settings for streaming quality: Normal, High, HiFi. The Normal setting is designed to limit the amount of cellular data being used because streaming high-quality audio consumes a lot of data. Some users choose to use the HiFi setting only when Wi-Fi is available. The High setting reaches 320kbps quality. And the HiFi setting offers CD-quality lossless FLAC files, meaning they are 44.1kHz/16bit. Spotify offers the 96kbps option as normal quality on mobile, but also offers a high-quality 160kbps with the free version. And after you pay $9.99 a month for Spotify you can stream at 320kbps which is the same quality as Tidal's High setting.
Overall, if you are looking for higher streaming quality, Tidal Hi-Fi mode will be the better choice for you.
3. Tidal vs Spotify: Social Features
If you want to view your friends' listening activity or playlists, Spotify is one for you. Spotify provides a Friend Activity section that displays the songs or playlists your friends are actively listening to. But this section is only available on the Spotify desktop application, the mobile app is not available so far. Additionally, you can follow friends by searching their username or by linking your Spotify account with Facebook, which just works as a social application. More interestingly, if you don't want people to be able to view your Spotify activity, you can always disable the feature that publishes your activity. When you find any playlists or track from your friends' content, you can always save them to your library and create collaborative playlists where multiple friends can add and remove songs. More importantly, Spotify also has partnerships with Instagram and Tinder, so it's easy to share your music with people on these apps instantly.
And for Tidal, the only social feature is that you can share a song from the Tidal app to your social media platform, which is a very basic function that most applications can meet.
4. Tidal vs Spotify: Library content
Tidal offers over 100 million tracks whereas Spotify has about 100 million, which we can call an even based on a similar amount of music. Spotify accepts music submissions from anyone, whether it is submitted through a third-party distributor or personal submission directly to Spotify. However, if you would like to submit a track to Tidal, a selected few music distributors are needed to submit successfully. In conclusion, Spotify provides a more flexible method regarding the submission to the platform, if you are interested in put the source you have to the music service, Spotify should be the better one for you.
Conclusion
To choose between Spotify and Tidal largely comes down to whether you care about the audio quality. As we described above, the stream quality for Spotify is definitely weaker than the maximum quality from Tidal, and you should absolutely opt for Tidal. But if you are more interested in social interaction, Spotify should be your first choice.
Extra Tips
Either you choose Tidal or Spotify, you can only stream the music with the Internet connected, or you can download and stream offline within their official apps or players only. What if I want to download the tracks from them and transfer to other devices? All you need is a simple but powerful tool to convert the music to local files like MP3 format, once the music are converted to local MP3 files, you will be able to stream them on any player or device without restrictions. Luckily, we do have such a tool for both Tidal and Spotify! Find out more information for Spotify Converter and Tidal Music Converter.