Note: As of December 2020, Google Play Music has officially been shut down. And Google Play Music has now been replaced with YouTube Music, a revamped version of Google's music app.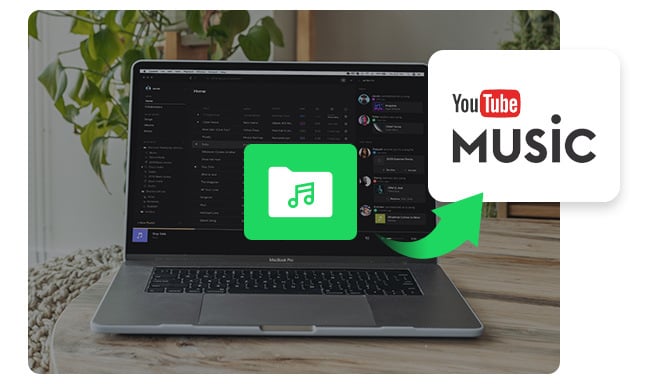 Don't know how to upload music to YouTube Music? Here this page you'll get the detailed guidance about this.Learn More →
Google Play Music is a music and podcast streaming service and online music locker operated by Google. It is an underrated music service that combines a Spotify-like subscription with Pandora-style radio stations and your own music library. There are two listening plans in Google Play Music to stream Music, Standard and Premium accounts.
1. Two Plans of Google Play Music
Standard Plan: The Standard option is free, which lets you stream millions of ad-supported tracks and free radio stations based on your mood, activity, skip songs up to 6 times per hour, store up to 50,000 audio files from music collection online at no cost, get recommendations based on your music tastes, and listen to curated channels.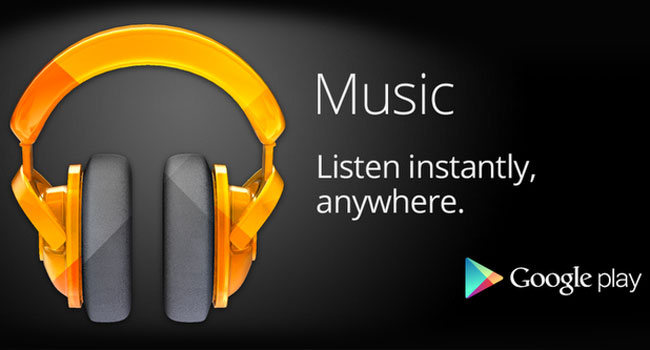 Premium Plan: Upgrading to the $9.99 per month Premium plan builds upon the Free plan by letting users get access to on-demand streaming of 40 million songs without advertisements during listening, skip an unlimited number of tracks, and download music for offline playback. Meantime, subscribers in eligible countries also get access to YouTube Red for no extra cost. Just make sure you're signed into the same account on YouTube and Google Play.
2. How to Upload Local Music to Google Play Music?
Google Play Music offers all users storage of up to 50,000 files, which will solve the problem of having limited storage space on your computer or other device. The service scans your music library and matches the songs with its own digital music catalog, which can then be streamed or downloaded in 320 kbps MP3 format. Songs that Google can't match will be uploaded to Google's servers for streaming or re-download. Here we will walk you through of how to upload your music library to Google Play Music.
Related Article: How to Move Spotify Playlist to Google Play Music
3. Tutorial on How to Upload Local Music to Google Play Music
1 Please go to the website play.google.com/music to start. And then, login to your Google account, and click "Upload Music" in the upper right-hand corner of the screen.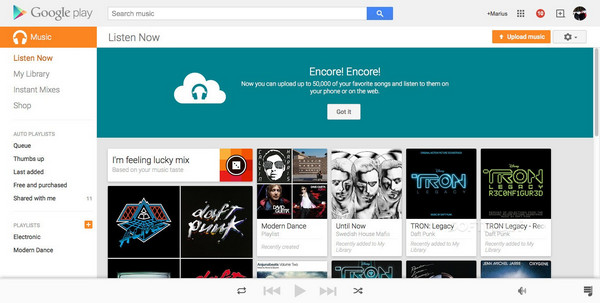 2 On the next page, click the orange "Download Music Manager" button. Follow the installation instructions to get the music manager on your computer.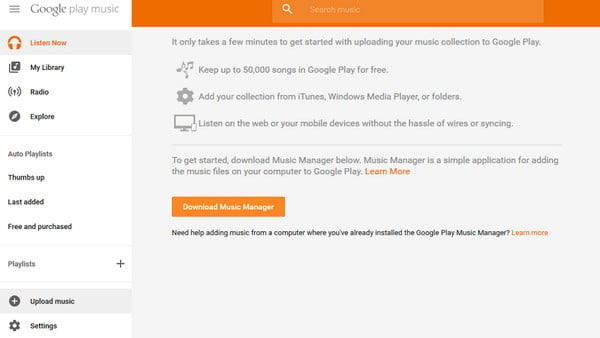 3 When you're logged into the Music Manger select "Upload songs to Google Play" and hit "Next".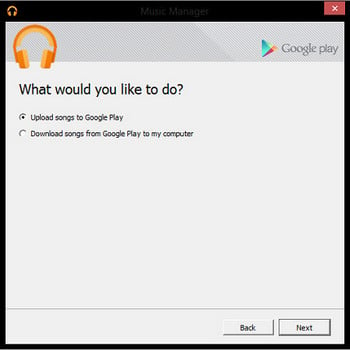 4 The Music Manager will ask you where you keep your music collection. Select "Other Folder" and click "Next". Then, please locate the folder you want to upload from the popup window and follow the instruction. The Music Manager will automatically upload any songs you put inside that folder Google Play.