Amazon Music or Apple Music, Which is Better in 2023?
When it comes to music streaming services, Amazon Music and Apple Music are two of the biggest names in the game. Both platforms offer a vast catalog of songs and provide various perks. Choosing between the two may come down to personal preference, but it's also worth considering factors such as audio quality, user interface, pricing options, and more. If you're still struggling to consider which one suits you better, read on, this article about their comparison should help you figure it out.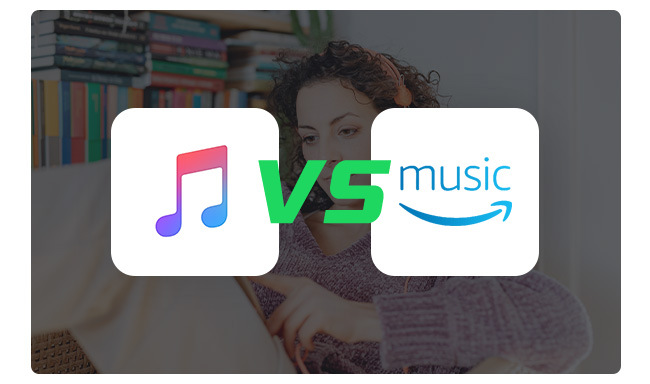 1. Pricing and Plans





Free Trial
1-3 month
1-3 month
Student Discount
$5.99/month
$5.99/month
Individual Plan
A vast array of artist content, like music videos, live performances, fan-made videos, etc.
Artist-specific content, more focused on audio tracks than video content.
Family Plan
$10.99/month
Prime: $8.99/month
Prime: $8.99/month
Annual Plan
$109/year
$89/year (Prime members only)
Others
Voice Plan: $4.99/month
Single Device Plan: $4.99/month
When it comes to pricing and plans, customers will find that both Apple Music and Amazon Music services offer certain enticing options, but their basic pricing strategy is the same as each other. The big difference is that, if you've already subscribed to Amazon Prime, you'll find Amazon Music Unlimited to be a more cost-effective option.
---
2. Audio Quality and Streaming Options





Streaming Options
High Quality, Lossless, and High Resolution Lossless
Standard Quality, High Quality, HD Quality, and Ultra HD Quality
Quality on App
CD quality: 256Kbps (16-bit/44.1kHz) in AAC
Lossless: 850 Kbps (up to 24-bit/48kHz) in ALAC
Hi-Res Lossless: 3,730 Kbps (up to 24-bit/192 kHz) in ALAC
Prime Music: 256kbps in MP3
Amazon Music HD: 850kbps (up to 16-bit/44.1 kHz) in FLAC
Amazon Music Ultra HD: 3730kbps (up to 24-bit/192kHz) in FLAC
Quality on Web Player
256kbps
256kbps
Spatial Audio with Dolby Atmos
Available on Android, iPhone, Mac, or other Apple devices
Available on headphone playback on mobile devices and Alexa Cast devices
With regards to audio quality, however, the choice is not as easy between Amazon Music and Apple Music. Amazon Music claims that its (ultra) high-definition streaming option provides an unmatched level of clarity and depth to its customer's listening experience. On the other hand, Apple Music offers its users access to Lossless Audio, which also provides its users with access to audio that closely resembles the original studio recording.
All in all, both streaming services are able to provide the max quality - 3,730 Kbps, 24-bit/192 kHz, making it difficult to make a decision. Regardless of your choice, it's evident that both Amazon Music and Apple Music offer an unparalleled listening experience.
Note: There's still no Lossless Audio option for iTunes on Windows.
---
3. Offline Listening and Downloads
| | | | |
| --- | --- | --- | --- |
| | | | |
| Offline Listening | | | |
Apple Music and Amazon Music Unlimited both offer the option of offline listening and the ability to download up to 100,000 songs to your library. However, there are some distinctions to note.
Amazon Music Unlimited permits users to save downloaded tracks on a maximum of 10 devices. However, it's important to note that these devices cannot be synced to access or update your library. Conversely, Apple Music provides iCloud Music Library, which enables seamless synchronization of downloaded music across any device linked to the same Apple ID. This feature facilitates easy access and updates to your library across multiple devices.
Therefore, while both services support offline listening, Apple Music's iCloud offers a more comprehensive and convenient syncing experience across devices sharing the same Apple ID.
Note: Amazon Prime Music subscribers have been unable to download music tracks for offline playback since November 03, 2022.
---
4. Music Catalog
| | | |
| --- | --- | --- |
| | | |
| Music Library Size | 100 million | 100 million |
Both Apple Music and Amazon Music offer extensive music catalogs with over 100 million licensed tracks.
While both these two services offer similar featured artists and releases, the personal preference of playlists may vary. Apple Music has secured exclusive deals with artists like Drake, Taylor Swift, Pharrell Williams, and so on, while Amazon Music had a notable exclusive with country singers, like Garth Brooks, etc.
So before deciding between Apple Music and Amazon Music, it is advisable to consider your personal tastes and preferences.
---
5. Platform Compatibility
| | | |
| --- | --- | --- |
| | | |
| Supported Devices | iPhone, iPad, Apple Watch, Apple TV, PC/Mac, HomePod, HomePod mini, CarPlay and other Apple devices. | Smartphone, tablet, PC/Mac, Fire TV, and Alexa-enabled devices, etc. |
Apple Music and Amazon Music both offer support for a wide range of devices. Apple Music's integration with Apple's ecosystem is a key selling point, providing a seamless and intuitive experience for Apple users. However, the service also provides dedicated apps for Android and Windows, ensuring that non-Apple users won't be left out in the cold. While for Amazon Music, it's compatible with various devices, including Amazon Echo devices and other Alexa-enabled speakers (supports voice-controlled playback), mobile devices, computers, and so on.
In summary, Apple Music has tighter integration with Apple devices, making it a seamless experience for Apple users. On the other hand, Amazon Music offers broader device compatibility.
---
6. Additional Features





Exclusive Features
Apple Music Originals
Beats 1 Radio
iCloud Sync
Voice Plan
Amazon Music Originals
Alexa Cast
Voice Control with Alexa
Both these two service offer exclusive features that make them stand out from the competition. For example, Apple Music pays attention to its Apple device connection, and now the new Voice plan allows you to access Apple songs by voice control. Meanwhile, Amazon Music is good at syncing songs with Alexa-enabled speakers. Either way, both Apple Music and Amazon Music offer unique features that are sure to satisfy music lovers of all stripes.
---
7. User Interface and Experience
Both Apple Music and Amazon Music offer their users unique features and designs.
Apple Music's app is consistent with the tech giant's overall aesthetic, with a modern yet sleek design. It features a clean layout that puts album artwork front and center, making music browsing a visual treat. The app is also well-organized, with different sections such as Library, For You, Browse, and Radio that are easy to navigate.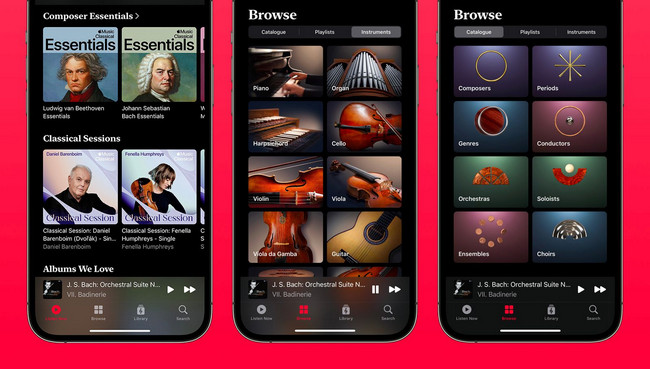 Amazon Music's app focuses on functionality over visuals. It has a more straightforward design that allows users to jump straight into the music search with its prominent search bar. The app also has tabs that lead to various sections like My Music, Browse, and Stations, making it a hub for music lovers looking for an extensive collection. Regardless of which one user chooses, both apps are user-friendly and cater to music lovers' needs.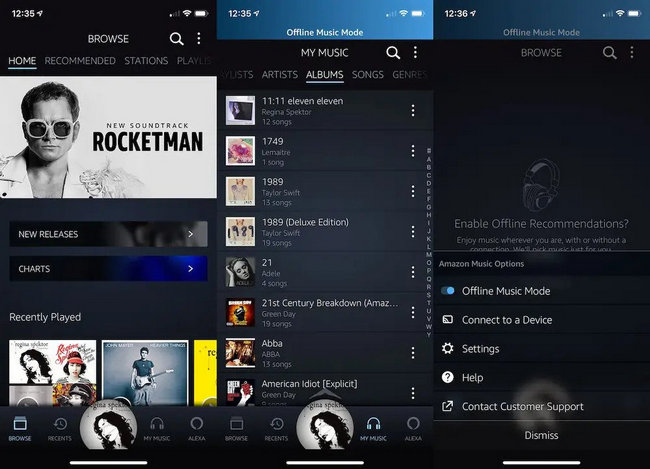 ---
8. Conclusion and Music Downloading Tools
Amazon Music and Apple Music have surely played an active role in incentivizing customers to switch from downloading songs to streaming them. Both services provide over 100 million songs at a max quality 3,730 Kbps & 24-bit/192 kHz available to choose from.
Apple Music is known for its iCloud music sync and Apple device perfect compatibility. While Amazon Music has taken the lead in Alexa's speaker voice control, and additionally, Amazon offers two subscription plans, Prime Music & Music Unlimited, to meet more requirements.
Amazon Music or Apple Music? It's time to pick the one that you prefer. Still wonder how to download Amazon Music or Apple Music songs to computer so that you can enjoy them with more freedom? The following tools should help you out.