10+ Ways to Get Apple Music Free - Up to 6 Months
Apple Music offers several subscription plans, Individual Plan ($10.99/mo), Family Plan ($16.99/mo), and Student Plan ($5.99/mo). Also, it does provide a free trial period to new users. You can gain the Apple Music Free Trial from kinds of channels, and it's up to 6 months long.
Please note that the availability of free trials may change by its policy at any time. So hang on to apply for the Apple Music Free account through the methods listed below.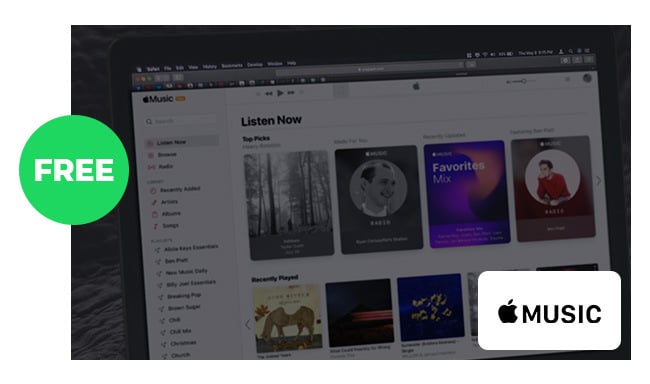 1. Through New Apple Device (6 Months)
Apple always offers a promotion that provides new Apple device purchasers with a free trial for Apple Music. The promotion allows new device owners to enjoy Apple Music for 6 months, before having to start paying for the service. The new Apple equipment includes Apple devices Apple AirPods, Apple AirPods Pro, Beats, HomePod mini, iPhone, Mac, or other Apple hardware.
Redeem the Offer: After setting up your new Apple device, you'll be prompted to sign up and redeem the Apple Music Free offer, typically for 6 months.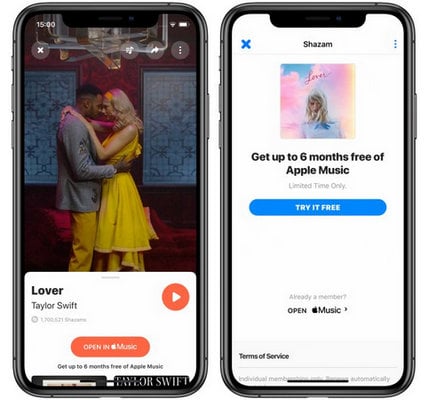 2. Through Verizon Plan (6 Months)
In collaboration with Apple, Verizon Wireless is now offering a 6-month free trial of Apple Music to all its customers. If you have already subscribed to Verizon, it's time to freely experience all the premium features of Apple Music, including access to over 100 million songs, the ability to listen offline, and an ad-free listening experience.
Redeem the Offer: https://www.verizon.com/solutions-and-services/add-ons/entertainment/apple-music/

3. Through EE (6 Months)
As a leading mobile network operator in the United Kingdom, EE understands the importance of delivering the best possible service to its customers. So whether you're just joining, or you've been with EE for years, all can enjoy an extended free trial of Apple Music for up to 6 months, worth over £65.
Redeem the Offer: https://ee.co.uk/inclusive-extras/apple-music
Or https://ee.co.uk/help/mobile/extras-and-add-ons/add-ons/get-free-apple-music

4. Through O2 (6 Months)
O2's customers are now able to take advantage of a fantastic promotion - Apple Music Free Trial, which lasts 6 months. All you need to do is log in to your O2 account or visit the O2 website to redeem this free Apple Music offer. Take advantage of this amazing opportunity to enjoy the entire Apple Music library for free.
Redeem the Offer: https://www.o2.co.uk/apple-services
Or https://www.o2.co.uk/termsandconditions/rewards/apple-music

5. Through Barclaycard (5 Months)
The partnership between Barclaycard and Apple is a testament to their commitment to providing quality music streaming services to their customers. Currently, Barclaycard, one of the leading credit card companies, allows its customers to enjoy an extended free trial of Apple Music for up to 5 months. It's a top choice if you are qualified.
Redeem the Offer: https://redeem.apple.com/barclaysmusic2m?&app1
Or https://forms-mtg.barclays.co.uk/forms/appleoffer/gettingstarted?execution=e2s1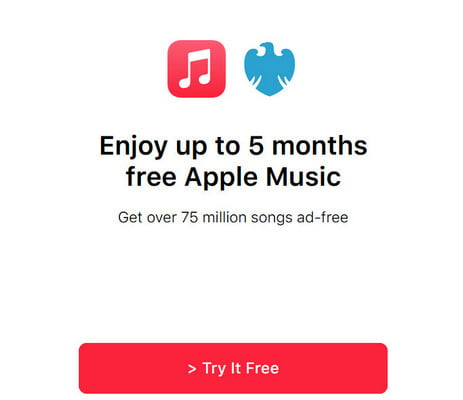 6. Through Best Buy (4 Months)
As one of the largest electronics retailers out there, Best Buy has sent various promotions all the time. One such promotion is the free Apple Music subscription, which can be granted for 4 months when you shop at Best Buy. This is an unbeatable offer for you all music lovers.
Redeem the Offer: https://www.bestbuy.com/site/apple-free-apple-music-for-up-to-4-months-new-or-returning-subscribers-only/6515312.p?skuId=6515312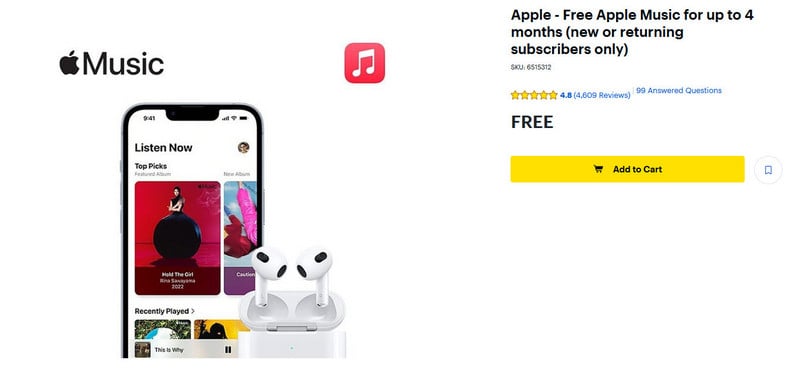 7. Through Shazam (3 Months)
After Apple's acquisition of Shazam in 2018, they merged their song libraries. Songs identified using Shazam are now conveniently auto-added to a playlist known as "My Shazam Tracks" within the Music app. Additionally, Shazam users now also have the opportunity to enjoy an Apple Music free trial lasting up to 3 months. This strategic move was a logical step for the two services.
Redeem the Offer: https://www.shazam.com/applemusic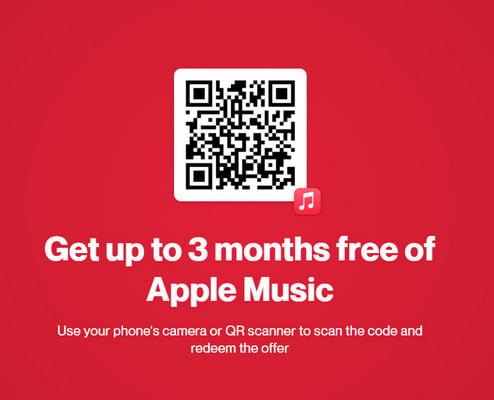 8. Through ISTYLE (3 Months)
Apple regularly joins forces with a range of retail partners to extend special offers. In one such collaboration, Apple teams up with iSTYLE, a renowned retailer, and offers a complimentary trial of Apple Music. Typically, such this promotional offering spans around 3 months, affording customers a generous window to explore and assess the music streaming service.
Redeem the Offer: https://istyle.ae/apple-services

9. Through Touch 'n Go (2 Months)
Good news- with Touch 'n Go, you can now enjoy the latest bangers and timeless classics on Apple Music for 2 whole months absolutely free. This offer is available until 4 July 2024. So what are you waiting for? Get into Touch 'n Go today and start experiencing the best of Apple Music.
Redeem the Offer: https://www.touchngo.com.my/promotion/apple-music-up-to-2-months-free-trial/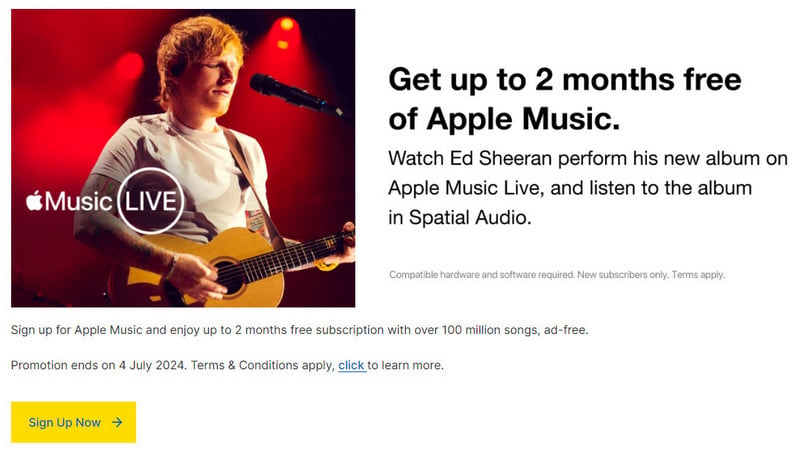 10. Through Target Circle (2 Months)
Target Circle is now offering a fantastic deal you won't want to miss. You can take advantage of a two-month free trial of Apple Music by signing up through Target Circle. If you're someone who's been considering subscribing to Apple Music but has held back due to the cost, now is the perfect time to give it a try.
Redeem the Offer: https://www.target.com/circle/partners?flyout=1014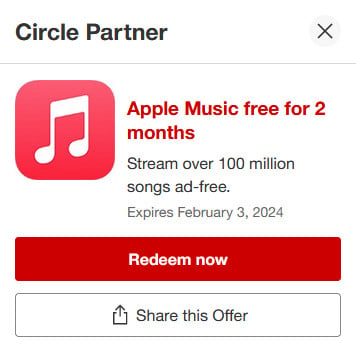 11. Through Apple Music Site (1 Month)
Many streaming music platforms offer free trials so you can test out their features and see if the service is a good fit. Apple Music is no exception. Usually, new subscribers to Apple Music can easily access a 1-month free trial directly on its official page.
Tips: You can also try the Apple One, bundled with Apple Music, Apple TV+, Apple Arcade, and more. There you will also get a 1-month free trial of Apple Music.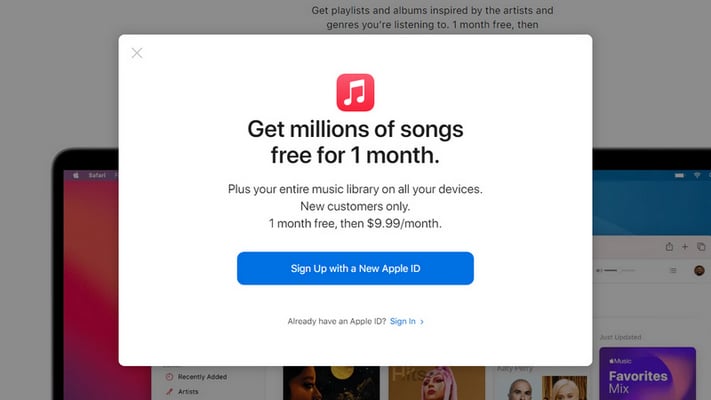 Extra Tips: Keep Apple Music Forever after Free Trial Ends [*HOT*]
From the above, there are multiple workarounds available to access Apple Music for free, it's essential to keep in mind that the subscription fee of $10.99 per month will be charged automatically once the trial period ends. If you don't want to pay, all your Apple Music songs will be lost. This could be a regrettable consequence for many avid listeners.
Fret not, you can now use NoteBurner iTunes Audio Converter (also called NoteBurner Apple Music Converter) to convert Apple Music to MP3, AAC, FLAC, WAV, AIFF, or ALAC format at 10X faster speed. Once you have got your entire Apple Music library downloaded all at once, you can save all your own music tracks on local drive forever, even after the free trial or subscription ends.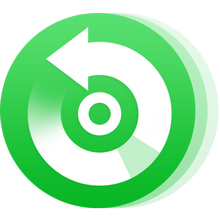 Features of NoteBurner Apple Music Converter:
Record Apple Music song, podcast, iTunes M4P Music & audiobook;
Convert Apple Music streams to MP3, WAV, FLAC, AIFF, AAC, or ALAC;
Convert Apple Music songs at 10X faster speed with 100% lossless quality;
Keep ID3 tags and metadata & lyric;
Support the latest version of iTunes/Apple Music.
Try It Free

Try It Free

Free Upgrade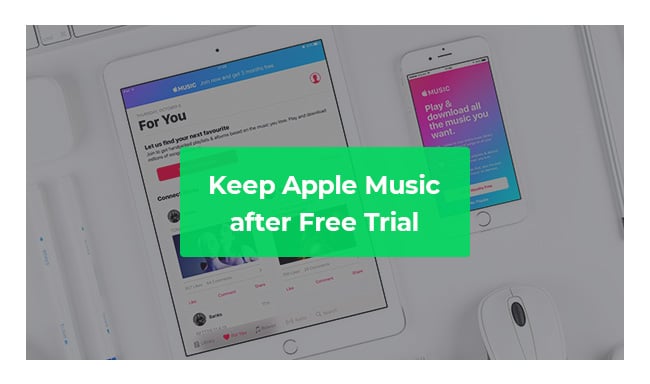 We can save tracks to listen to offline within subscription, but once we cancel the service, we'll lose access to all of the songs. This tutorial will show you how to keep Apple Music after free trial.
Note: Tips: Currently, NoteBurner provides a free trial version that allows you to convert the first 1 minute of each song. You can buy the full version to unlock this limitation and enable all its features. And it is suggested to download the trial version and test if it meets your needs for Apple Music converting.
---
What's next? Download NoteBurner iTunes Audio Converter now!
---
YouTube Video: How to Use NoteBurner Apple Music Converter