8 Ways to Fix Apple Music is Not Available in Your Region
Apple Music is a great streaming service, but it can be frustrating to get the message block of "This song is currently not available in this country or region".
Actually, due to licensing agreements, Apple Music service is not available in all countries. The music songs you can stream on Apple Music vary from country to country, or region to region. This is also the main reason for the Apple Music greyed-out issue.
Or there may be other causes, Apple Music can't match your song on its database, songs you've added years ago have updated versions, bugs within certain iOS systems, or some other possibility. No matter which reason it is, let's dig into the solutions to fix Apple Music not currently available problem: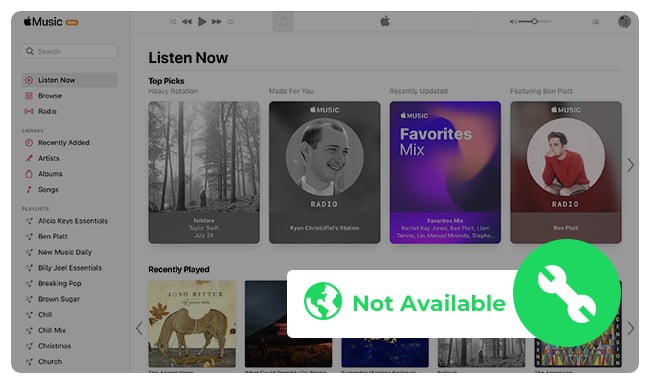 Solution 1: Updating iOS or iPad OS
Apple always updates its app to fix some bugs, so you could get a direct and easy solution after upgrading the iOS system. After updating your iOS, you may no longer experience the "This song is not currently available in your country or region" error prompt.
Step 1 Open "Settings" and tap "General".
Step 2 Tap "Software Update", then your iOS device will check to see if there's an update available.
Step 3 If there's an update, tap "Download and Install". Agree to the terms and conditions, and "Download".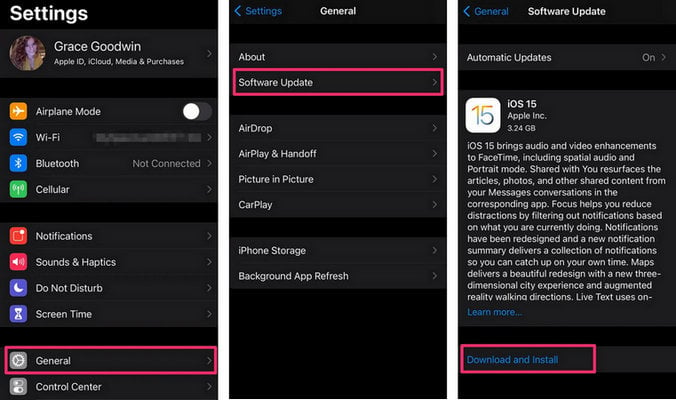 Solution 2: Turn off / Switch the VPN Server
If you're using a VPN or proxy server, Apple Music may detect and block you from accessing the service. So just try to disable your VPN app, and keep using local internet to access your Apple Music library.
Step 1 Go to "Settings" and click "VPN" under the "Personal Hotspot".
Step 2 Click the green Connected switch to turn off your VPN.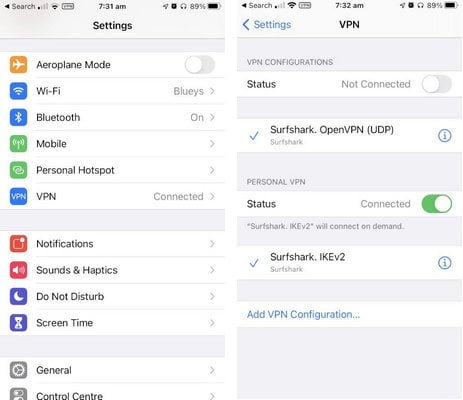 Tips: If your case can't be fixed after turning off the VPN, try to turn it on again and switch to a VPN server location where Apple Music is available.
Solution 3: Reset Warnings in Apple Music or iTunes
Many users reflect resetting the Apple Music warning can also fix the issue of Apple Music not available to play. By doing this, you'll reset all songs on your Apple Music library. Here's the how-to:
Step 1 Open iTunes or Apple Music on computer, then go to "Preferences > Advanced".
Step 2 Click "Reset Warnings", and click "OK".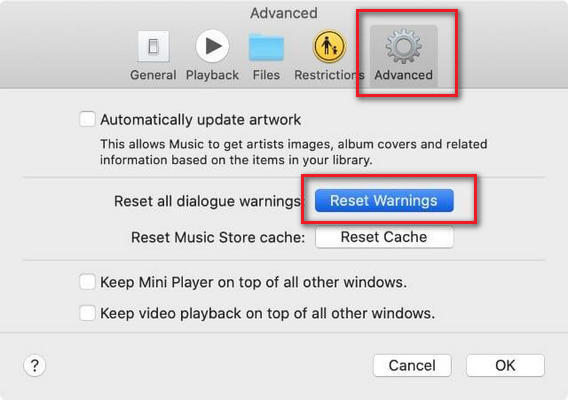 Solution 4: Change Apple ID Country or Region
If you're traveling abroad, make sure the country or region you're in is included in the Apple Music support scope. If so, change your country setting and the requirements to get the Apple Music regional issue solved.
Step 1 Go to "Settings", and tap "Your Name > Media & Purchases".
Step 2 Tap "View Account" and then enter your Apple ID password.
Step 3 Tap "Country/Region", and "Change Country or Region", then choose the target region you're in.
Step 4 Agreeing to the terms and conditions and "Done".
Learn More on Change your Apple ID country or region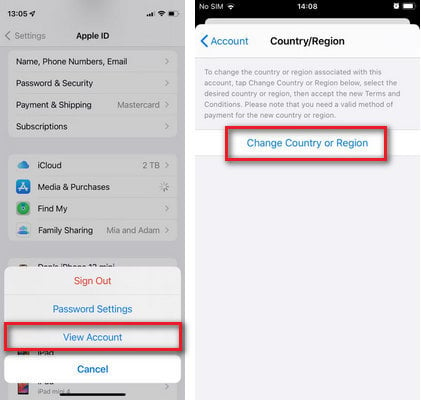 Solution 5: Remove and Re-Add Songs
By deleting and adding songs, you may have the ability to resolve the Apple Music song unavailability issue. This method works for particular songs only.
Step 1 Open Apple Music or iTunes, hold on the grey-out song and tap "Delete from library".
Step 2 Go to the search bar and enter the song name. Then add it back to your library.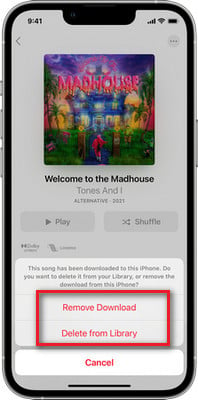 Solution 6: Turn Off and Turn on Sync
Another Solution to fix Apple Music regional error is to disable the Apple Music library sync function and reopen it.
Step 1 Go to "Settings" and click "Music".
Step 2 Switch off "Sync Library" to remove all Apple Music songs from your device.
Step 3 After that, turn the Sync Library option back on, and tap "Keep Music".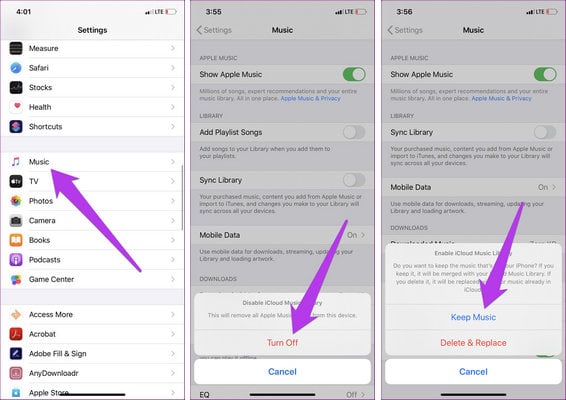 Solution 7: Sign Out and Sign In Account
If you still cannot solve the issue, why not try to sign in and sign out of your Apple ID? This may help to refresh your music status.
Step 1 Go to "Settings" and tap your Apple profile on the top.
Step 2 Scroll download and tap "Sign Out". Then enter your Apple ID password and "Turn Off".
Step 3 Now, head back to the "Settings" and go "Sign in" again.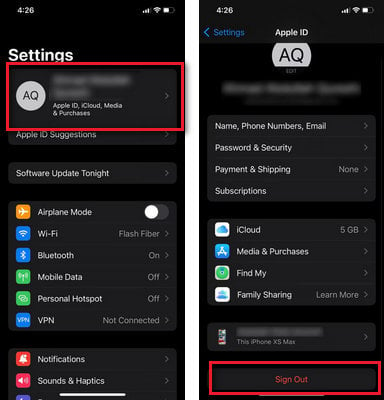 Solution 8: Force Quit Apps and Restart Device
Your device may overwhelm to load your Apple Music songs. If that's the case, force closing all applications and restarting your device. This act of forcing your device to stop all processes could solve some software issues. After restarting your device and relaunching the program, it will connect to the Apple Music service a second time.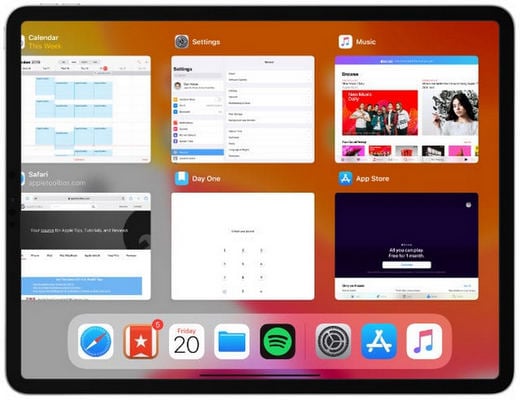 Extra Tips: How to Save Apple Music Forever
During the subscription to Apple Music, you can freely enjoy tons of songs as many as you want. But once the subscription expired, you'll also lose the ability to listen to them. This is also the typical feature of streaming music services - you can easily get access to its whole library, but you never own any music files.
To keep Apple Music playable forever and avoid the "music cannot play in your region" error, here we'll recommend to use NoteBurner Apple Music Converter, a safe and efficient audio converter, to convert all Apple Music audios to MP3, AAC, WAV, FLAC, AIFF, ALAC losslessly at 10X faster speed. Once converted, your Apple Music library will be stored on your local drive and you can play them anytime anywhere.
Note: Before conversion, make sure your Apple Music is normally playable on your Mac or Windows device.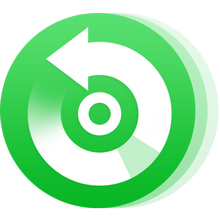 Features of NoteBurner Apple Music Converter:
Record Apple Music Song, Podcast, iTunes M4P Music & Audiobook;
Convert Apple Music streams to MP3, WAV, FLAC, AIFF, AAC, or ALAC;
Convert Apple Music songs at 10X faster speed with 100% lossless quality;
Keep ID3 tags and metadata & lyric;
Support the latest version of iTunes.
Try It Free

Try It Free

Free Upgrade
Conclusion
There are many reasons why you will be blocked with the message "This song is currently not available in this country or region" on Apple Music. This article has grabbed 8 solutions that help to fix your Apple Music greyed-out problem.
At the end of this page, you'll also get a powerful NoteBurner Apple Music Downloader, used to download iTunes/Apple Music to computer so that you can keep Apple Music playable even after the subscription ends. What's more, you won't get any error prompts after the conversion.
Note: The free trial version of NoteBurner iTunes Audio Converter converts 1 minute of each audio file only. If you want to unlock the time limitation, please purchase the full version of NoteBurner iTunes Audio Converter.
---
What's next? Download NoteBurner iTunes Audio Converter now!
---
YouTube Video: How to Use NoteBurner Apple Music Converter