How Is YouTube Music Sound Quality in 2023? Is It Any Good?
YouTube Music is no doubt a prominent player that offers over 100 million music songs with exclusive music video options. However, YouTube Music's audio quality has been a topic of controversy. Some argue that it provides a lower bit rate compared to its competitors, but it boasts an outstanding sound quality that's louder, better, and more vibrant. Just read on and learn more info and review about the YouTube Music audio quality.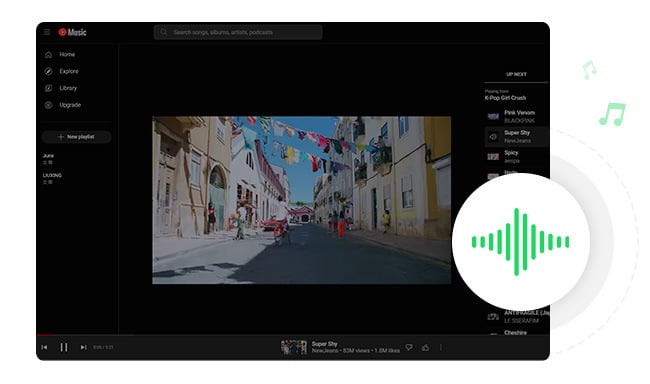 What is YouTube Music Audio Quality?
It's no secret that the quality of audio plays a critical role in the overall listening experience. So, what audio quality does YouTube Music offer? To put it simply, it depends on whether you're a YouTube Music Premium member, and the quality settings on YouTube Music.
Available Quality Settings

Low: 48kbps AAC and OPUS (uses the least data)


Normal: 128kbps AAC and OPUS (default settings)

Low: 48kbps AAC and OPUS (uses the least data)


Normal: 128kbps AAC and OPUS (default settings)


High: 256kbps AAC and OPUS (high sound quality)


Always high: 256 kbps AAC and OPUS (maintains high sound quality even when the internet is poor)
As you can see, the best streaming quality YouTube Music provides is 256kbps. It's obvious that YouTube Music hasn't yet provided 320kbps or even HiFi audio quality till now.
---
How to Change YouTube Music Quality Settings?
Being able to change YouTube music quality settings is crucial to achieving the optimal experience. Fortunately, this process is relatively simple and can be done in just a few clicks.
Learn More on Select or change your audio quality
Step 1 Open YouTube Music app on your phone, then click your profile icon at the upper right.
Step 2 Click "Setting > Playback", then choose "Audio quality on mobile data" or "Audio quality on Wi-Fi".
Step 3 Next, you can select your YouTube Music streaming quality settings at "Low, Normal, High, or Always High".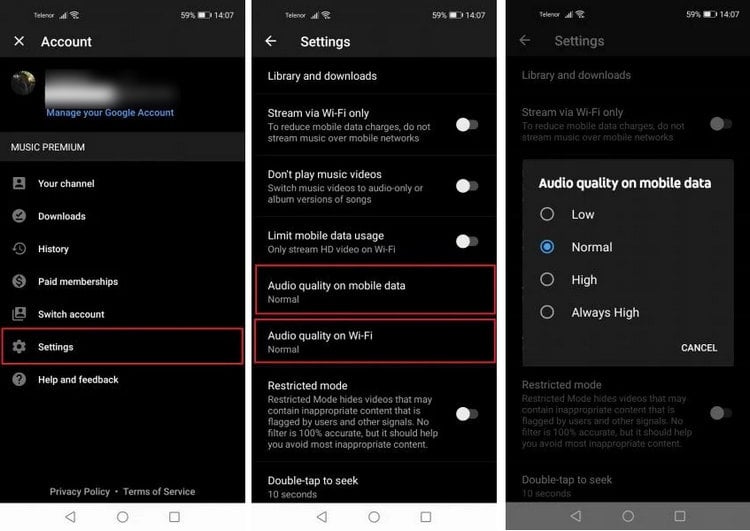 ---
YouTube vs. YouTube Music Sound Quality?
If you're looking for a platform to enjoy official music solely, then YouTube Music might be your go-to choice. On the other hand, if you enjoy watching music videos or live performances along with their sound, then YouTube might be more up your alley.
As far as sound quality goes, YouTube Music offers an option for higher bit rates, enabling users to enjoy crisper, and clearer sound quality compared to YouTube's streaming output.
---
YouTube Music vs. Other Streaming Services Sound Quality?
Here's a comparison list of the sound quality between YouTube Music and some popular streaming music services.
When comparing YouTube Music to other streaming services in terms of sound quality, it's important to mention that YouTube Music offers AAC-compressed audio, which can result in a loss of detail and clarity. This is particularly noticeable when compared to lossless audio streams like those offered by services such as Apple Music, Tidal, or Deezer.
However, not all streaming services offer lossless audio, for example, Spotify Premium, which streams at a bitrate of 320kbps. So does Spotify songs sound better than YouTube Music? Theoretically, Spotify does offer 320kbps, which means a higher bit rate than YouTube Music's 256kbps. This can result in a more defined and clear sound that truly showcases the intricacies of a song.
But some Reddit users have been discussing the sound quality of YouTube Music - it sounds louder, more vibrant, and closer to a CD sound than Spotify, or some other music services. Some speculate that YouTube Music has added some effects to the audio in order to enhance its quality and create a superior listening experience.
"YouTube Music appears to enhance audio processing for improved sound quality. After testing it against Apple Music, Spotify, and Tidal on various headphones and speakers, I found that YouTube Music generally sounded the best, with a brighter and more pronounced stereo effect. While Tidal did offer more background details, especially with high-quality planar magnetic headphones, this effect was often subtle and easily lost over Bluetooth or lower-quality devices, making YouTube Music the top choice for most situations. It seems like bitrates and empirical quality don't hold as much significance here; YouTube Music's processing enhances audio for average devices." -- Review from Reddit User
While the exact methods used by YouTube Music are unknown, it is clear that this service aims to provide users with the best music listening experience as possible as they could. Ultimately, the choice of streaming music service will depend on your personal preferences.
---
Extra Tips: Download YouTube Music with Original Sound Quality Kept
Last, we would like to recommend an extra tool, NoteBurner YouTube Music Converter, to download your entire YouTube Music library to computer while saving original 256kbps audio quality at 10X faster speed.
By using this NoteBurner tool, you an extract and save YouTube Music as MP3, AAC, FLAC, WAV, AIFF, or ALAC open-source music files directly. Afterward, you can freely copy YouTube Music to USB drive, upload to your video project, mix on DJ software, and any other usage you need.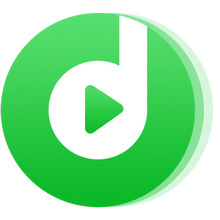 Features of NoteBurner YouTube Music Converter:
Convert YouTube Music to MP3, AAC, WAV, FLAC, AIFF, and ALAC.
Record songs from YouTube Music Free/Premium.
10X faster speed & keep the original audio quality.
Support to retain ID3 meta tags.
No need to install any extra app.
Try It Free

Try It Free

Free Upgrade
Note: The free trial version of NoteBurner YouTube Music Converter allows you to convert the first 1 minute of each song. You can buy the full version to unlock this limitation and enable all its features.
How to convert YouTube Music songs to MP3? Go to this page and you'll get the best YouTube Music Converter to help you download all YouTube playlists to MP3 on computer.
---
What's next? Download NoteBurner YouTube Music Converter now!