Best 10 Podcasts on Spotify You Can't Miss
Spotify is definitely the go-to music streaming app for most people. With Spotify you can build your favorite playlists from a collection of 100 million songs, select artist radios to hear what you love, and get a sneak peek at new tracks. What's more, it also has a wide selection of awesome podcasts, covering a range of topics from sports to politics to pop culture to identity to everyday life. These podcasts have enriched our life and became another excellent way to entertain oneself while commuting, traveling, or working out. However, for some people, having too little free time to find podcast that suits their taste can be a frustrating thing.
Don't worry though, we're here to help you. In following article, we've compiled a list of the best 10 podcasts on Spotify, covering a variety of topics, and will share you an easy way to download these podcasts to computer with Spotify Free account for offline playback.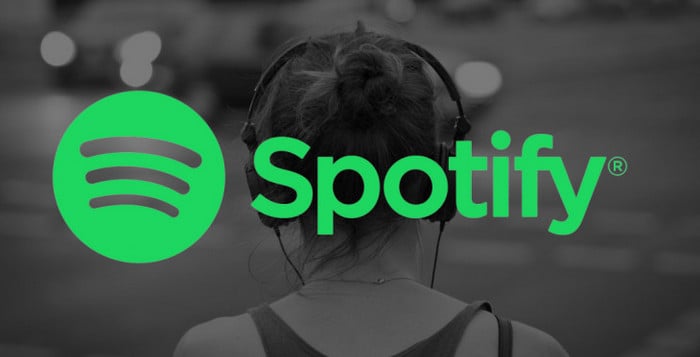 Part 1: Top 10 Hot Podcasts on Spotify
1. Stuff You Should Know
By: HowStuffWorks
Updates: Tuesday, Thursday, and Saturday
Length: 20–80 minutes
Introduction: If you've ever wanted to know about champagne, Satanism, the Stonewall Uprising, chaos theory, LSD, El Nino, true crime and Rosa Parks then look no further. Josh and Chuck have you covered.
2. The Daily
By: The New York Times
Updates: Five days a week
Length: 20~40 minutes
Introduction: This is what the news should sound like. The biggest stories of our time, told by the best journalists in the world. Hosted by Michael Barbaro. Twenty minutes a day, five days a week, ready by 6 a.m.
3. Science Vs
By: Gimlet Media
Updates: Quarterly
Length: 20–60 minutes
Introduction: There are a lot of fads, blogs and strong opinions, but then there's SCIENCE. Science Vs is the show from Gimlet Media that finds out what's fact, what's not, and what's somewhere in between. We do the hard work of sifting through all the science so you don't have to. This season we tackle sex addiction, nuclear war, Lyme disease, and serial killers.
4. How it Began: A History of Modern World
By: Brad Harris, Historian of Science and Technology
Updates: Quarterly
Length: ~90 minutes
Introduction: A thrilling podcast about the History of the Modern World. Humanity has been hard at work for centuries to empower itself with better tools and insights, from science and surgery to electricity and the Internet, and this series celebrates the history of those triumphs. Compared to our ancestors, we live like superheroes and sorcerers, endowed with powers they could never have imagined. But how did we achieve all this? Historian Brad Harris tackles that question head on, revealing how the most important scientific, technological, and cultural advancements in history began, and inspiring us to keep reaching for new historical triumphs along the way.
5. Welcome to Night Vale
By: Night Vale Presents
Updates: The first and fifteenth of every month
Length: ~90 minutes
Introduction: Twice-monthly community updates for the small desert town of Night Vale, where every conspiracy theory is true. Turn on your radio and hide. Never listened before? It's an ongoing radio show. Start with the current episode, and you'll catch on in no time. Or, go right to Episode 1 if you wanna binge-listen.
6. The Adventure Zone
By: Griffin, Justin, Travis, and Clint McElroy
Updates: Bi-Weekly
Length: ~90 minutes
Introduction: Justin, Travis and Griffin McElroy from My Brother, My Brother and Me have recruited their dad for a campaign of high adventure. Join The McElroys every other Thursday as they kill a nauseating number of gerblins in ... The Adventure Zone!
7. Popcast
By: The New York Times
Updates: Friday
Length: ~90 minutes
Introduction: The Popcast is hosted by Jon Caramanica, a pop music critic for The New York Times. It covers the latest in pop music criticism, trends and news.
8. Revisionist History
By: Malcolm Gladwell
Updates: Weekly
Length: 30-60 mins
Introduction: Revisionist History is Malcolm Gladwell's journey through the overlooked and the misunderstood. Every episode re-examines something from the past—an event, a person, an idea, even a song—and asks whether we got it right the first time. From Panoply Media. Because sometimes the past deserves a second chance.
9. Dan Carlin's Hardcore History
By: Dan Carlin
Updates: Approximately every four to seven months
Length: 3~5 hours
Introduction: Was Alexander the Great as bad a person as Hitler? What was the greatest army of all time? Which U.S. President was the worst? Hardcore History discusses the issues and questions history fans love.
10. Sleep With Me
By: Dearest Scooter
Updates: Tuesday, Thursday, and Sunday
Length: ~90 minutes
Introduction: Insomnia? Mind racing at night? Worries keeping you up? Tune in for a bedtime story that lets you forget your problems and progressively gets more boring until you fall to sleep. So get in bed, press play, close your eyes, and drift off into dreamland.
Part 2: Download Best 10 Podcasts from Spotify with Free Account
Spotify offers thousands of fantastic podcasts, and lets users listen to them by using two main plans: Free and Premium. While both plans let you access a giant library of streaming music or podcast, there are several major differences between them, among which the biggest one is that Spotify Free users are not allowed to save songs or podcasts to their devices for listening when they're offline. That's a huge pain for those Free users who don't want to run up their mobile data bill or need to listen to podcast during an air travel for making the travel seem a little shorter.
Fortunately, things changed thanks to the coming out of NoteBurner Spotify Music Converter. It is an all-in-one smart Spotify music DRM removal solution that can help both Spotify Free and Premium users completely record Spotify music and converts them to MP3, AAC, WAV, AIFF, FLAC, or ALAC format with lossless quality kept. What's more, NoteBurner Spotify Music Converter currently is the first and only program which supports downloading podcast from Spotify. With the help of this powerful app, even the Spotify Free users are capable of downloading any song, playlist or podcast from Spotify for offline playback.
Note: Podcasts with videos, like The Joe Rogan Experience can not be downloaded currently.
Seeking a way to transfer Amazon Music Unlimited and Prime Music songs to any devices or media players? NoteBurner Amazon Music Converter is all you need to download any Amazon songs to MP3/AAC/WAV/FLAC/AIFF/ALAC format losslessly.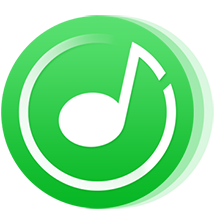 Features of NoteBurner Spotify Music Converter:
Convert Spotify music to MP3, AAC, WAV, AIFF, FLAC, ALAC.
Record songs at 10X faster speed with 100% lossless quality.
Keep ID3 tags after conversion.
Burn Spotify music to CD easily.
Upload music to iTunes / OneDrive.
Try It Free

Try It Free

Free Upgrade
How to Download Spotify Podcast without Premium
NoteBurner Spotify Music Converter supports both Windows and Mac OS. But currently only the Mac version supports downloading podcast from Spotify, the Windows version with this function is under working and will come soon. The following is a detailed tutorial about how to download Spotify podcast on Mac with Spotify Free. Please download this useful tool on your computer first before getting started.

Step 1 Run NoteBurner Spotify Music Converter on Mac
Launch NoteBurner Spotify Music Converter on Mac. You will see the intuitive interface of Spotify Music Converter.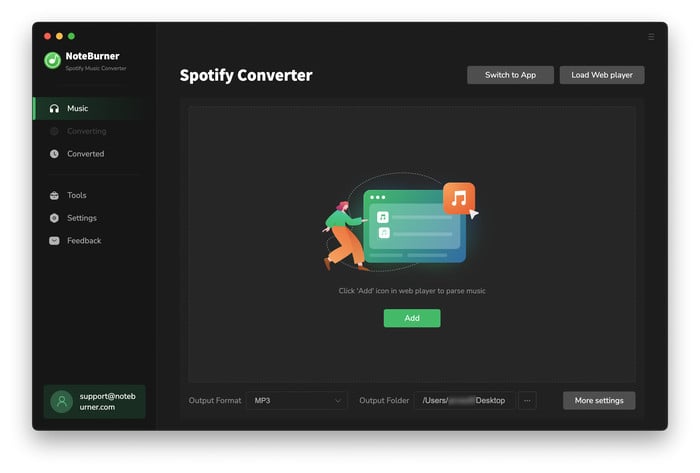 Step 2Choose Output Format and Set the Parameters
Directly click the Setting button in the top-right corner to choose output format. You can choose the output format (MP3, AAC, FLAC, AIFF, WAV, or ALAC), output quality (320kbps, 256kbps, 192kbps, 128kbps). You could also change the output folder as you prefer.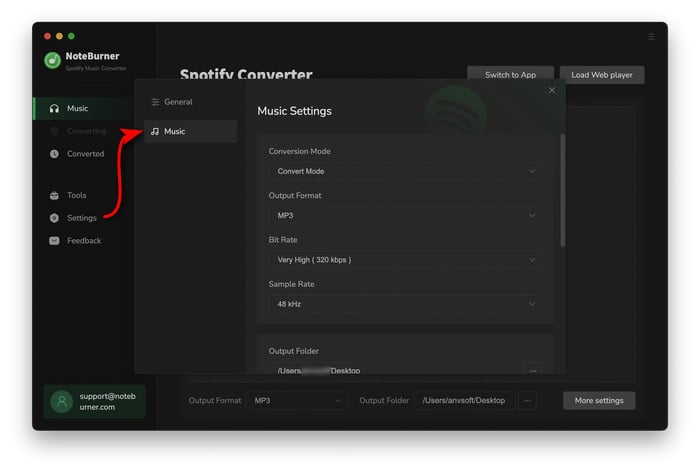 Step 3Drag Podcasts from Spotify to NoteBurner
You can add Spotify podcast files by dragging and dropping podcasts from Spotify app to NoteBurner. Then choose the podcast you would like to convert.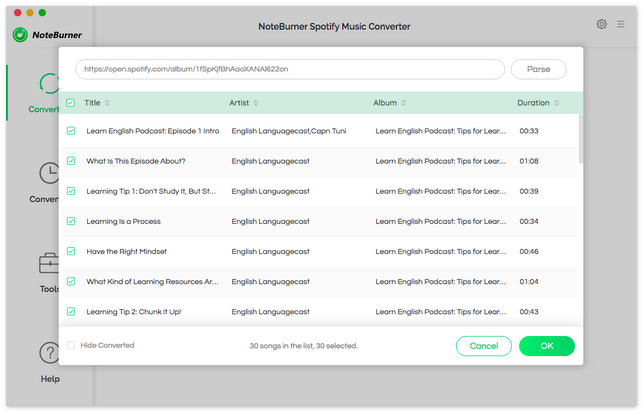 Step 4 Start Downloading Podcast
After customization, click the "Convert" button to start conversion. After conversion, you can find the converted podcast files by clicking "Converted" button.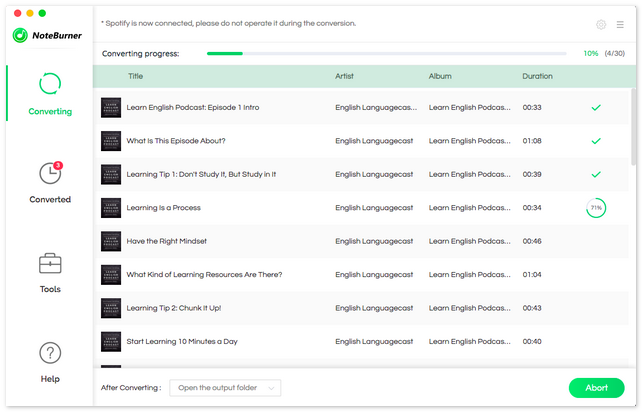 Now all the podcast files have been downloaded to your computer, you can transfer them to any of your devices for offline listening.
Note: The free trial version of NoteBurner Spotify Music Converter allows you to convert 3 audios each time, and keep the first 3 minutes of each audio. You can buy the full version to unlock this limitation.
---
What's next? Download NoteBurner Spotify Music Converter now!