> FAQs
> Fix Failed 1001
How to Fix Failed 1001?

If you are encountering Failed 1001 when converting songs with NoteBurner Spotify Music Converter, please follow the following solutions to check whether the issue can be fixed.
Step 1 Please run Spotify only and play a song, then close Spotify and launch NoteBurner for a try.
If the Failed 1001 problem still persists, please add some music files for converting. After clicking "Convert", please open Spotify window and check whether the play button is greyed out and unclickable as shown below?

If so, please make sure the song can be played normally on Spotify during conversion (see picture, below).

Note: If multiple devices are logged into the same Spotify account, please make sure you are selecting "This Computer" to play the audio on Spotify when using NoteBurner program.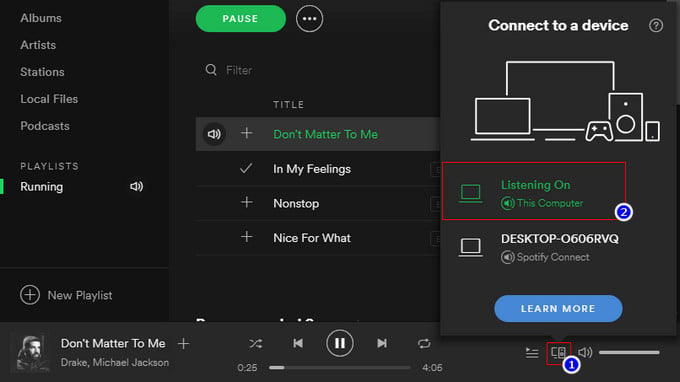 Step 2 Please clear cache files of Spotify under "C:\Users\%username%\AppData\Local\Spotify\Data" folder.
Step 3 Please check whether your firewall settings had bolcked or disabled Spotify.exe.
If above solutions still cannot resolve your problems, please provide the following information to our support team via support [at] noteburner.com (replace [at] with @ before sending message). We will submit your feedback to our developer and inform you if the solution is available.
Which version of Spotify are you using?
Which Windows OS are you using? 32 bits or 64 bits?
Please also send us all log files for our analysis. You can find them by going to the NoteBurner program, Menu > Open Log File.