> FAQs
> How to Register NoteBurner
How can I register NoteBurner programs with registration code provided?

Once your order has been validated, registration code will be sent to your e-mail INSTANTLY. Then you can simply download and install the program you purchased on your Windows or Mac computer to register it.
How to register NoteBurner Music Converter?
Here we'll take the NoteBurner iTunes Audio Converter as an example to show you how to register NoteBurner, so you can unlock the trial limit.
1) Install the trial version of NoteBurner Music Converter on your computer.
2) Then launch NoteBurner. Click the "Menu icon (on the upper right) > Register", or you can also click the "Register" icon at the bottom left corner.
3) There will be a registration popup dialog, where you can copy and paste the Email and Register Key to it.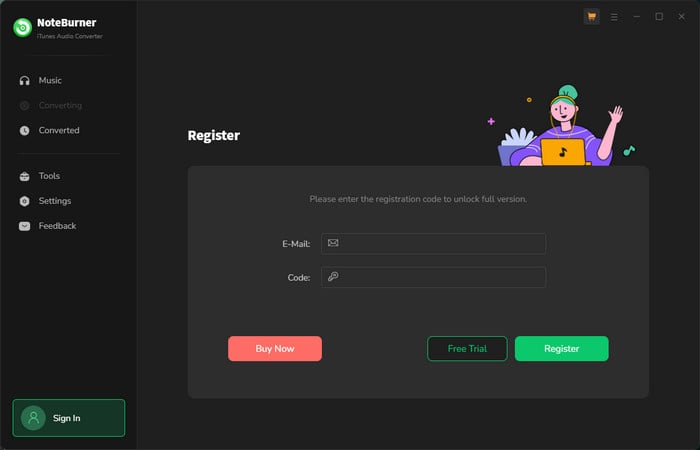 What to do when get the message shows "Invalid Code"?
There are two possibilities for your license does not work:
1. Your subscription license has been expired.
If you've subscribed to NoteBurner's monthly or yearly plan, you will need to use the new license to manually register NoteBurner again each period. Please check your mailbox/junk box and find out the new renewal license for registration.
2. You have entered a wrong E-mail or code on the register tab.
It's much suggested to directly copy and paste the registration email and license code onto the tab to register the program, instead of manually typing.
3. The program you are attempting to register is not the one you purchased.
If you have downloaded an incorrect program, the register code will be invalid as a result. To resolve this problem, please make sure you've downloaded the correct program on our Download Center.
Haven't resolved your problem after trying above methods? Feel free to contact us via Email:
support [at] noteburner.com (replace [at] as @ before sending message).