Movies for Valentine's Day on Netflix
Valentine's Day is coming again. It would be enjoyable to cuddle your partner and lie on the couch together, watching romantic movies and sipping drinks. Are you still wondering what to watch on the night of Valentine's Day? If so, you can read the article as we have specially picked some movies for Valentine's Day on Netflix for you.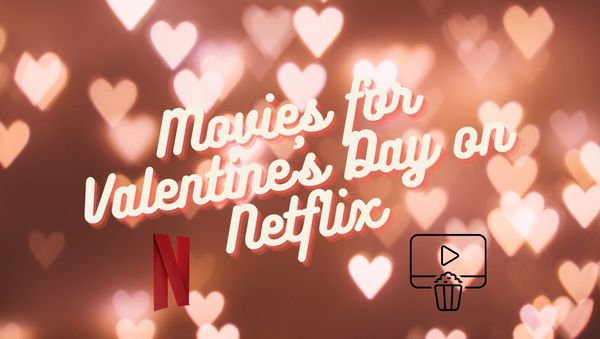 ---
1. Five Feet Apart
Director: Justin Baldoni
Cast: Haley Lu Richardson, Cole Sprouse, Moises Arias
Introduction: Seventeen-year-old Stella spends most of her time in the hospital as a cystic fibrosis patient. Her life is full of routines, boundaries and self-control all of which get put to the test when she meets Will, an impossibly charming teen who has the same illness. There's an instant flirtation, though restrictions dictate that they must maintain a safe distance between them. As their connection intensifies, so does the temptation to throw the rules out the window and embrace that attraction. Love has no boundaries.
2. Me Before You
Director: Thea Sharrock
Cast: Emilia Clarke, Sam Claflin, Janet McTeer
Introduction: Lou Clark knows lots of things. She knows how many footsteps there are between the bus stop and home. She knows she likes working in The Buttered Bun tea shop and she knows she might not love her boyfriend Patrick. What Lou doesn't know is she's about to lose her job or that knowing what's coming is what keeps her sane. Will Traynor knows a road accident took away his desire to live. He knows everything feels very small and rather joyless now and he knows exactly how he's going to put a stop to that. What Will doesn't know is that Lou is about to burst into his world in a riot of color. And neither of them knows they're going to change each other for all time.
3. One Day
Director: Lone Scherfig
Cast: Anne Hathaway, Jim Sturgess, Patricia Clarkson
Introduction: Emma and Dexter meet on the night of their university graduation. We see them every year on the anniversary of that date - July 15th. Emma is smart but success doesn't come quickly for her, whereas for Dexter, success and women come very easily. Through the years they grow apart as their lives take different directions and they meet other people. But as they grow apart from those other people and their lives start taking opposite directions again, Emma and Dexter find that they belong with each other.
4. About Time
Director: Richard Curtis
Cast: Domhnall Gleeson, Rachel McAdams, Bill Nighy
Introduction: At the age of 21, Tim Lake discovers he can travel in time...Tim can't change history, but he can change what happens and has happened in his own life-so he decides to make his world a better place...by getting a girlfriend. Moving from the Cornwall coast to London to train as a lawyer, Tim finally meets the beautiful but insecure Mary. So they meet for the first time again and again-but finally, after a lot of cunning time-traveling, he wins her heart. But as his unusual life progresses, Tim finds out that his unique gift can't save him from the sorrows and ups and downs that affect all families, everywhere. There are great limits to what time travel can achieve, and it can be dangerous too.
5. The Notebook
Director: Nick Cassavetes
Cast: Gena Rowlands, James Garner, Rachel McAdams
Introduction: Local worker Noah Calhoun meets Allie at a carnival and they soon fall in love with each other. Allie's parents do not approve of their romance since Noah belongs to another social class, and they move to New York with her. Noah writes 365 letters to Allie, but her mother Anne Hamilton does not deliver them to her daughter. Three years later Allie meets an injured soldier Lon Hammond in the hospital. They meet each other again going on dates and then, Lon, who is wealthy and handsome, proposes. Meanwhile, Noah buys and restores the old house and many people want to buy it. When Allie accidentally sees the photo of Noah and his house in a newspaper, she feels divided between her first love and her commitment with Lon.
6. 50 First Dates
Director: Peter Segal
Cast: Adam Sandler, Drew Barrymore, Rob Schneider
Introduction: Henry Roth lives in a Hawaiian paradise with the company of endless women with no strings attached. This is until he meets Lucy Whitmore. Both Henry and Lucy enjoy the company of each other and feel the start of a serious relationship occurring. Approaching Lucy the next day, Henry is confused when Lucy fails to recognize him. This is the moment Henry discovers that Lucy actually suffers from short term memory loss and can't remember each individual day. Henry won't let this stop him and is prepared to make her fall in love with him all over again, each and every day.
7. Flipped
Director: Rob Reiner
Cast: Madeline Carroll, Callan McAuliffe, Rebecca De Mornay
Introduction: In 1957, when second-graders Bryce Loski and Julianna "Juli" Baker first meet, Juli knows it's love, but Bryce isn't so sure and tries to avoid Juli. By the sixth grade, in 1961, Bryce tries to get rid of Juli by dating Sherry Stalls, whom Juli despises. After finding out Bryce and Sherry broke up, she thought she could have Bryce back. But then they reconsider their decisions as time goes on. In 1962, Bryce's grandfather Chet Duncan moves in with the family. Chet has different views about Juli. There's a large, old sycamore tree that Juli loves which no one else understands. One day, it's cut down by a group of landscapers so a house can be built there, despite Juli's opposition. She becomes very depressed afterwards, as the tree let her see the world in a more enlightened way.
8. Begin Again
Director: John Carney
Cast: Keira Knightley, Mark Ruffalo, Adam Levine
Introduction: Gretta and her long-time boyfriend Dave are college sweethearts and songwriting partners who decamp for New York when he lands a deal with a major label. But the trappings of his new-found fame soon tempt Dave to stray, and a reeling, lovelorn Gretta is left on her own. Her world takes a turn for the better when Dan, a disgraced record-label exec, stumbles upon her performing on an East Village stage and is immediately captivated by her raw talent. From this chance encounter emerges an enchanting portrait of a mutually transformative collaboration, set to the soundtrack of a summer in New York City.
9. La La Land
Director: Damien Chazelle
Cast: Ryan Gosling, Emma Stone, Rosemarie DeWitt
Introduction: Aspiring actress serves lattes to movie stars in between auditions and jazz musician Sebastian scrapes by playing cocktail-party gigs in dingy bars. But as success mounts, they are faced with decisions that fray the fragile fabric of their love affair, and the dreams they worked so hard to maintain in each other threaten to rip them apart.
10. Love, Rosie
Director: Christian Ditter
Cast: Lily Collins, Sam Claflin, Christian Cooke
Introduction: From the age of 5 Rosie Dunne and Alex Stewart have been best friends, as they take on life they just end up getting separated time and time again. When it comes to love it's just everyone else but each other.... But when will they realise they are meant to be together?
---
If you want to stream HD Netflix movies on your TV, you have to ensure that your subscription plan and device meet the streaming requirements of Netflix. You may not be allowed to do that if either requirement is not satisfied.
There is a way to help you watch Netflix movies on any TV no matter what plan you subscribed to: use a professional video downloader. A downloader could help you download Netflix videos as local files so that you play them on any device you like without limitations.
Tool Required: NoteBurner Netflix Video Downloader
NoteBurner Netflix Video Downloader is a professional video converter specially designed to download videos from Netflix. The program can help download Netflix videos as MP4 or MKV files with HD output quality (up to 1080P) and original subtitles and audio tracks (multilingual). The videos can be downloaded fast in batches and will be saved forever without ads. After downloading the videos, you can transfer the videos to any device you like. If you meet problems during use, you can turn to the support team for help and they will provide solutions and updates for free.
Tutorial: How to Download Netflix Videos on Your Computer with NoteBurner
The following tutorial will teach you to download Netflix videos as local files on your computer. Please install NoteBurner Netflix Video Downloader first to better follow the tutorial below.
1

Log in to Your Netflix Account

Launch NoteBurner Netflix Video Downloader on your computer. Please type random words into the search box and a window will pop up, which will promote you to log in to your Netflix account.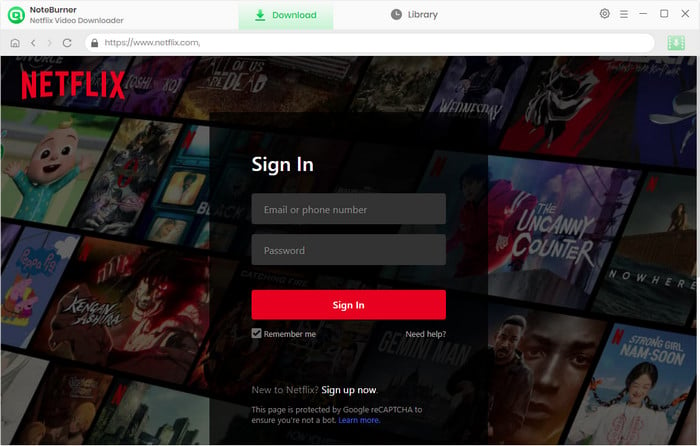 2

Choose Output Settings

You can open the Settings window by clicking the Gear icon in the upper right corner to customize the output settings such as MP4 or MKV video format, video quality (Low, Medium, and High), output folder, etc.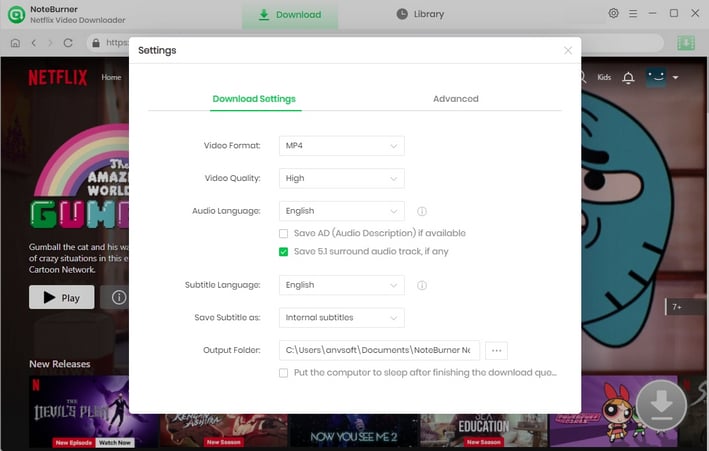 3

Search the Video

You can enter the name or keywords of the movie into the search bar or copy and paste the link of it into the search bar to search for it. NoteBurner will automatically list the result for you.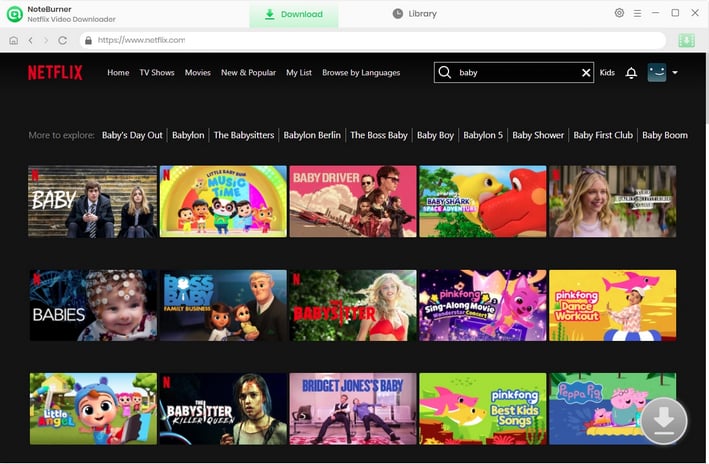 4

Customize Advanced Settings

Netflix Video Downloader enables you to select your preferred audio track and subtitle before downloading.

Before you download the movie, please click the

icon to open the Advanced Download window and choose the audio track and subtitle you like.
If you want to download a TV series, you can simply click the

icon, icon, followed that a window will pop up allowing you to select titles as well as seasons. Then you can choose the advanced options by clicking "Advanced Download" in the bottom left corner.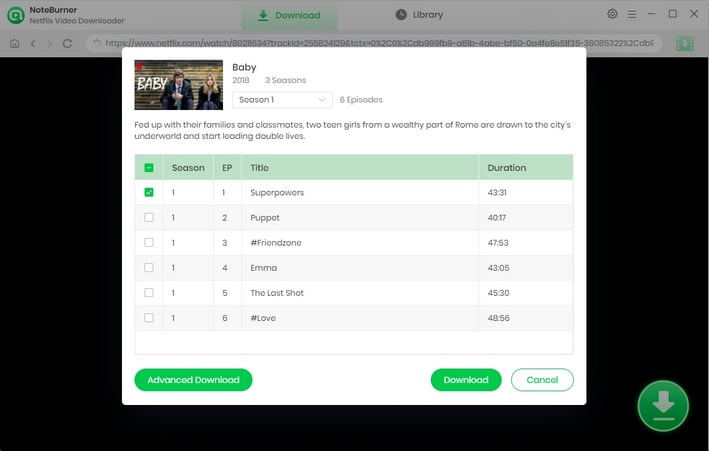 5

Download Netflix Videos

Now you can click the Download icon and the program will automatically download the videos to the folder you have selected in Step 2. You can find the downloaded videos in the Library.

After that, you can transfer the downloaded videos to a USB drive and plug the USB into your TV. You can then find the downloaded local videos and play them on your TV.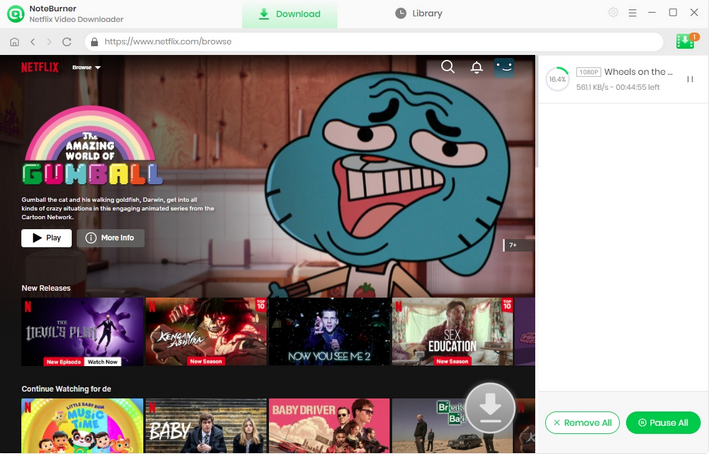 Final Word
With NoteBurner Netflix Video Downloader, you can easily get Netflix videos as local files and play them on any device you like without limits. Pick a movie for you Valentine's Day night and download it on your computer with NoteBurner now!
Note: Only the first 5 minutes of each video can be downloaded with trial version, please purchase a license to enjoy the full video. It is suggested that to download the trial version and have a test before purchasing it.