7 Classical Football Movies That You Cannot Miss
The charm of football is self-evident. Those who love it are very fanatical, yet those who don't love it scoff at it. From a certain point of view, football is not only an entertainment, but also an art. This point, which is similar to it and can make people feel ups and downs, is the movie.
The combination of football and movies is not uncommon. Whether they are recorded, adapted, true, or fictional, they are inspirational. Today, we will take stock of 7 classic football movies for you.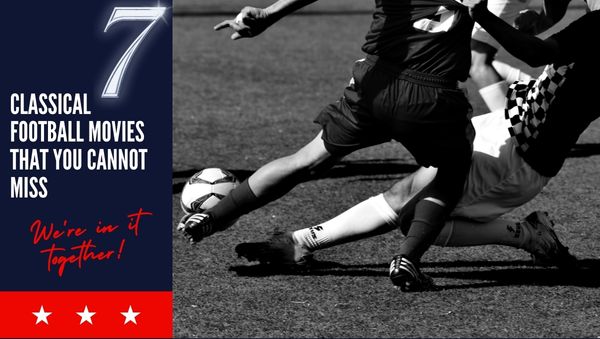 ---
1. Goal!
Director: Danny Cannon
Cast: Kuno Becker, Alessandro Nivola, Marcel Iureş, Stephen Dillane, Anna Friel
Introduction: The first one mainly tells about a 10-year-old Colombian boy, Santiago, who has a football dream in his heart. He was discovered by a scout by chance and brought to the UK, becoming a member of the Newcastle United Football Club. Finally, through his own hard work, he became a city hero. In the second part, Santiago moved to Real Madrid Club de Fútbol with his teammates because of his excellent performance. He fought alongside big-name stars, and was recognized by discerning Bernabeu fans.
2. United
Director: James Strong
Cast: Dean Andrews, Kate Ashfield, Natalie Burt
Introduction: The film takes the "Munich Air Disaster" in the history of Manchester United Football Club as the background, telling a story of Busby, the great coach in the history of the Red Devils, discovering a group of talented children. Manchester United Football Club, who fell into the bottom of the valley, was reborn and won the Champion in the UEFA Champions League.
3. The Hand of God
Director: Paolo Sorrentino
Cast: Filippo Scotti. Toni Servillo, Teresa Saponangelo
Introduction: This movie tells a story of a boy, Fabietto Schisa, set in the tumultuous Naples of the 1980s. In fact, it used a fast-forward way to tell the entire career of Maradona, as well as some of his off-court events, such as the story of tax evasion, divorce and admission to a mental hospital.
4. Victory
Director: John Huston
Cast: Michael Caine, Sylvester Stallone, Pelé
Introduction: The background of the story is set in a concentration camp during World War II. The German army specially held a football match to boost morale. A player thought this was a good opportunity to escape from prison, so he started to form a team. Several leading roles responded positively, contacted and planned this prison break. In the end, the escape was successfully realized.
5. Will
Director: Ellen Perry
Cast: Damian Lewis, Bob Hoskins, Rebekah Staton
Introduction: The story of a loyal fan of Liverpool Football Club traveling thousands of miles and going through a lot of hardships to Turkey to watch a game. Along the way, he met many fans who shared the same belief. Although the team was not favored, the young fans were always full of confidence. Finally, they witnessed the miracle of Istanbul!
6. The Miracle of Bern
Director: Sönke Wortmann
Cast: Louis Klamroth, Peter Lohmeyer, Johanna Gastdorf
Introduction: Matthias, a young German, has never met his father who was a prisoner of war in World War II. One day his father suddenly came home. His father had not yet shaken off the shadow of the war and had a surly personality. He was not good to Mathias and hated football. However, the story progressed layer by layer with the beginning of the World Cup. Matthias and his father went from strangers to family through football, and finally they went to Switzerland to witness the miracle together.
7. Rudo y Cursi
Director: Carlos Cuarón
Cast: Gael García Bernal, Diego Luna, Guillermo Francella, Jessica Mas
Introduction: The two brothers who live in hardship, can't even afford to go to school. Their only wish is to earn money to build a new house. Their only hobby is playing football. By chance, they were spotted by professional team scouts. From then on, the story began to take a sharp turn. Life after becoming a football star has changed the brothers. When poverty is gone forever, the vanity fair of luxury and money began to impact their hearts, and the negatives behind footballs were revealed one by one.
---
Final Word
Just as the World Cup is in full swing, it would be a good choice to enjoy some football movies during the game. If you want to play these movies offline or on different devices, downloading them from Netflix would be unsatisfactory as Netflix has set many download limits. For example, you can only download the videos to Netflix's internal app. Also, the downloaded videos can remain no longer than 30 days and they would expire in 48 hours if you start to watch them.
Here we have a powerful Netflix video downloader called NoteBurner Netflix Video Downloader, which can help you download Netflix videos to MP4 or MKV flies with high ouput quality (1080P) and original subtitles and audio tracks well-kept. The videos can be downloaded in batches and will be ad-free. The downloaded videos can be saved forever and played on any device you want. If you meet any problem when using the program, the support team will fix it and provide free updates. Install it on your computer and enjoy the World Cup with movies as well as matches.
Note: Only the first 5 minutes of each video can be downloaded with trial version, please purchase a license to enjoy the full video. It is suggested that to download the trial version and have a test before purchasing it.