Best 4K Amazon Movies
As the hit streaming platform that owns the most sufficient content, Amazon has always been the choice when people try to find something interesting to watch. With the development of technology, all platforms are providing more 4K content now. So here we will introduce the 10 best 4K Amazon movies for you to watch.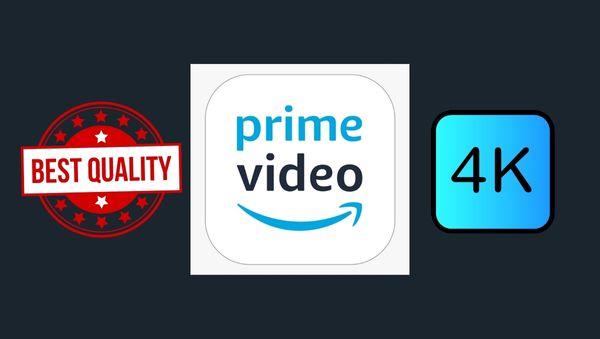 ---
1. The Wolf of Wall Street
Director: Martin Scorsese
Cast: Leonardo DiCaprio, Jonah Hill, Margot Robbie
Introduction: In the early 1990s, Jordan Belfort teamed with his partner Donny Azoff and started brokerage firm Stratton Oakmont. Their company quickly grows from a staff of 20 to a staff of more than 250 and their status in the trading community and Wall Street grows exponentially. As their status grows, so do the amount of substances they abuse, and so do their lies. That ultimately leads to Belfort featured on the cover of Forbes Magazine, being called "The Wolf Of Wall Street." With the FBI onto Belfort's trading schemes, he devises new ways to cover his tracks and watch his fortune grow. But with the FBI watching him like a hawk, how long will Belfort and Azoff be able to maintain their elaborate wealth and luxurious lifestyles?
2. Despicable Me
Director: Pierre Coffin, Chris Renaud
Cast: Steve Carell (voice), Jason Segel (voice), Russell Brand (voice)
Introduction: In a happy suburban neighborhood surrounded by white picket fences with flowering rose bushes, sits a black house with a dead lawn. Unbeknownst to the neighbors, hidden beneath this house is a vast secret hideout. Surrounded by a small army of minions, we discover Gru, planning the biggest heist in the history of the world. He is going to steal the moon. Armed with his arsenal of shrink rays, freeze rays, and battle-ready vehicles for land and air, he vanquishes all who stand in his way. Until the day he encounters the immense will of three little orphaned girls who look at him and see something that no one else has ever seen: a potential Dad.
3. Everything Everywhere All At Once
Director: Dan Kwan, Daniel Scheinert
Cast: Michelle Yeoh, Stephanie Hsu, Jamie Lee Curtis
Introduction: With her laundromat teetering on the brink of failure and her marriage to wimpy husband Waymond on the rocks, overworked Evelyn Wang struggles to cope with everything, including tattered relationships with her judgmental father Gong Gong and her daughter Joy. She must also brace herself for an unpleasant meeting with an impersonal bureaucrat: Deirdre, the shabbily-dressed IRS auditor. However, as the stern agent loses patience, an inexplicable multiverse rift becomes an eye-opening exploration of parallel realities. Will Evelyn jump down the rabbit hole? How many stars are in the universe? Can weary Evelyn fathom the irrepressible force of possibilities, tap into newfound powers, and prevent an evil entity from destroying the thin, countless layers of the unseen world?
4. The Tomorrow War
Director: Chris McKay
Cast: Chris Pratt, Yvonne Strahovski, J.K. Simmons
Introduction: The world is stunned when a group of time travelers arrives from the year 2051 to deliver an urgent message: 30 years in the future, mankind is losing a global war against a deadly alien species. The only hope for survival is for soldiers and civilians from the present to be transported to the future and join the fight. Among those recruited is high-school teacher and family man Dan Forester (Chris Pratt). Determined to save the world for his young daughter, Dan teams up with a brilliant scientist (Yvonne Strahovski) and his estranged father (J.K. Simmons) in a desperate quest to rewrite the fate of the planet.
5. The Black Phone
Director: Scott Derrickson
Cast: Mason Thames, Madeleine McGraw, Ethan Hawke
Introduction: Finney Blake is a shy but clever 13-year-old boy who is abducted by a sadistic killer and trapped in a soundproof basement where screaming is of no use. When a disconnected phone on the wall begins to ring, Finney discovers that he can hear the voices of the killer's previous victims. And they are dead-set on making sure that what happened to them doesn't happen to Finney.
6. How to Train Your Dragon
Director: Dean DeBlois, Chris Sanders
Cast: Jay Baruchel (voice), Gerard Butler (voice), Christopher Mintz-Plasse (voice)
Introduction: Long ago up North on the Island of Berk, the young Viking, Hiccup, wants to join his town's fight against the dragons that continually raid their town. However, his macho father and village leader, Stoik the Vast, will not allow his small, clumsy, but inventive son to do so. Regardless, Hiccup ventures out into battle and downs a mysterious Night Fury dragon with his invention, but can't bring himself to kill it. Instead, Hiccup and the dragon, whom he dubs Toothless, begin a friendship that would open up both their worlds as the observant boy learns that his people have misjudged the species. But even as the two each take flight in their own way, they find that they must fight the destructive ignorance plaguing their world.
7. Top Gun: Maverick
Director: Joseph Kosinski
Cast: Tom Cruise, Jennifer Connelly, Miles Teller
Introduction: Set 30 years after its predecessor, it follows Maverick's return to the United States Navy Strike Fighter Tactics Instructor program (also known as U.S. Navy-Fighter Weapons School - "TOPGUN"), where he must confront his past as he trains a group of younger pilots, among them the son of Maverick's deceased best friend Lieutenant Nick "Goose" Bradshaw, USN.
8. The Lord of the Rings: The Fellowship of the Ring
Director: Peter Jackson
Cast: Elijah Wood, Ian McKellen, Orlando Bloom
Introduction: An ancient Ring thought lost for centuries has been found, and through a strange twist of fate has been given to a small Hobbit named Frodo. When Gandalf discovers the Ring is in fact the One Ring of the Dark Lord Sauron, Frodo must make an epic quest to the Cracks of Doom in order to destroy it. However, he does not go alone. He is joined by Gandalf, Legolas the elf, Gimli the Dwarf, Aragorn, Boromir, and his three Hobbit friends Merry, Pippin, and Samwise. Through mountains, snow, darkness, forests, rivers and plains, facing evil and danger at every corner the Fellowship of the Ring must go. Their quest to destroy the One Ring is the only hope for the end of the Dark Lords reign.
9. No Time to Die
Director: Cary Joji Fukunaga
Cast: Daniel Craig, Ana de Armas, Rami Malek
Introduction: Bond has left active service and is enjoying a tranquil life in Jamaica. His peace is short-lived when his old friend Felix Leiter from the CIA turns up asking for help. The mission to rescue a kidnapped scientist turns out to be far more treacherous than expected, leading Bond onto the trail of a mysterious villain armed with dangerous new technology.
10. The Hobbit: An Unexpected Journey
Director: Peter Jackson
Cast: Martin Freeman, Ian McKellen, Richard Armitage
Introduction: Bilbo Baggins is swept into a quest to reclaim the lost Dwarf Kingdom of Erebor from the fearsome dragon Smaug. Approached out of the blue by the wizard Gandalf the Grey, Bilbo finds himself joining a company of thirteen dwarves led by the legendary warrior, Thorin Oakenshield. Their journey will take them into the Wild. Although their goal lies to the East and the wastelands of the Lonely Mountain first they must escape the goblin tunnels, where Bilbo meets the creature that will change his life forever ... Gollum. Here, alone with Gollum, on the shores of an underground lake, the unassuming Bilbo Baggins not only discovers depths of guile and courage that surprise even him, he also gains possession of Gollum's "precious" ring that holds unexpected and useful qualities ...
---
Lots of people enjoy watching movies offline during their trip yet almost every streaming platform including Amazon restricts its download function. You are only allowed to download and keep the videos in the internal app for a limited period, which is 30 days at most. Also, you need to finish watching them within 48 hours once you start. These are not a big problem if you use a professional third-party tool, which can help you download videos as local files in MP4 or MKV format.
NoteBurner Amazon Video Downloader is the professional video downloader specially created to help users download videos from Amazon Prime Video. You can choose to download batches of videos in MP4 or MKV format at one time. The downloaded videos are of HD quality (up to 1080P) and preserved with their original multilingual subtitles and audio tracks. If you meet any problem during the use of the program, free updates and support are provided for you. Moreover, you can also save the metadata of the downloaded videos and sort out the videos accordingly.
Tutorial: How to Download Amazon Video with NoteBurner
Before you start to read the following tutorial, please install the program on your computer first.
1

Log-in Amazon Account

Run Amazon Video Downloader, and type any random word into the search box, then a pop-up window will prompt you to log in to your Amazon account. Please log in to continue the next steps.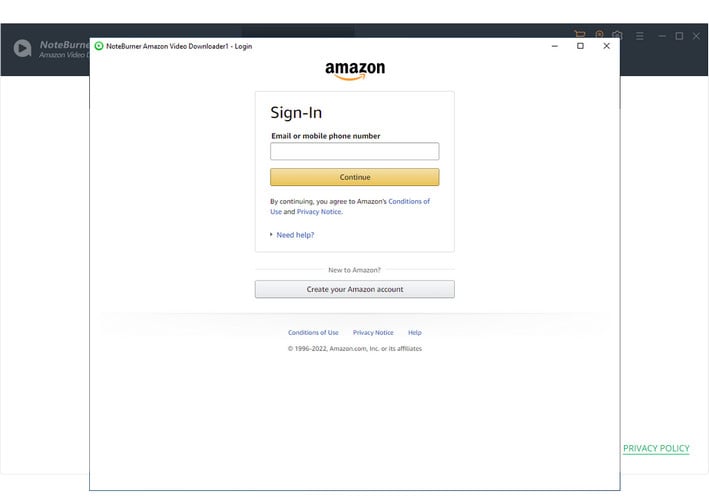 2

Choose Output Settings

Next, you can customize the output settings according to your needs. Click the Settings button in the upper right corner to activate the window, where you can choose the video format (MP4 or MKV), quality (High, Medium, and Low), output folder, etc.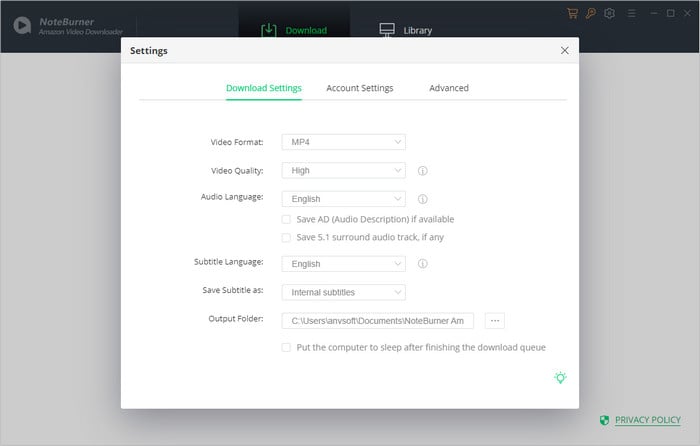 3

Search the Video

The program enables you to search for the video by entering the name of the video or copying and pasting the link of the video into the search box. All the relevant results will be listed by the program.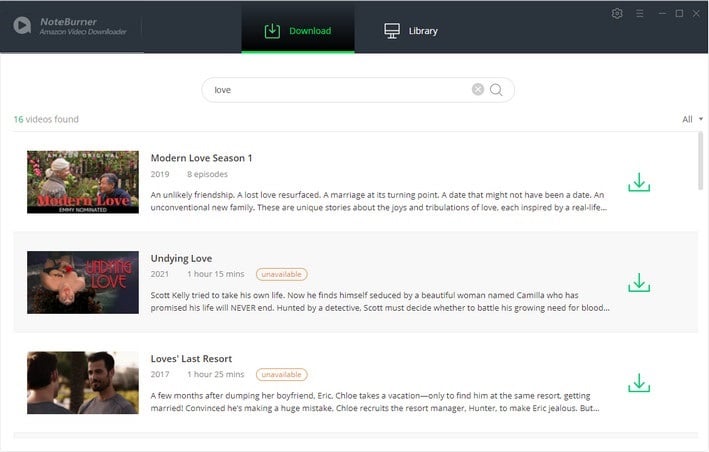 4

Customize Advanced Settings

Before you get to download the video, you can select the Advanced Download options first.

If the video you want to download is a TV show, you can click the Download icon, where you can choose the seasons and titles, and then click the Advanced Download icon to select the video quality, subtitle language, and audio track. If the video you want to download is a movie, you can click the Advanced Download icon, which is next to the Download icon, to open the window and choose the options.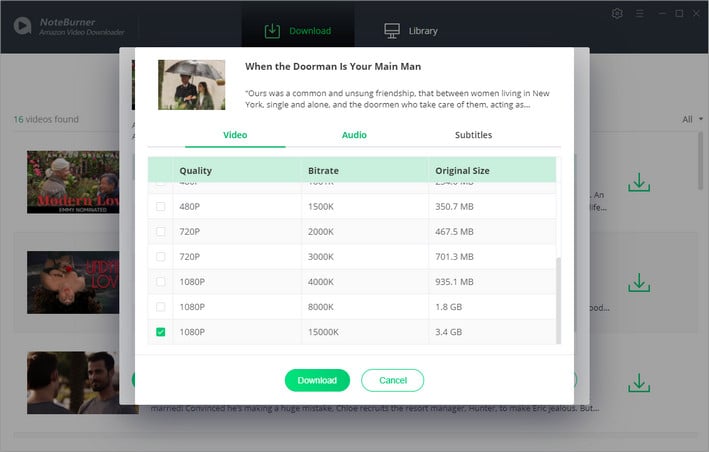 5

Download Amazon Videos

Now you can simply click the Download icon and the program will automatically download the video to the output folder that you have selected previously.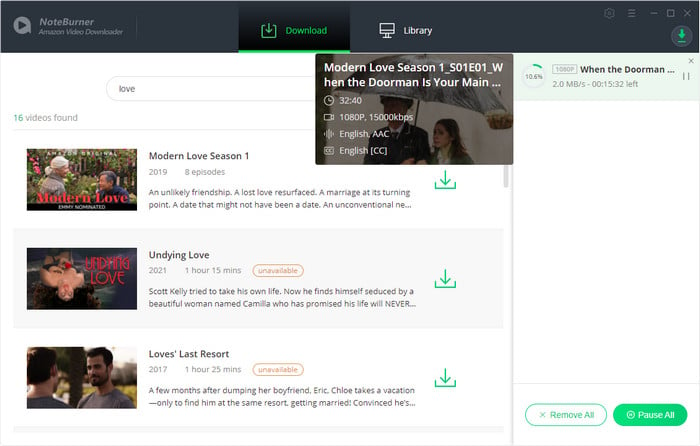 6

Upscale Amazon Videos to 4K Resolution

Currently, NoteBurner only supports downloading videos to 1080p at most. To watch 4K movies and series, you need to ask a third-party tool for help. AVCLabs Video Enhancer AI comes in handy to help with that. It's a powerful AI video enhancer that can upscale the resolution of videos by applying the power of AI technology. This AI-based video enhancer uses the deep-learning-based super-resolution technology to upscale videos from 480p to 1080p, 720p to UHD, and from 1080p to 4K.
Final Word
After downloading videos from Amazon, you can then enjoy them offline without ads at any time and save them forever for backup. Also, you can transfer the videos to whatever device you like. Install NoteBurner Amazon Video Downloader and enjoy the best 4K Amazon movies offline now!
Note: Only the first 5 minutes of each video can be downloaded with trial version, please purchase a license to enjoy the full video. It is suggested that to download the trial version and have a test before purchasing it.