Two Ways to Convert An iTunes Song to Different File Format
Do you want to convert the songs downloaded from iTunes 12.2 to other popular format, such as MP3, AAC, OGG and WAV formats? Do you even want to convert iTunes DRM-ed songs to plain MP3, AAC, WAV formats?
When it comes to this question, many people have no idea how to convert plain and even DRM-ed music downloaded from iTunes 12.2 to plain MP3, AAC and more formats. Here we introduce two ways to convert iTunes music to plain different file formats.
Method One: Convert Songs to Other Format with iTunes
Step 1. Open iTunes Preference.
• Windows: Choose Edit > Preference
• Mac: Choose iTunes > Preference
Step 2. Click the General button, then click the Importing Settings… button in the lower section of the window.
Step 3. From the Import Using pop-up menu, choose the encoding format that you want to convert the song to, then click OK to save the settings. MP3/AAC/AIFF/WAV Encoder is available to choose.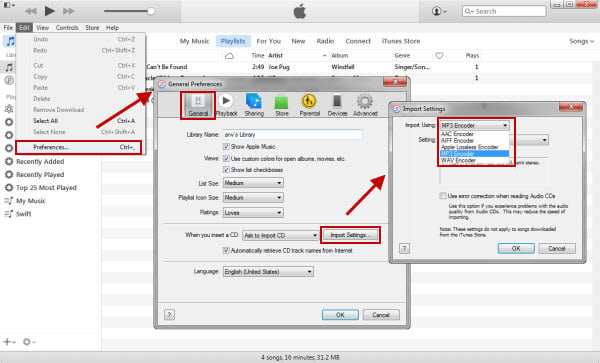 Step 4. Select one or more songs in your library, then from the File > Create New Version menu, choose one of the following (the menu item changes to show what's selected in your Importing preferences):
• Create MP3 Version
• Create AAC Version
• Create AIFF Version
• Create WAV Version
• Create Apple Lossless Version
Shortcomings of this method:
1.  If you convert between compressed formats (for example MP3 and AAC), you may notice a reduction in the sound quality.
2. You cannot convert older purchased songs, as they are encoded using a Protected AAC format that prevents them from being converted. If you need to convert these songs to another audio format, please refer to method two.
Method Two: Convert iTunes Songs Using NoteBurner Audio Converter
NoteBurner Audio Converter (for Windows & for Mac) is a top iTunes Music Converter works on Windows and Mac platform. With a powerful virtual CD burner, NoteBurner Audio Converter is able to remove DRM from iTunes audio files downloaded from iTunes 12.2 and convert them to various of common audio formats like MP3, AAC, WMA, and etc for playing on MP3 players, Android phones and tablets.
>> Download NoteBurner Audio Converter for Windows Here
>> Download NoteBurner Audio Converter for Mac Here
Step 1. Launch NoteBurner iTunes Music Converter and click the settings button on the tool bar. Choose format for output in General Option and check the blanks before Enable ID3 Tag V1 and Enable ID3 Tag V2 in the MP3 Option.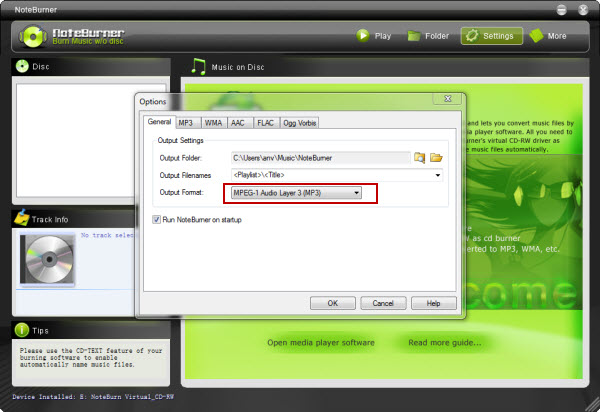 Step 2. Launch iTunes and create a new playlist. Add the music songs even DRM protected music you want to convert to the new playlist you have just created. NoteBurner Audio Converter can work perfectly with iTunes 12.2. So just right click at the playlist and choose Burn Playlist to Disc. Then you will see a pop window, just choose NoteBurner Virtual_CD-RW in the first option, and then click Burn button to start to burn iTunes DRM-ed music to plain audio format with lossless quality.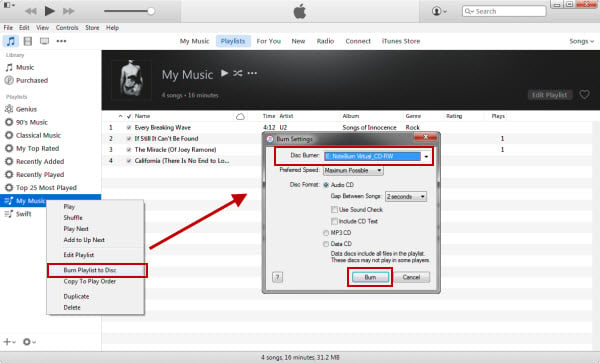 Step 3. When the conversion is finished, the converted playlist and songs will be displayed on the main interface of NoteBurner iTunes Music Converter. Then you can click the folder button to find the converted MP3 files. Or you can click the play button to play the converted music.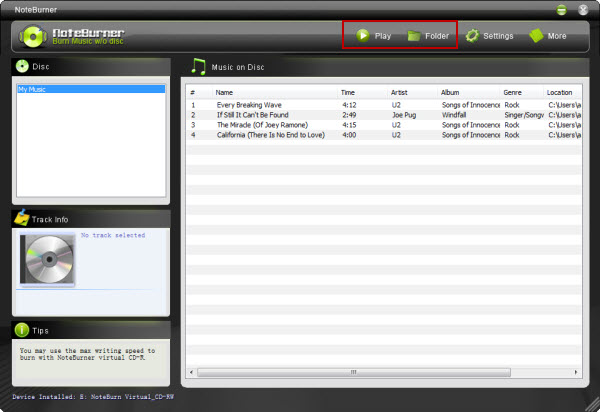 Conclusion
These two methods can convert iTunes music to other different formats. But, when you convert iTunes music with iTunes itself, you will find that the converted music is lossy and iTunes cannot convert protected songs. NoteBurner Audio Converter seems more powerful than iTunes, which can convert both iTunes plain music and DRM protected music with lossless quality.
What's next? Download NoteBurner iTunes Audio Converter now!
NoteBurner Audio Converter for Windows:

NoteBurner Audio Converter for Mac: