Xbox One vs PlayStation 4: Which one would be more fascinating?
It has been a few short months away since the release of Microsoft's Xbox One and Sony's PlayStation 4, and it is reported that both consoles are about to go toe-to-toe this holiday season. The Xbox 360 and PS3 have both sold over 75 million units, and have been around for the best part of a decade. The Xbox One and PS4 will define the future of home console gaming. Both systems are evenly matched in many respects and should be able to usher in the next generation of gaming that the Wii U hasn't been able to deliver. But which one is considered to be more worthy pre-ordering? We will compare these two consoles to help you make the right decision.

Xbox One vs PS4 – Price and Release Date
Both Sony and Microsoft are yet to reveal their exact release dates, although both have more-or-less confirmed that they'll arrive in November 2013. Microsoft announced its release plans earlier than Sony, but it's actually Sony that has teased the most information.
As well as potentially arriving a little earlier, the Sony PS4 also benefits from being cheaper. The PS4 will cost $399 in the U.S., £349 in the U.K., €399 in Europe and $549 in Australia sans the PS4 camera, previously known as the PlayStation 4 Eye. Xbox One will cost $499 in the U.S., £429 in the U.K. and $599 in Australia, a premium because it comes with the 1080p Kinect camera out of the box.
Xbox One vs PS4 – Design
Both Microsoft and Sony went with very box-like designs for their next-generation consoles. Microsoft's Xbox One is far, far larger – an imposing black monolith of the living room. The PS4 is sleeker, slimmer and less likely to dominate your under-TV space. The Xbox One packs a slot-loading Blu-ray disc drive in the front that the PS4 doesn't have.
Xbox One vs PS4 – CPU
The next Xbox and PS4 use extremely similar CPUs, made by AMD. Both use an APU setup, which links together both CPU and GPU into one package.

They're 8–core chips using 'Jaguar' cores – a term picked by their maker AMD to denote their chipset generation. Although it's yet to be officially confirmed, the PS4 chipset is expected to be clocked slightly higher than the Xbox's at 2GHz rather than 1.6GHz.
Xbox One vs PS4 – GPU and RAM
Both console makers are also relying on AMD to design their next graphics processors that will produce the next-generation visuals that differentiate console games from the emerging smartphone market. Having extra processing power will let the PS4 perform more tasks simultaneously – which should in theory allow for more impressive visual effects.
One of the most impressive things about the PS4 specs has been its use of 8GB GDDR5 RAM. Microsoft unveiled the Xbox One to have 8GB RAM as well, but it's DDR3 memory variety.
Xbox One vs PS4 – Motion Control
Microsoft designed the 1080p Kinect to track up to six skeletons for immerse video game effects that the company says is "human control for a human experience." Expanding on that motto, the packed-in Kinect 2.0 will be able to process 2GB of data per second, analyzing more joints, the slight rotation of a wrist or shoulder and your heartbeat.
The PlayStation Eye, which will not come with the PS4 system, features two 1280×800px cameras inside a similarly shaped camera bar. In addition to human interaction, the DualShock 4 controller will come into play with the PS4 camera thanks to its multi-colored light bar. It will also be compatible with those PS4 Move motion controllers that have gone unused.
Xbox One vs PS4 - Exclusive Games
Xbox One launch games include exclusives like Ryse: Son of Rome, Dead Rising 3, Forza Motorsport 5, Killer Instinct, LocoCycle and Kinect Sports Rivals. Also on day one is Call of Duty: Ghosts. It's not exclusive to Xbox One, but the downloadable content (DLC) is going to be a timed-exclusive (likely a month) for Xbox One gamers.
Further out, notable Xbox One launch windows games are Titanfall (likely another timed-exclusive for a year) , Project Spark, and Minecraft: Xbox One Edition.
Sony is also stacking its PS4 launch game lineup with Killzone Shadow Fall, DriveClub, Knack and Diablo 3, all exclusives releasing on day one.
Joining those games whenever the PS4 launch date happens to be will be Watch Dogs and Assassin's Creed 4: Black Flag from Ubisoft. Yes, both of these highly anticipated games are also releasing on Xbox One , but PS4 (and PS3) gamers are going to see an extra hour of gameplay for each.
Sony was also showing off PS4 games like inFamous: Second Son, The Witness and The Order 1886 at E3.
Below table shows the full Specs Comparison between Xbox One and PlayStation 4: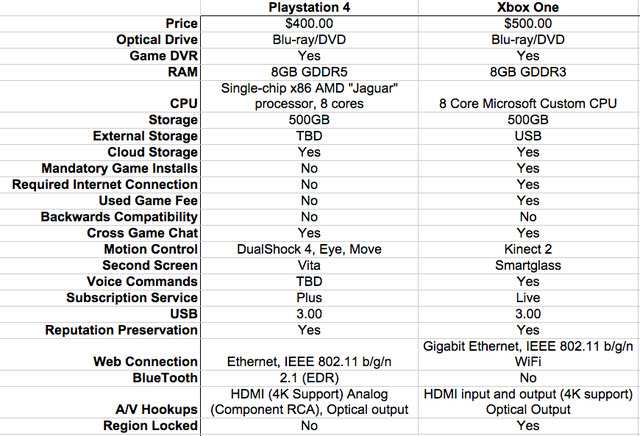 Extending Reading: Can I Stream my iTunes movies to Xbox One and PS4 for Playback?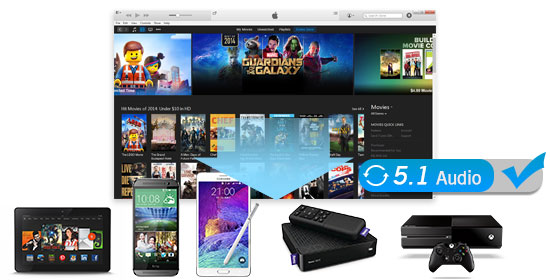 No matter which game console you would like to pre-order, it is no doubt that you can enjoy your time when you are playing with either of them. With a powerful ability of video decoding, both Xbox One and PS4 can also act as video player in your home entertainment system. And as for many iTunes users who like purchasing popular movies from iTunes movie store, it would be bad news that you can't play those iTunes movies or TV shows on your game console like Xbox One or PS4. DRM is the main reason why iTunes videos are not able to be played on other HD media players except the Apple TV. NoteBurner M4V Converter Plus (For Mac & For Windows) is just the best iTunes M4V to Xbox One converter and DRM M4V to PS4 converter that can help you convert iTunes DRM movies and TV shows to common video formats like MP4, MOV, AVI, WMV, MPEG4 and etc with ease.
What's next? Download NoteBurner iTunes M4V to Xbox One/PS4 Converter now!
NoteBurner M4V Converter Plus for Mac:

NoteBurner M4V Converter Plus for Windows: