Will iTunes Match Remove DRM from Purchased Songs?
iTunes Match is a music service provided by Apple since 2011. By using iTunes Match, user can have DRM-free music and enjoy music of higher quality. But is it a good way to remove DRM from your iTunes purchased songs? Will iTunes Match remove DRM from purchased songs? How does it work? This article will give you some idea about the pros and cons about this music service. And it will also introduce an alternative to iTunes Match for removing DRM from music.
Remove DRM from Music. How Does iTunes Match Work?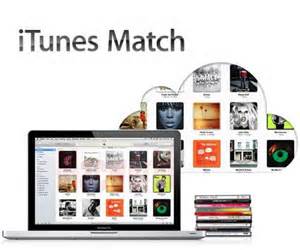 Once you've paid for the service and signed in, Match looks through your iTunes Library and sends a list back to Apple. It will automatically detect if you bought a song via iTunes or that you got it from somewhere else (ripped from a CD). If you didn't bought it via iTunes it will also check if it's available in the iTunes Music Store.
Music that hasn't been purchased in the iTunes Music Store will be matched with songs that are available. These songs will not have to be uploaded; Apple will just give you access to the iTunes version. This method will safe you a lot of time and will improve the quality of your library. Music that iTunes can't match will be uploaded to the cloud.
Once this process is done, your music is available in the cloud and can be accessed from your Mac, iPhone, iPod Touch or iPad via iTunes Match – Internet connection required. When buying a new album via iTunes or getting it from a other location, it will automatically sent it to all of your iDevices and Macs. Are you looking for a song that isn't on your iPhone but on your Mac? Then you can just start downloading the song via iTunes as long as it has been matched. But you can see iTunes Match doesn't actually remove DRM from your songs. What it does is to replace your protected music with DRM-free audio file.
The Good
1. Very convenient if your iTunes library is gargantuan and you use multiple devices to play music. You can easily grab tracks from your home library on your office machine, or your iPhone.
2. If you've got lots of crappy low–bit rate track, you can use Match to re-download 256Kbps AAC version.
3. Listen to iTunes Radio without ads.
The Bad
1. Matched tracks will download in 256Kbps AAC, so if you regularly use higher–bit rate files, your downloads will be lower quality.
2. iTunes Match doesn't match every song. For those don't match, you have to waste time on uploading. To prevent from upload, you need to delete the music from iTunes library before scanning.
3. It doesn't work in an environment that is lack of network or Wifi.
4. You need to pay $24.99 every year.
Alternative to iTunes Match for removing DRM from iTunes music
Wouldn't it be great if you can remove DRM from iTunes music effectively without network connection and just do the process every time as you want? There is workaround for this. NoteBurner M4P Audio Converter is a powerful M4P to MP3 music converting tool for Mac OS X. It can convert music files, MP3 downloads or even purchased iTunes DRM protected M4P, M4B, M4A files to plain MP3 or AAC format ready for use on any computers or mobile music devices such as iPod, PSP, Zune, iPhone, cell phone, MP3 player, MP4 player etc.
Key Features of NoteBurner Audio Converter

Remove DRM from iTunes M4P, M4A, M4B audio files.

Convert DRM M4P, M4A, M4B to MP3, AAC, WAV formats.

Use smart virtual CD RW burner technology.

Works perfectly without Wifi or network connection.

Remove and backup iTunes music as you want.

Only $39.95, one time payment & for life-time free update.
Download DRM Music Converter to remove DRM from iTunes music now!
NoteBurner M4V Converter Plus for Mac:

NoteBurner M4V Converter Plus for Windows: