Top 10 TV Shows of 2012
6. Breaking Bad (AMC)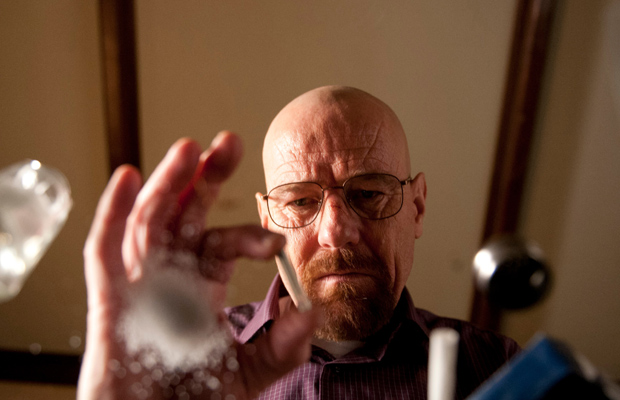 Stars: Bryan Cranston, Aaron Paul, Dean Norris, Anna Gunn, Betsy Brandt, Jonathan Banks, Bob Odenkirk, RJ Mitte, Jesse Plemons, Laura Fraser
Since Breaking Bad's fifth and final season won't completely end until next summer, it's a bit unfair to evaluate half of creator Vince Gilligan's swan song against others shows' full seasons.
Then again, eight episodes' worth of seeing Walter White's (Bryan Cranston, giving more Emmy-worthy performances) makeshift drug empire steadily crumble is better than most programs' entire 13-episode seasons. From the opening episode's wonderfully out-there magnet heist to the midseason finale's game-changing Hank (Dean Norris) development, Breaking Bad did a fine job of amplifying the dread.
Giving grizzled, scene-stealing co-star Jonathan Banks more screen-time was a masters' stroke executed by both Banks and Gilligan's creative team, and adding newcomer Jesse Plemons cleverly drove a seemingly unfixable wedge between Walt and Jesse (Aaron Paul). Not to mention, Plemons delivered one of Breaking Bad's most shocking, emotionally paralyzing moments—involving a handgun and a doomed little kid—at the end of the season's best hour, "Dead Freight."
7. Parks and Recreation (NBC)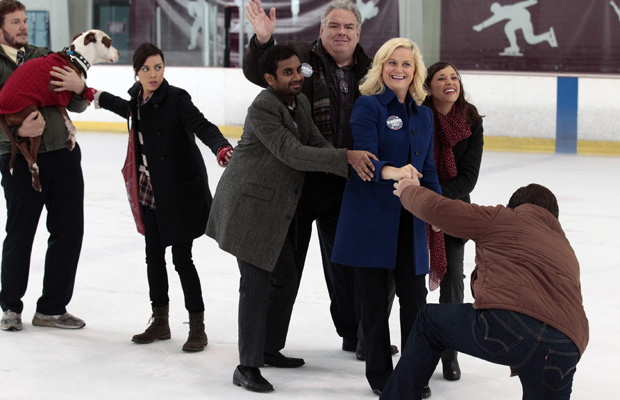 Stars: Amy Poehler, Nick Offerman, Adam Scott, Aubrey Plaza, Chris Pratt, Rashida Jones, Aziz Ansari, Rob Lowe
What's the funniest sitcom on TV? It's not even a competition, folks: NBC's Parks and Recreation has it all, namely a spotless ensemble cast, intelligent and hilarious writing, and a subersive streak that never feels forced or distracting.
In its fourth season, Parks and Rec used the central story arc of Leslie Knope's (Amy Poehler) campaign for city council as an entry point to bring in a slew of first-class guests stars. All making the most of their brief playtime, Patricia Clarkson, Paul Rudd, Kathryn Hahn, Christie Brinkley, and returning champ Louis C.K. kept regulars like Nick Offerman and Adam Scott on their A-games.
The show's biggest achievement, though, is its staggering consistency. Over a whopping 22-episode span, the normal non-cable sitcom length that typically results in several underwhelming filler eps for other programs, Parks and Rec never fails to supply several genuinely uproarious moments. Credit the presence of scene-stealers like Aubrey Plaza, Chris Pratt, and Aziz Ansari, but also acknowledge the exemplary work of a writing staff that's second to none in the comedy world.
8. Boardwalk Empire (HBO)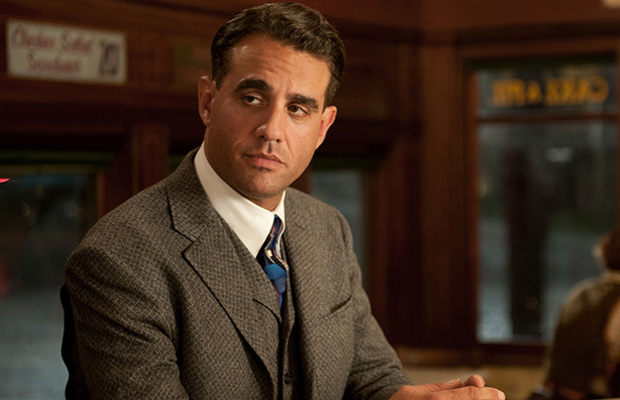 Stars: Steve Buscemi, Kelly Macdonald, Michael Shannon, Shea Whigham, Michael Stuhlbarg, Stephen Graham, Jack Huston, Vincent Piazza, Gretchen Mol, Michael Kenneth Williams, Bobby Cannavale, Anatol Yusef, Charlie Cox, Stephen Root
The tagline for Boardwalk Empire's third season was an attention-grabber: "You can't be half a gangster." And with that take-no-prisoners attitude, the Prohibition-era HBO drama really upped the body count this year, replacing last season's overarching what-to-do-with-Jimmy (Michael Pitt) tension with bootlegger warfare.
The resulting story lines weren't all successful, most notably Margaret's (Kelly Macdonald) meandering involvement with women's pregnancy issues. Elsewhere, though, series creator Terence Winter and his writing staff methodically, and quite impressively, developed plots for tragic war veteran Richard Harrow (Jack Huston, more deserving of some Emmy and/or Golden Globe love than ever before), explosive newcomer Gyp Rosetti (underrated character actor Bobby Cannavale), and hot-tempered Al Capone (Stephen Graham) that all satisfyingly paid off.
9. Nurse Jackie (Showtime)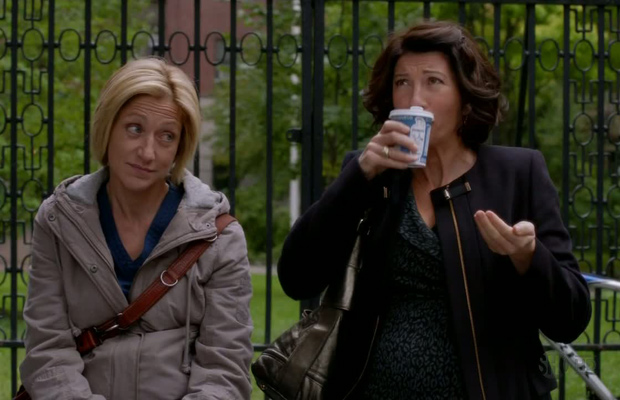 Stars: Edie Falco, Eve Best, Peter Facinelli, Merritt Wever, Paul Schulze, Dominic Fumusa, Anna Deavere Smith, Stephen Wallem, Bobby Cannavale, Ruby Jerins
Nurse Jackie might be the most unfairly misconceived show on television, mainly amongst the dude sect. Ask nine guys on the street if they've ever watched the dark Showtime comedy and you're likely to be met with blank stares and fuck-outta-here indifference. What's to blame? Perhaps a certain close-mindedness about a show centered on a middle-aged woman (the always stellar Edie Falco) and her mixture of workplace drama and domestic headaches.
Well, fellas in question, you're missing out on one of TV's best written, intriguingly complicated, and scathingly funny characters. As the titular pill-popper, Falco leads an eclectic cast of comedic talents, an ensemble that grew in strength during the half-hour show's fourth season, its greatest one yet. Bolstered by the addition of the underrated Bobby Cannavale as NYC's All Saints' Hospital tyrannical new leader, Nurse Jackie's wicked support team all brilliantly conveyed the hospital's eroding sense of order.
Yet it's always Falco who pushes Nurse Jackie into that upper echelon of cable television superiority. With Jackie's life in a tailspin, due to an erratic stint in drug rehab and a bitter divorce, the four-time Emmy-winning actress showed viewers why she's a foolproof lock for a nomination year in and year out. Per usual, she has our vote.
10. Wilfred (FX)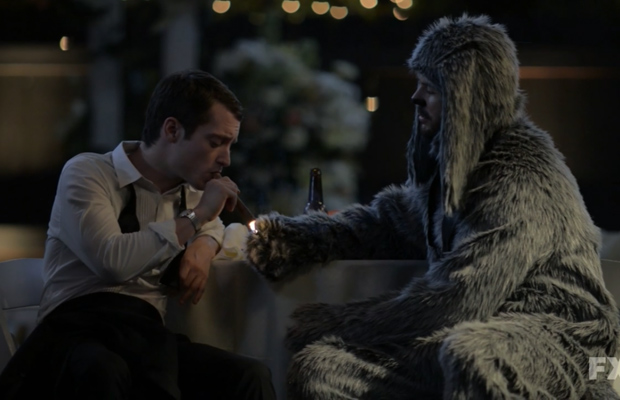 Stars: Elijah Wood, Jason Gann, Fiona Gubelmann
One of these days, the dark FX comedy Wilfred will receive its just due. Perennially underrated since its June 2011 debut, the delightfully twisted series—about the disturbed companionship between a troubled guy named Ryan (Elijah Wood) and big neighbor's dog (Jason Gann), the latter manifested in Ryan's warped mind as a dude in a raggedy canine suit—balances psychological complexities with hilarious raunch, a delicate tonal marriage that's not easy to execute and deserves its props.
Leading man Wood's acting throughout the 13-episode season maintained Ryan's standing as one of TV's most fascinating characters, the mentally tormented straight-man to Gann's showy, outlandish wisecracker. Together, they're the closest thing present-day television has to the chemistry of The Odd Couple.
Continue Reading: How do you enjoy these popular TV shows?
It is obvious that most of us prefer sitting in front of the TV set and watching these hottest TV shows. However, not everyone have enough time to watch TV. Those people would like to downloading the TV shows from iTunes which is the biggest and the most popular media center around the world. But there is a problem that some of iTunes users don't have Apple devices like iPad, iPhone and iPod, and they need to view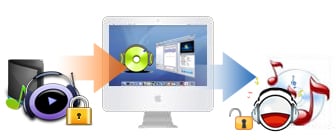 TV shows on other media players or devices. And the TV shows downloaded from iTunes have DRM protections which disable you copy or transfer M4V video contents from iTunes library to other devices or video players for playing. In order to offer help, we suggest you try NoteBurner M4V Converter Plus for Windows or M4V Converter Plus for Mac (it depends on the OS your computer runs) which is the best iTunes DRM video converter for you to remove DRM from iTunes M4V TV shows and convert them to common video formats for all kinds of video players and devices.
What's next? Download NoteBurner iTunes DRM Video Converter now!
NoteBurner M4V Converter Plus for Mac:

NoteBurner M4V Converter Plus for Windows: