Top 10 TV Shows of 2012
1. The Walking Dead (AMC)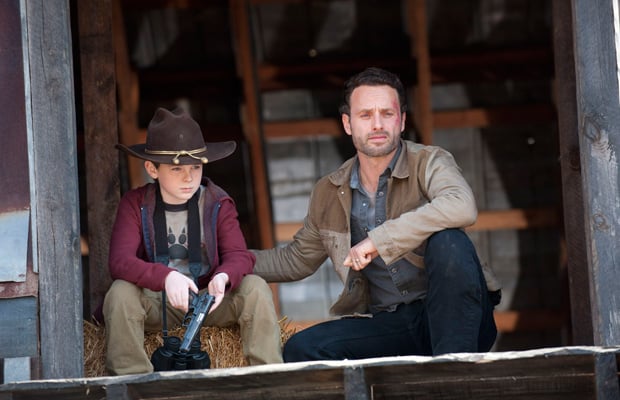 Stars: Andrew Lincoln, Norman Reedus, Sarah Wayne Collies, Chandler Riggs, Steven Yeun, Laurie Holden, Lauren Cohan, Scott Wilson, Dvaid Morrissey, Danai Gurira, Michael Rooker, Dallas Roberts, IronE Singleton, Melissa McBride
Under original showrunner Frank Darabont, The Walking Dead was a damn good but flawed show with tons of unfulfilled potential. Thanks to Glen Mazzara, who stepped in to fill Darabont's role after AMC's behind-the-scenes drama, the network's adaptation of Robert Kirkman's wildly popular comic book series is now exactly what optimistic fans thought it could be all along: bold, fearless storytelling that, frankly, is ballsier and more satisfying than anything else on the tube.
Wisely, Mazzara and his Walking Dead team abandoned the slower, languishing pace established by Darabont in favor of breakneck urgency. With its numerous zombie kills, bountiful gore, several major characters' terminations, and a heightened sense of danger supplied by bringing deadly comic book favorites (Michonne, the Governor) into Rick Grimes' (the excellent Andrew Lincoln) ever-threatening world, The Walking Dead was on fire all throughout 2012.
Furthermore, it's the people's show, breaking cable ratings records and dominating social media conversations every Sunday night while never registering with Emmy voters and making many stuffed-shirt pundits resist its genre sensibilities. Mad Men and Breaking Bad can keep those highbrow accolades—AMC programmers, open-minded viewers, and zombie lovers know what's up.
2. Justified (FX)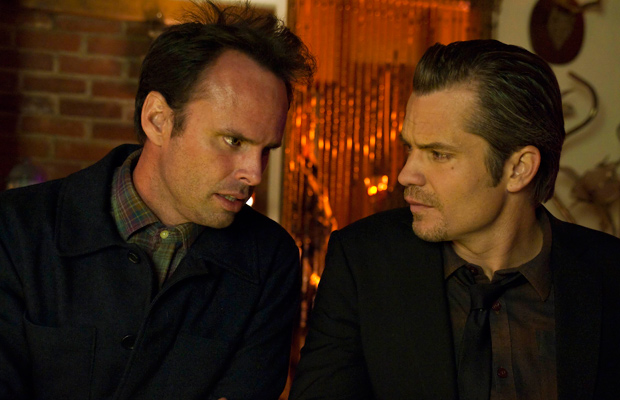 Stars: Timothy Olyphant, Walton Goggins, Neal McDonough, Mykelti Williamson, Demetrius Grosse, Jeremy Davies, Natalie Zea, Joelle Carter, Raymond J. Barry, Jere Burns
One of these days, the privileged few who vote on Emmy nominations will wake up, acknowledge the cowboy hat, and give Timothy Olyphant a statue. This year, throughout Justified's thrilling third season, Olyphant, as US Marshal Raylan Givens, continued his small-screen reign of excellence. Charming, imposing, and able to crack wise better than most of his TV peers, Olyphant holds the Kentucky-set series down without falling behind his equally proficient co-stars. That's no small accomplishment, either, since, once again, Justified benefited from a remarkable supporting cast.
Last year, the show's flawless second season introduced us to an incredible antagonist, Mags Bennett (Emmy winner Margo Martindale), thus setting the bar sky-high for season three baddie Robert Quarles (Neal McDonough). Fortunately, McDonough nailed it, giving the unstable yet icy-cool Quarles a fascinating lunacy that grew all the more riveting as the season progressed.
Kudos to Justified's creative team for also amplifying the violence and gore without overshadowing the season's twisty narrative, a combination of various subplots that all congealed, explosively, at that.
3. American Horror Story: Asylum (FX)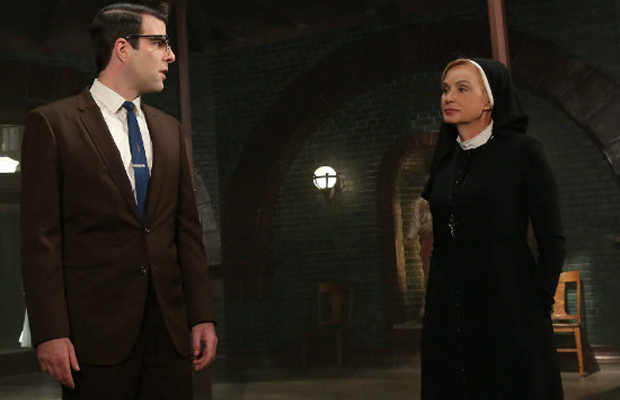 Stars: Jessica Lange, James Cromwell, Zachary Quinto, Lily Rabe, Chloe Sevigny, Joseph Fiennes, Sarah Paulson, Evan Peters, Adam Levine, Jenna Dewan, Franka Potente, Clea DuVall, Lizzie Brochere
Last year's inaugural season of American Horror Story was so over the top in its forcible craziness that, while endlessly enjoyable, it left cynical fans wondering if co-creators Ryan Murphy and Brad Falchuk didn't just unleash a badass one-year fluke. How in the hell could they top the Murder House's large gang of horny ghosts, S&M demons, and deformed monsters?
The answer: Throw every horror trope imaginable at the screen and hope it all congeals. Fortunately, those hopes have been realized in American Horror Story: Asylum, a 1960s-set freak show filled with aliens, mad Nazi doctors, devil-possessed nuns, monstrous patients running around with syphilis and countless other diseases, and a serial killer named Bloody Face. And, to think, the season isn't even over yet.
On a weekly basis, it's an absurdist blast, never succumbing to pretentiousness and consistently finding new ways to shock, awe, and delight folks who'll gladly bodily dismemberment in prime time.
4. Mad Men (AMC)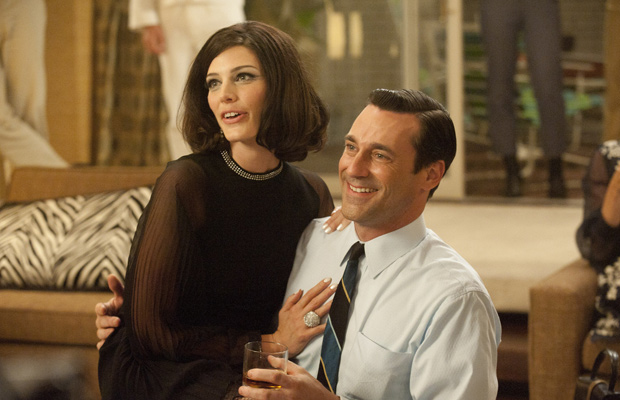 Stars: Jon Hamm, John Slattery, Jessica Pare, Vincent Kartheiser, Jared Harris, Elisabeth Moss, Christina Hendricks, January Jones, Aaron Staton, Rich Sommer, Kiernan Shipka
As expected, AMC's critically adored drama returned from its 17-month hiatus in tip-top shape. Starting off in 1966, Mad Men's superb fifth season brought with it a host of challenges for Don Draper (Jon Hamm, as great as ever). At home, his marriage to his loving, anti-Betty Draper spouse, Megan (the breakout Jessica Paré), inspired the known lothario to settle down and remain faithful; at work, the ever-changing times signaled his elder statesmanship, seen by his out-of-touch chat with a teenage Rolling Stones fan.
None of this hurt Sterling Cooper Draper Pryce as a whole, though, with the show's central ad agency scoring a few big deals. Beneath the company's surface, however, brewed discontent and self-hatred. Peggy (Elisabeth Moss) finally reached her Don-doesn't-respect-me-enough breaking point, while Lane (Jared Harris) let past mistakes and a lack of support from Don motivate him to commit suicide.
With Pete Campbell (Vincent Kartheiser) also going through his own self-evaluation, thanks to a tryst with an unstable married gal (Alexis Bledel), Mad Men's latest run tackled the series' usual brand of subtle psychosis and inter-office positioning (see: Christina Hendricks' excellent work handling Joan's promotion via sexual favor) with an increased level of elegance.
The flack that show creator Matthew Weiner catches for his closed-door dealing with AMC isn't quietly addressed; some say his demands for higher budgets ultimately led to original The Walking Dead showrunner Frank Darabont's animosity toward the network. But as Mad Men reaffirmed this year, Weiner and his staff tell mature and provocative stories with a singular grace.
5. Game of Thrones (HBO)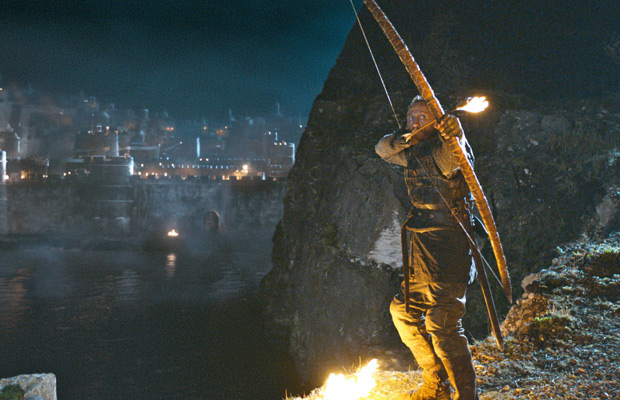 Stars: Peter Dinklage, Lena Headey, Nikolaj Coster-Waldau, Emilia Clarke, Alfie Allen, Aiden Gillen, Kit Harrington, Charles Dance, Isaac Hempstead-Wright, Sophie Turner, Richard Madden, Maisie Williams, Jack Gleeson, Stephen Dillane, Carice van Houten
Someone should time how long the opening credits sequence for HBO's Game of Thrones runs—it has to be the longest on all of television. And that's because the gruesome, captivating sword-and-sorcery series, based on author George R.R. Martin's best-selling A Song of Fire and Ice book series, seems to average at least one new character introduced per episode. Somehow, perhaps through the kind of magic seen on the show, showrunners David Benioff and D.B. Weiss consistently weave a multifaceted and endlessly compelling yarn around Game of Throne's stacked cast.
During the show's debut season, breakouts like Peter Dinklage (as pint-sized shotcaller and ladies man Tyrion Lannister) and Emilia Clarke (the golden-haired dragon lady Daenerys Targaryen) received most of the attention, but season two saw a few previously limited performers step to the forefront in major ways.
Of special note were Alfie Allen, who gave the suddenly megalomaniacal Theon Greyjoy's violent quest for power a stark (no pun intended) vulnerability; Sophie Turner, the brave young actress who shares most scenes with that sniveling bastard Joffrey (Jack Glesson) and continually manages to hold her own; and Maisie Williams, the 15-year-old wonder who played little Arya's undercover survival within the Lannister family's guarded walls with a sympathetic toughness.
How Game of Thrones balances so many rich characters while delivering eye-grabbing moments of wild carnage and pricey visual effects is one of the show's many selling points. That just goes to show you the paramount importance of substance over style.
Continue Reading: How do you enjoy these popular TV shows?
It is obvious that most of us prefer sitting in front of the TV set and watching these hottest TV shows. However, not everyone have enough time to watch TV. Those people would like to downloading the TV shows from iTunes which is the biggest and the most popular media center around the world. But there is a problem that some of iTunes users don't have Apple devices like iPad, iPhone and iPod, and they need to view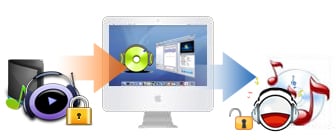 TV shows on other media players or devices. And the TV shows downloaded from iTunes have DRM protections which disable you copy or transfer M4V video contents from iTunes library to other devices or video players for playing. In order to offer help, we suggest you try NoteBurner M4V Converter Plus for Windows or M4V Converter Plus for Mac (it depends on the OS your computer runs) which is the best iTunes DRM video converter for you to remove DRM from iTunes M4V TV shows and convert them to common video formats for all kinds of video players and devices.
What's next? Download NoteBurner iTunes DRM Video Converter now!
NoteBurner M4V Converter Plus for Mac:

NoteBurner M4V Converter Plus for Windows: