Nokia announced Lumia 928 with 4.5-inch OLED display, OIS camera
Have you heard of Nokia's near future plans for its Lumia range? Nokia has made it come true by releasing it's Lumia 928 on Verizon. Nokia's latest installment supplants the Lumia 822 and HTC's 8X for the US carrier, matching the camera specifications (Carl Zeiss f/2.0 lens, 8.7-megapixel sensor) which was packed in the Lumia 920. There's also high-amp mics and a 4.5-inch OLED (1,280 x 768) display protected by a layer of Gorilla Glass. Inside, you'll find a capable 1.5GHz dual-core Snapdragon S4 processor, 2,000mAH battery and 32GB of storage for all those low-blur photos.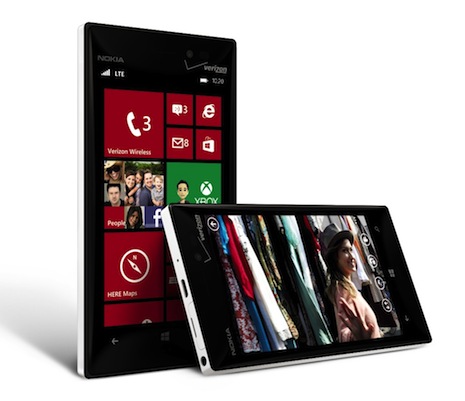 The Nokia Lumia 928 will launch on Verizon Wireless on the 16th of May, the handset will be available for $99 after a $50 mail in rebate, plus you will also get a $25 credit towards Windows Phone apps.
What are the differences from Lumia 920?
For the most part the devices are very similar. Below are similarities of Lumia 928 with Lumia 920:
1. 4.5 inch display size
2. 1.5 GHz dual-core Snapdragon S4 processor with 1GB RAM
3. 8.7 megapixel PureView camera with Carl Zeiss optics with Optical image stabilization (OIS)
4. Qi wireless charging capability
5. 2000 mAh battery
6. 32GB of internal storage
But there are differences. The main improvements to the new Lumia 928 which earns it the extra 8 digits on the model number and that 920 users will be wishing they had are as follows.
1. OLED screen
The first is that the new Lumia 928 will feature a 4.5-inch OLED display rather than LCD IPS one as seen on 920. That should make a big difference in direct sunlight and battery power as the OLED screen will be more vivid and deliver a better battery life - supposedly. The purists will also point out that the OLED screen comes with a PPI of 334 compared to the Lumia 920's 332ppi but that is serious nitpicking. 
2. Xenon flash
The second is that the Lumia 928 will come with a Xenon flash rather than the LED flash as seen on the 920. This is going to be welcomed by photographers already impressed by the Lumia's low-light capabilities. 
3. Three microphones
The third is that you get three high audio amplitude capture (HAAC) microphones for better audio recording allowing you to record what's going on around you with better results. Nokia is really pushing the video angle here. 
4. Better speaker
The fourth is that it comes with a new and improved speaker that goes up to 140 db to get the party started when you are enjoying Nokia music, Spotify or a host of other music services on the bus. 
5. It's taller, but lighter
The new 928 is slightly taller (133.0mm vs 130.3mm), but it is thinner and weighs less too (162.0g vs 185g). That weight difference should make a big difference to the new phone (we found the 920 to be very heavy). The phone is also thinner in width (68.9mm vs 70.8mm). 
6. Better battery life
Nokia is promising improved battery life for the Lumia 928 over the Lumia 920. According to the specfication pages on the Nokia website, the 928 has a maximum talk time of 16.2 hours compared to 10.8. A maximum standby time of 541 hours compared to 460 hours, and playback time of 80 hours compared to 74. 
Extending Reading: How Can I Unlock iTunes DRM-ed Videos and Play them on Lumia 928?
As we know, videos, movies and music (before 2009) purchased from iTunes Store are copy-protected by Apple's DRM. Due to the DRM protection, you can only play and watch your iTunes purchases on Apple products like iPhone, iPad, iPod, etc. Sometimes you many want to remove iTunes DRM so that you can view iTunes media files on non-Apple programs or devices like HTC, Samsung, PSP, Zune, Xbox 360, Windows Media Player and including Nokia Lumia 928. Then, is there a way to remove DRM from iTunes movies? Luckily, there is.
In fact, it's quite easy to remove DRM from iTunes. What you need is an iTunes DRM video converter. NoteBurner M4V Converter Plus (for Windows & for Mac) is an ultimate iTunes DRM M4V Converter which helps users remove DRM protection from both purchased and rented M4V movies, TV shows and music videos and convert them to unprotected video formats for all kinds of portable media players, cell phones, tablets, etc.
What's next? Download NoteBurner iTunes M4V to Nokia Lumia 928 Converter now!
NoteBurner M4V Converter Plus for Mac:

NoteBurner M4V Converter Plus for Windows: