Review: Would Moto X Stand out in the Sea of Smart Phones with Various of Customized Features?
Finally, Motorola announced the first smart phone product since the its acquisition by Google. Though the Moto X is regarded as a new flagship of Motorola's phone products, it doesn't sport a superfast processor, or even the very latest version of Google's Android operating system. It isn't meant to compete with Samsung for the hearts of people who buy phones based mostly on hardware specs. It does, however, allow its users lots of control via voice and gesture commands, which speed up and simplify common tasks like taking pictures, placing calls, or getting directions.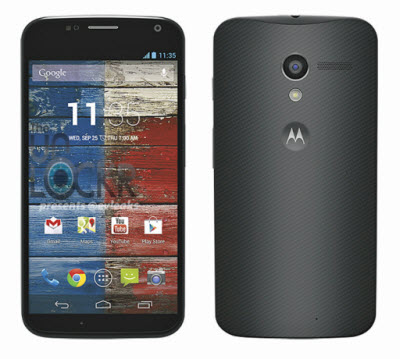 Hardware and Appearance
The Moto X has a 4.7-inch screen encased in a curved plastic body that feels smaller and better in the hand than the 4.7-inch HTC One. The screen is 316 pixels per inch, and offers 720p video, a step below the 1080p now common on newer high-end phones. The Moto X's midrange dual-core CPU also feels a little puny. It handles Android 4.2.2 great, but what about the already-rolling-out Android 4.3, or Android 5? Besides, Moto X's long battery life is more impressive which promising 24 hours of mixed use.
Voice Controls
A unique feature of the Moto X is that its voice sensors are always on, with a new low-power processor devoted entirely to speech recognition. Instead of pressing a button to activate speech, you use a voice command (starting with "OK Google Now"). The Moto X's Touchless Control is designed to sense and filter out background noise and to respond only to one user's voice.
Camera
The Quick Capture Camera has its own learning curve to master. It's an ingenious use of gestures: two quick twists of the wrist activate the camera application from off or locked without having to press a button. Once in the camera app is running, touching anywhere on the screen takes a picture. The goal is to go from having the camera in your pocket to taking a picture in less than two seconds.
Customization with Moto Maker
The Moto X is manufactured in the United States, which means U.S. customers can chose from 252 different color configurations, with a promise of more variations to come. This level of customization will make the Moto X stand out.
Detail Specs Comparison among HTC One, Samsung Galaxy S4 and Moto X: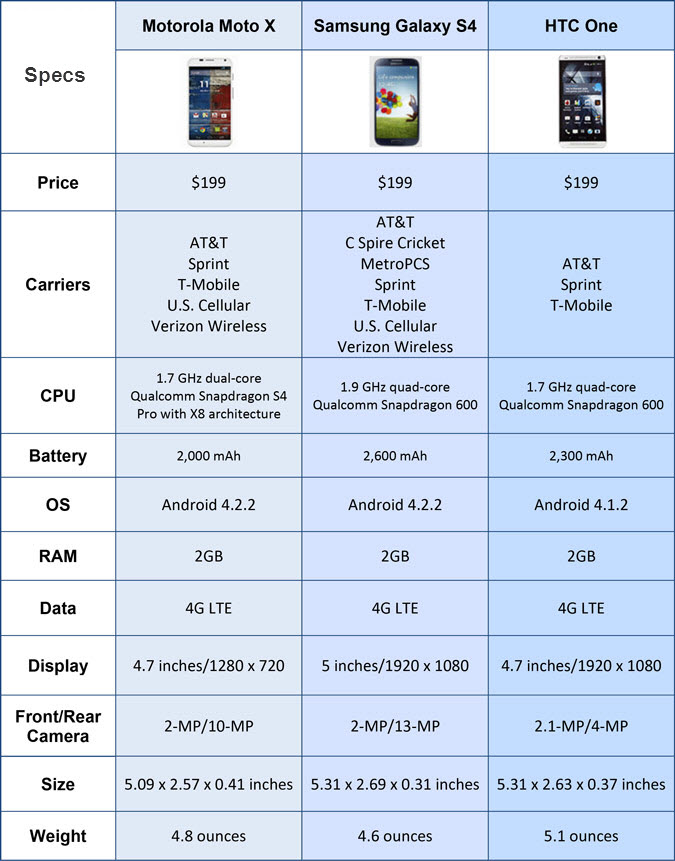 Extending Reading: How to Watch iTunes TV shows on Moto X?
Though 720p display is not so good as the 1080p one, Moto X's 4.7 inch screen is also suitable for you to watch movies and TV shows. Most of the videos are supported by Moto X, but iTunes movies and TV shows are not allowed to be played on Moto X. Why?
General speaking, Android phones including Moto X can't directly play iTunes movies due to the DRM from Apple. The best way to watch iTunes TV shows on Moto X is to remove DRM from iTunes M4V TV shows so that you can freely play them on any devices include Moto X. NoteBurner M4V Converter Plus (For Mac) & (For Windows) acts as the best DRM removal tool and iTunes M4V to Moto X converter which helps you easily convert iTunes DRM TV shows to common video formats like MP4, MOV, AVI, WMV, MPEG4 and etc.
What's next? Download NoteBurner iTunes M4V to Moto X Converter now!
NoteBurner M4V Converter Plus for Mac:

NoteBurner M4V Converter Plus for Windows: