Apple iPhone 5 vs Nokia Lumia 920 vs Samsung Galaxy S3
iPhone 5: What You Need to Know
Thank goodness. The Apple iPhone 5 is finally here.
As expected, Apple chief executive Tim Cook announced the much-anticipated sixth-generation iPhone at a media event in San Francisco on September 12, 2012. Here let's take a look at the run down of what you need to know about the iPhone 5.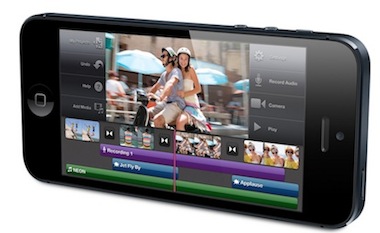 All-new design: The iPhone 5 is the thinnest phone Apple has ever made, with a 4-inch Retina display, boasting 1136 x 640 pixels (or 326 pixels per inch) with a 16:9 ratio.
Powerful A6 chip: Twice as fast as A5 chip in graphics and CPU performance. Besides, it improves the battery life, up to 8 hours of talk time, and up to 10 hours of video playback time.
Global 4G LTE connectivity: Dubbed "Ultrafast Wireless," the handset now includes HDPA+, DC-HSPDA, and 4G LTE for global next-generation networking.
iSight camera: Featuring an 8 megapixel camera, it takes photos at 3264 x 2448 resolution. It also has backside illumination and a five-element lens.
iOS 6: New features include maps, panorama, passbook, Facebook integration, privacy improvements, etc. Dubbed the "world's most advanced mobile operating system", available to download in late September.
Sum up
"Apple's iPhone 5 bigger, faster but lacks 'Wow'." --Reuters
Which Will Win: iPhone 5 or Nokia 920 or Galaxy S3?
Since we got the final specs of the iPhone 5, every one of you may wonder how it will fare against its high-profile competitors—Samsung Galaxy S 3 from Android and Nokia Lumia 920 from Windows Phone. The best-selling Galaxy S III is the leader of the droid gang, while the newly introduced Nokia Lumia 920 is seemingly the best that the WP8 camp will be able to offer.
Is the iPhone 5 good enough to face those two in a fierce specs battle and come out victorious? Why not join us to find it out now?
Comparison: iPhone 5 vs Nokia 920 vs Galaxy S III
| | | | |
| --- | --- | --- | --- |
| | | | |
| Product | Apple iPhone 5 | Nokia Lumia 920 | Samsung Galaxy SIII |
| Price | $199.99, $299.99, $399.99 | Unannounced | $199.99-$329.99 |
| OS | iOS 6 | Windows Phone 8 | Android 4.0 |
| Processor | Proprietary A6 CPU | 1.5GHz dual-core Qualcomm Snapdragon S4 | 1.5GHz dual-core Qualcomm Snapdragon S4 |
| 4G LTE | Yes | Yes | Yes |
| Memory | 16GB, 32GB, 64GB | 32GB; 1GB RAM | 16GB or 32GB; 2GB RAM |
| Display | 1,136x640  | 1,280x768 | 1,280x720 |
| Expandable memory | No | No | Up to 64GB |
| Camera | 8-megapixel, 720p front-facing | 8.7-megapixel, 1.2-megapixel front-facing | 8-megapixel, 1.9-megapixel front-facing |
| NFC | No | Yes | Yes |
| Battery | Capacity TBA (Talk time up to 8 hours on 3G); embedded | 2,000 mAh, embedded | 2,000 mAh, removable |
| Weight | 3.95 ounces | 4.7 ounces | 6.5 ounces |
| Colors | Black, White | Black, White, Yellow, Red, Gray | White, Blue, Red (AT&T); Also, globally: Black, Brown, Gray |
So which phone do you prefer? Some of you may choose iPhone 5 since is a reliable, intuitive package that earns top points for software and hardware reliability. Some of you may switch to Nokia 920 because of the NFC, wireless charging, and promises of a gorgeous display. Of course, the rest of you will say Galaxy S3 has long been LTE-capable and offers a removable battery.
Continue Reading: Transfer iTunes Movies to iPhone 5/Nokia 920/Galaxy S3
No matter which phone you are going to pick up, the iPhone 5, Nokia 920
or Galaxy S3, you can't ignore the high-resolution display. It must be so great to play movies on those top-leading smartphone. Have you ever thought about transferring your iTunes movies to those phones for watching? Because of the DRM protection, iTunes movies are only allowed to play on Apple's devices. But sometimes, due to different video bit rate or other configures, some movies don't play perfect even on iPhone 5. In this situation, we suggest you to try some professional DRM removal tool, such as NoteBurner M4V Converter Plus for Mac, or NoteBurner M4V Converter Plus for Windows.
They are both designed to strip the DRM control from movies purchased or rented on iTunes store. You can use them to convert iTunes video files to non-DRM video formats, such as MP4, MOV, AVI, MPEG, etc on Mac and Windows.

What's next? Download NoteBurner to remove DRM protection now!
NoteBurner M4V Converter Plus for Mac:

NoteBurner M4V Converter Plus for Windows: