iPad Mini vs. Nexus 7 vs. Kindle Fire HD: Which Tablet Do You Like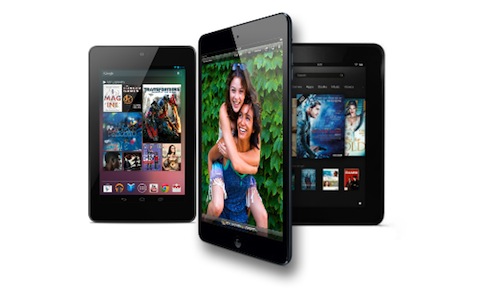 Bigger isn't always better. As expected, Apple finally announced and published its iPad mini, which is seen as the biggest competitor to other 7-inch tablets already exist in the small tablet market, such as Google 's Asus-built Nexus 7 and Amazon's Kindle Fire HD. A little bit ironically, the new released iPad mini even became a big competitor to its brother, the iPad series. Anyway, for you who are going to get a small tablet, you may wonder how the three highest-profile competitors--iPad mini, Nexus 7 and Kindle Fire HD compare to each other. Here we are going to make a comparison among those three tablets, in order to help you figure out which one is right for you.
Screen & Display
Let's take a look at the screen first. iPad Mini has the largest screen of 7.9 inches, compared to the 7 inches for Nexus 7 and Kindle Fire HD, while it has the lowest resolution which is 1024x768 pixels and the other two both have 1280x800 pixels.
Weight
The weight is also an important factor when you are considering to bring it with you anywhere you go. iPad Mini is the lightest among the three at 308g, Nexus 7 is only 32g heavier and Kindle Fire HD is the heaviest at 394g.
Performance
Yes, the most important part when you are choosing a tablet is to consider the performance of it. The iPad Mini is running a fast A5 processor and iOS 6.0. Nexus 7 is running 1.7GHz Quad-core NVIDIA Tegra 3 with Android 4.1, while Fire HD is running 1.2GHz TI OMAP4 4460 with Android 4.0.
Performance is fairly similar across the board, despite the use of different innards, though the Kindle Fire lags behind in overall speed. For watching movies, playing games, running apps, and web browsing you should have a good experience on all three, but the Nexus and Mini stand a leg ahead.
Regarding the battery life, the iPad mini edges the win on battery life, but the other two are not far behind. They should all get you through a day of normal use.
For more specifications, please refer to the table below:
Product
Apple iPad Mini
Google Nexus 7
Amazon Kindle Fire HD

Price

$329 (16GB WiFi)
$459 (16GB LTE)
$429 (32GB)
$559 (32GB LTE)
$519 (64GB)
$199 (8GB)
$249 (16GB)
$199 (16GB)
$249 (32GB)
Capacity
16GB / 32GB /64GB
8GB / 16GB
16GB / 32GB
Memory
1GB
1GB
1GB
Interface
Lightning Interface 3.5mm headphone
micro USB, 3.5mm earphone
microSD, micro HDMI, 3.5mm headphone
Front Camera
FaceTime HD
1.2 Megapixels
HD
Main Camera
5 Megapixel, 1080p video
No
No
Cellular Network
Optional LTE
No
No
WiFi
802.11a/b/g/n
802.11a/b/g/n
802.11a/b/g/n
Bluetooth
4.0
4.0
3.0
Thickness
7.2mm
10.45mm
10.3mm
Conclusion
If you want to buy a small tablet so you can play games on the go, then look no further than iPad Mini because of the largest screen, fastest processor and largest game selection;
If you are looking for a tablet mainly to play your tunes or read books, the Kindle Fire HD might be it, since it has dual speakers to provide loudest sound;
If you are buying your tablet to watch video, you can turn to the Nexus 7 for it delivers excellent images.
But if your only consideration is the cheapest price, then pick up the Nexus 7. The Google tablet isn't far superior than the Kindle Fire HD, but it has more apps and unlike the Amazon tablet, there are no ads.
Tips for Transferring DRM iTunes Movies to iPad Mini, Nexus 7 and Kindle Fire HD

Got the tablet already? Have you ever thought of watching iTunes movies on your iPad mini, nexus 7 or Kindle Fire HD? Yes but found the iTunes movies can't be imported to your non-Apple devices, such as Google Nexus 7 or Kindle Fire HD? Don't worry. If you are just looking for a way to transfer for iTunes DRM protected movies to your Nexus 7 or Kindle Fire HD or other tablets, you can simply use NoteBurner DRM iTunes to Tablet Converter to remove the DRM protection and convert the iTunes movies to Nexus 7 and Kindle Fire HD supported video formats.
If you are running Windows OS, you can refer to NoteBurner iTunes to Tablets Converter for Windows.

NoteBurner M4V Converter Plus for Mac:

NoteBurner M4V Converter Plus for Windows: