Apple: iPad Mini is coming - Features 7.9 inches size and LTE Support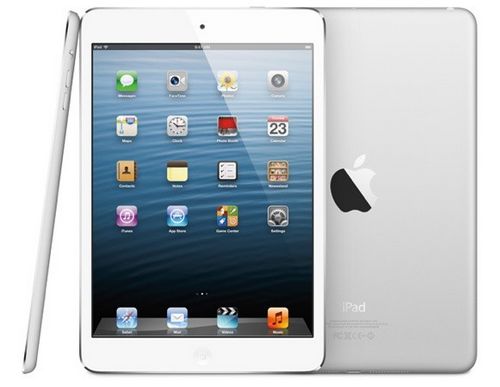 Though Apple didn't reveal anything about the product presentation on Oct 23, there are all kinds of rumors about the iPad Mini which is supposed to be a 7 inches smaller iPad. Now the iPad Mini is coming! Apple released its newest device- iPad Mini, a 7.9-inch tablet which is designed to go toe-to-toe with Google's Nexus 7. For now, it'll sit alongside the iPad 2 and 4th-gen iPad, and as it packs the same 1,024 x 768 display as the iPad 2, apps will carry across without any resizing. While Phil Schiller didn't mention Google or the Nexus 7 by name, the rival slate (and Google's app library) was compared to the newest iOS device. On stage, he claimed that the screen, which is .9-inch larger than the Nexus 7, gives the iPad mini 35 percent more display area than Google and ASUS' collaboration.

As to the hardware, the 7.2mm thick, .68 pounds device has been manufactured with an "all new" process that gives it the same anodized edges as you'll find on the iPhone 5. If you were hoping for equal specifications to the big-daddy iPad, you may be mildly disappointed. While it will pack a 5-megapixel camera and an LTE modem (if you opt to buy a cellular model), it's running the last-generation A5 CPU. However, the slower internals and less potent display may account for how the company has been able to squeeze out a claimed 10 hours of use despite the constrained space for a battery. Pre-orders for the $329, 16GB WiFi-only model begin on Friday (October 26th) and will begin shipping on November 2nd. The cellular-equipped models will begin shipping a few weeks afterward on AT&T, Verizon and Sprint, with the 16GB base model costing $459, running all the way to $659 for the 64GB unit.
Continue Reading: Top iTunes DRM M4V Video Converter
As iPad Mini seems more like to be a smaller version of iPad 2, you may consider
to make a change to buy a Android tablet with the same 7-inch size but larger RAM and higher defination such as Google Nexus 7 or Amazon Kindle Fire HD. And how to deal with so many movies purchased from iTunes Store? We know that those movies can only be played among Apple devices, but how can it be the only reason that we spend more to get the iPad Mini? In this situation, we suggest you to try some professional iTunes DRM M4V Video Converter, such as NoteBurner M4V Converter Plus for Mac, or NoteBurner M4V Converter Plus for Windows.
Both of above programs are designed to strip the DRM control from movies purchased or rented from iTunes store. You can use them to convert iTunes video files to non-DRM video formats, such as MP4, MOV, AVI, MPEG, etc on Mac and Windows. And the converted videos can smoothly be played on Android 7-inch tablets like Google Nexus 7 and Amazon Kindle Fire HD.
What's next? Download NoteBurner to remove DRM protection now!
NoteBurner M4V Converter Plus for Mac:

NoteBurner M4V Converter Plus for Windows: