Specifics Comparison between HTC Windows Phone 8X and Lumia 920
As Windows Phone 8 has been taken by more and more Mobile phone manufacturers like Nokia and Samsung, HTC can hardly wait to release its first Windows 8 Phone - HTC Windows Phone 8X. It was announced just two weeks after Nokia unveiled the Lumia 920. The tiny difference between these two phones seems to make us confused. And as a result, more and more people would like to make reviews and comparisons between them. The HTC Windows Phone 8X drops the phone screen into a richly colored slablike unibody design which is the same as that of Nokia Lumia 920. Besides, it also shares the same processor, LTE and NFC capability, and high-definition screens with Lumia 920.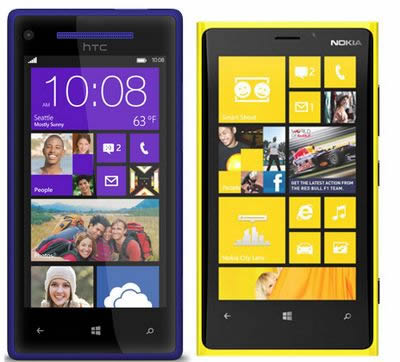 Below is a detail comparison between HTC Windows Phone 8X and Nokia Lumia 920:
| | | |
| --- | --- | --- |
| | HTC Windows Phone 8X | Nokia Lumia 920 |
| | | |
| Colors | Red, yellow, black, blue | Red, yellow, black, white, gray |
| Display | 4.3-inch Super LCD 2; 1,280x720 pixels, 342 ppi | 4.5-inch PureMotion HD+ display; 1,280x768 pixels, 332 ppi |
| LTE, NFC | Yes | Yes |
| Processor | 1.5GHz dual-core Qualcomm Snapdragon S4 | 1.5GHz dual-core Qualcomm Snapdragon S4 |
| Price | $199.99 | Unannounced |
| Weight and thickness | 4.6 ounces, 0.39 inch | 6.5 ounces, 0.42 inch |
| Cameras | 8-mp rear; 2.1-mp front | 8.7-mp rear; 1-mp front |
| Memory | 16MB; 1GB RAM | 32GB; 1GB RAM |
| Battery | 1,800mAh, embedded | 2,000mAh, embedded |
| Bluetooth | Bluetooth 2.1 | Bluetooth 3.1 |
| Extras | Beats Audio | Wireless charging, Dolby Audio |
Even though most of the specifics are the same between them, there are still some differences that can help you make decision about which really satisfy you.
Design
HTC's phone is significantly smaller, lighter, and thinner than the Lumia 920, which may provide a better portability. Actually the 4.3 inches screen seems no differences with the 4.5 inches. Maybe the designers of HTC also hold this opinion so that they can advertise the Windows Phone 8X as a powerful portable phone rather than the Lumia 920.
Displays
HTC gains the theoretical advantage with higher pixel density, 342 pixels per inch versus the Lumia's 332 ppi. But the Lumia 920 is promised with a very bright mode that will let owners read on the beach or in the desert.
Camera
Camera-wise, the 8X and Lumia 920 are equipped with an 8-megapixel shooter and a dedicated camera key. Both are capable of recording 1080p full HD video at 30fps. The former has an advantage of having a 2.1-megapixel front facing camera, which lets you perform HD video chats.
Others
As for the Bluetooth front, HTC Windows Phone 8X ships Bluetooth 2.1, while the Lumia 920 follows Bluetooth 3.1 standards. Though iPhone has improved the Bluetooth to the version 4.0, the NFC tech is still an attractive feature on both of these two Windows Phone 8 handsets.
Summary
As two typical products that run the Windows Phone 8 OS, both of the HTC Windows Phone 8X and Nokia Lumia 920 are not available now before Microsoft releases its Windows 8 OS. So, it is a good time to take a look at other reviews or comparisons on them and then decide which you want to buy. Anyway, Windows Phone 8 is really the thing that deserves expecting.
Continue Reading: Transfer iTunes Movies to HTC Windows Phone 8X/Nokia Lumia 920
With such a perfect screen display, it is really a feast to enjoy HD movies on HTC Windows Phone 8X
and Lumia 920. Do you have various movie collections purchased from iTunes? Have you ever thought about enjoying your iTunes movies on Windows Phone 8 handsets? Due the DRM protection, iTunes movies are only allowed to play on Apple's devices. But sometimes, you may want to extend your movie enjoying allowance. To help you remove DRM and play iTunes movie on HTC Windows Phone 8X and Lumia 920, we suggest you try NoteBurner M4V Converter Plus for Mac and NoteBurner M4V Converter Plus for Windows which are two top DRM remove tools run on different OS.
They are both designed to strip the DRM control from movies purchased or rented on iTunes store. You can use them to convert iTunes video files to non-DRM video formats, such as MP4, MOV, AVI, MPEG, etc on Mac and Windows.
What's next? Download NoteBurner to remove DRM protection now!
NoteBurner M4V Converter Plus for Mac:

NoteBurner M4V Converter Plus for Windows: