The Short Guide to Becoming a Professional Video Editor
The process of video production has grown to be a complex one. It comprises shooting and filming video; it also includes video editing processes, which is also an essential part of video production. The video editing process requires basic techniques and principles that make the process a tasking one, especially to beginners if not known or utilized. But if a newbie can implement some tips, video editing would be much easier and productive. Here are some tips to follow to become a professional video editor.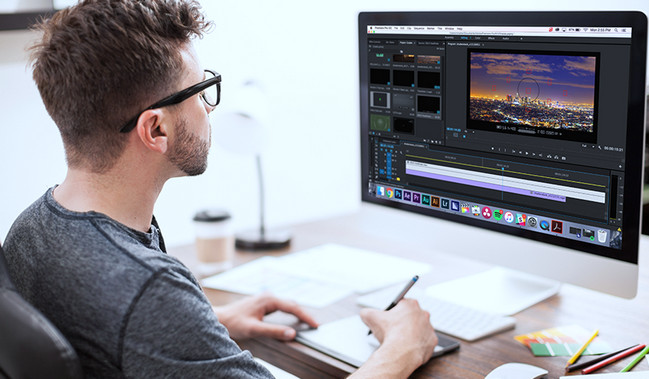 ---
Get the Right Tools
If you want to become a professional video editor, you have to use the right tools. There are numerous video editing tools and apps available on a wide range of platforms. The first task of becoming a professional video editor is to get the hardware you will use. There is the hardware you can use for your video editing. As a beginner video editor, you have to get the proper hardware and software tools for your video editing processes. You can use video editing tools like digital audio workstations (DAW), Digital audio transcripts, professional editing workstations, etc. You will also need to make use of software that will help you with the editing process. Software like Adobe premiere pro, Adobe premiere rush, Corel video studio, Filmora, CyberLink PowerDirector, Final cut pro X, etc., will also help you become a professional video editor.
As a beginner in video editing, you have to use fast computers to avoid frustration. A slow system will not handle huge files, which you will be dealing with the most. You have to get a fast computer, whether Mac, PC or whatever computer model you want to use; make sure it is fast. You can make use of keyboard shortcuts also for better video editing. To make use of these shortcuts, you will have to get a keyboard. If you can get the right tools, software, hardware, and other necessary stuff, you are on the path to becoming a professional video editor.
Create a Plan
Before you can start editing a video, you have to create a plan for your work. Video editing can be very tedious, but it doesn't have to when you create a strategy. You have to know what you want to achieve with the video you are making. If you know where you are heading with the video you are editing, the process will become easier and productive. You will have to identify the message you want to pass to your audience. You can also create a timeline for the video editing.
You need to gather all the clips you want to use, if you need help in downloading videos you can use NoteBurner YouTube Video Downloader. Then you should place the clips you want to use in order on your timeline. It is the visual representation of the sequence of clips that makes up your video. If you have a good plan for your video editing, it will be fun and more productive.
Start the Editing Process
Once you have everything in place, you should start the editing process. Once you assemble the raw clips in sequence as you begin to edit them to your preference. You have to know the necessary steps involved in video editing.
One of the steps you should know is splitting clips. You have to split the clips into segments to ensure they get sequenced into the overall narrative. You also have to layer the story by overlaying and overwriting clips to create dense and fluid visual narratives. You also have to cut down unnecessary parts of the video as quantity does not equal quality. Large quantity videos are prone to errors more than ones with low quantity. After performing every necessary detail, you can now add your finishing touches. The finishing touches should include tuning the video to what suits your audience.
Share the Videos to Others
One of the ways to become a professional video editor is by sharing your videos with others. Sharing your videos with other people will assist in helping you review your work. When you share the videos with people, they will check it, tell you where your mistakes are and how best you can correct them. You can use various video editing tools, including devices that will enable you to send large videos. These tools will allow you to send the videos to your audience. Sending videos will also increase your influence as a video editor, setting you on the path of becoming a professional.
Final word
Video editing can be cumbersome and tiring, but you have to understand some techniques and principles to make it fun. These principles will lay you on the path to becoming a professional editor. You only have to follow procedures, and your video editing turns out to be the best.
---
NoteBurner YouTube Video Downloader helps users download YouTube videos and music to the plain MP4/MKV/M4A format. Once the video content have been downloaded to one of those formats, you can stream the video offline with any players, make your personal edit, or transfer to other devices to watch. The most important thing needs to be mentioned, this program is completely for free, and users can always get the program up-to-date. Here are the key features of the program:
---
About the Author