Stream iTunes Videos to Nvidia Shield Android TV for Playing
Nvidia Shield Android TV is now available for you to purchase, bringing an impressive Android gaming and Android TV experience straight to your living room. Then, here comes the question, is it possible to cast videos even iTunes videos to Nvidia Shield Android TV for watching? Let's explore together.
Nvidia Shield Android TV Full Review
Genarally speaking, this Nvidia Shield Android TV tries to straddle two galloping horses headed in different directions: media streamers like Roku, Chromecast and Amozon Fire TV, and game console such as Xbox One and PS4. Featuring NVIDIA's Tegra X1 processor and 3GB of RAM, the Nvidia Shield Android TV enables you to smoothly use Android TV as well as run high-end games (both locally and remotely), and perhaps most importantly making you ready for any future software releases. What's more,  you get 4K video support and surround sound pass-through, which makes it able to handle 4K streaming content to your TV and complete surround sound. Even the Shield is a remarkably powerful little system, but its price which starts at $199 for 16GB internal flash storage, $299 for 500GB hybrid SSD/hard drive and lacking of entertainment, game and app options failed to impress the customer.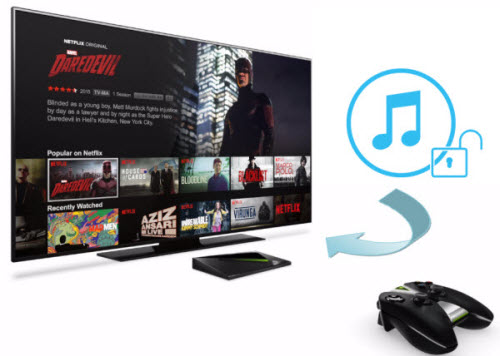 How to Play iTunes Videos on Nvidia Shield Android TV?
If you have a Nvidia Shield Android TV, you will find that it is impossible to stram iTunes videos to it for watching. Many people would wonder why? Because iTunes videos are protected by Digital Rights Management, so-called DRM, which limits iTunes videos from enjoying on any other non-Apple devices. To solve this problem, you can seek help from some third party software to remove DRM from iTunes videos, thus to convert iTunes DRM-ed M4V videos to plain video format for playing on other devices.
NoteBurner M4V Converter Plus (For Mac & For Windows) is a professional iTunes DRM Removal Tool which can help you remove DRM protection and convert iTunes movies and TV shows losslessly to Nvidia Shield Android TV supported normal MP4 format at 30X faster speed with AC3 dolby 5.1 surround audio and Closed Captions/subtitles preserved.
The following is a detailed tutorial about how to convert purchased or rented iTunes movies/TV shows to Nvidia Shield Android TV using NoteBurner M4V Converter Plus. Please download this useful tool on your Mac PC or Windows PC first before getting started.
NoteBurner M4V Converter Plus for Mac:

NoteBurner M4V Converter Plus for Windows:

Tutorial: Remove iTunes DRM for Casting the Videos to Nvidia Shield Android TV
What is Digital Rights Management?
Digital Restrictions Management is technology that controls what you can do with the digital media and devices you own. When a program doesn't let you share a song, read an ebook on another device, or play a single-player game without an internet connection, you are being restricted by DRM. In other words, DRM creates a damaged good. It prevents you from doing what would normally be possible if it wasn't there, and this is creating a dangerous situation for freedom, privacy and censorship.
What's next? Download NoteBurner DRM Removal Tool now!
NoteBurner M4V Converter Plus for Mac:

NoteBurner M4V Converter Plus for Windows: