Make Watching iTunes HD Video Possible on Glasses-Free 3D TV
Amazing new technology to provide 3D TV images without the need of glasses has been announced at this year's CES 2015 - the world's leading technology show in Las Vegas.
The televisions, initially ranging from 50 to 65 inches in size, utilise 4K panels for maximum clarity and feature real-time conversion into the special Ultra-D format from any 2D or 3D source: Blu-ray, cable, satellite, Xbox, PlayStation, and OTT services like Netflix.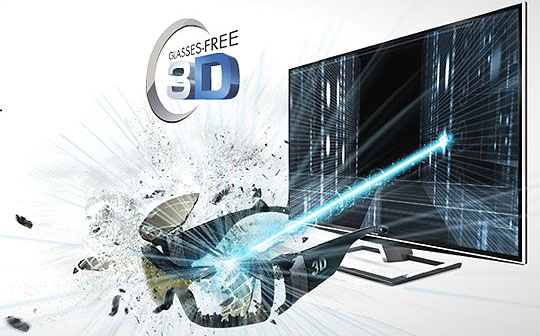 How can we watch iTunes HD video possible on Glasses-Free 3D TV?
All iTunes downloaded movies/TV shows are copy protected by Apple's DRM protection, which prevents us watching the iTunes content on any other Non-Apple devices. To play the iTunes movies on Glasses-Free 3D TV, we have to remove the iTunes DRM protection at first.
Here you need, NoteBurner M4V Converter Plus (For Mac & For Windows), a professional iTunes M4V video converter which can help you remove DRM protection and convert iTunes movies and TV shows losslessly to various video formats with 30X faster speed. After the conversion, you can import the converted files to your 3D TV for playing with ease. NoteBurner M4V Converter Plus can also enable you keep iTunes rentals forever!
Please download the program on your Mac PC or Windows PC first for preparation.
NoteBurner M4V Converter Plus for Mac:

NoteBurner M4V Converter Plus for Windows:

Remove DRM protection from iTunes HD videos with NoteBurner
How to Play Converted DRM-free iTunes Videos with 3D TV?
Method 1: Stream iTunes HD Videos to Glasses-Free 3D TV Via HDMI
Sometimes just plugging in your laptop via your TV's HDMI out is the fastest and easiest solution. There are no hiccups, no lags and endless possibilities. You can play your local files on VLC, and HDMI can also take care of the audio side for you, which means that sound will be transferred automatically to your TV speakers or speaker system.
If streaming media wirelessly via a set-top box surpasses your needs, just grab yourself an HDMI cable (and adapter, if needed) and make use of your large-screen TV without having pay for yet another device in your living room.
Method 2: Stream iTunes Movies or TV Shows Using Your Existing Gaming Console
If you have already rocked an Xbox or PlayStation in your living room. With the right tools, a gaming console can stream media right to your TV. Netflix has become a very popular option on the PlayStation 3. All this requires is the installation of an application from the PlayStation Network.
Another way is to install Playstation Media Serveron your Mac or PC, and, as long as you're connected to the same Wi-Fi home network, you can stream almost any file type from computer to PlayStation 3. 
What's next? Download NoteBurner iTunes Movie to Glasses-Free 3D TV now!
NoteBurner M4V Converter Plus for Mac:

NoteBurner M4V Converter Plus for Windows: