How to tranfer and play iTunes movies on iPad Mini 2?
How to transfer movies and TV shows to new iPad Mini 2 for playing? How can I keep the iTunes rentals on iPad Mini/iPad Mini 2?
iPad Mini has been one of the most popular 7-inch tablets all over the world since Apple firstly released it on Oct 23th, 2012. However, the definition of its 7.9 inch screen is 1024 x 768 is much lower than other 7-inch tablets which run on Android. The lacking of Retina display seems to be the only disadvantage of iPad Mini. And now, Apple Inc. unveiled its second-generation iPad mini, which features the same form factor as its predecessor but now includes a Retina display, in which the individual pixels on the screen can't be discerned with the naked eye.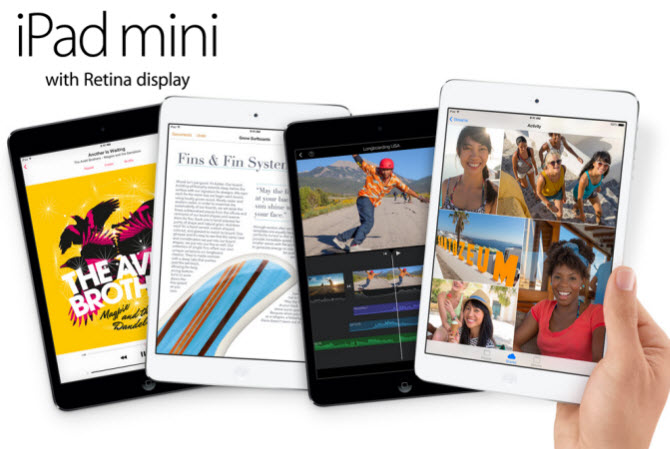 How to transfer HD videos from iTunes to iPad
Benefiting from the improved Retina display with 2,048x1,536 pixels definition, iPad Mini 2 is able to smoothly play HD videos with high video quality. iTunes provides numbers of movies and TV shows with HD quality, and it is quite easy for iOS devices to view the downloaded videos from iTunes.

The only thing you need to do is to connect the iPad Mini 2 to your computer and launch iTunes to sync the videos from iTunes to iPad Mini 2. Then you will find the videos in your iPad Mini 2. Please note: you should use the same Apple ID to authorize the iTunes on your computer and your iPad Mini 2.
Is it possible to keep iTunes rented movies on iPad Mini 2?
A movie rented from iTunes is only available with 24 hours as soon as you click to play it. Sometimes, there would be some issues which disturbed you from continueing enjoying the whole movie and you will be unable to watch them when you come back after 24 hours. So, some people will be glad if there is a way to transfer and keep iTunes rented movies on iPad Mini 2 for playing whenever you want.
Now, here is a simple solution for you. The only thing you need to do is to remove the DRM from iTunes rented movies with a powerful DRM removal tool. NoteBurner M4V Converter Plus (For Mac) & (For Windows) is the best choice for you to remove DRM and convert iTunes rented movies for tranfering and keeping on iPad Mini 2. To tell the truth, it supports both iTunes purchases and rentals for converting to non-protection videos like MP4, AVI, MOV, MPEG, FLV and etc.
What's next? Download NoteBurner iTunes movie rental to iPad Mini 2 Converter now!
NoteBurner M4V Converter Plus for Mac:

NoteBurner M4V Converter Plus for Windows: