User Guide Of NoteBurner Audio Converter
How to use NoteBurner Audio Converter with Windows Media Player
Step1. Choose target format and output folder
1. On the main window of NoteBurner, click the Settings button, a dialogue box will pop-out.

2. Browse to choose a file folder for storing the converted songs.
3. Choose MP3 as output format.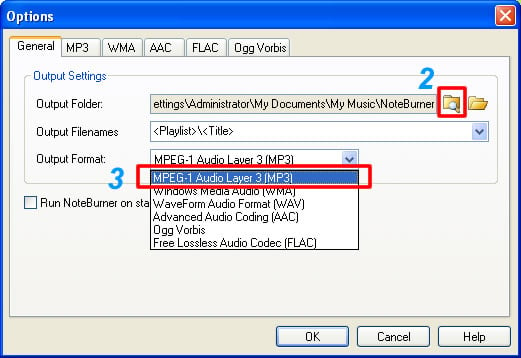 4. Go to MP3 tab and check the ID3Tag options.
5. Click the OK button to save the changes.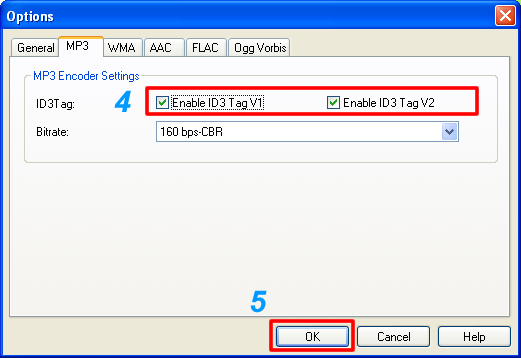 Step 2. Set NoteBurner as the default CD burner for Windows Media Player
1. Go to the main window of Windows Media Player
2. Click the Burn tab
3. Choose the CD Drive (G:) - Audio CD* as current CD burner.
*Note: NoteBurner virtual CD burner may show up as CD Drive (F:) or CD Drive (H:)
Step 3. Edit a playlist for burning to MP3
You can choose an already existing WMP playlist, or create a new playlist for burning to MP3.
1. Choose a playlist from the Burn List drop-down box.
2. You can edit the playlist to contain the songs you want to convert MP3
Tips: Since NoteBurner utilizes virtual CD burning mechanism to convert audio files, it's suggested that one playlist shall contain no more than 74 minutes music, that's approximately 650 MB files, the standard capacity of Compact Disc. If the playlist contains more than 74 minutes, the converted audio tracks might be divided into two or more vitual discs, depending on the number of the songs you add to the playlist.
Step 4. Burn the WMP playlist
Click on the Start Burn button to start burning the playlist. All the songs in the playlist will be converted to target format during the virtual burning process.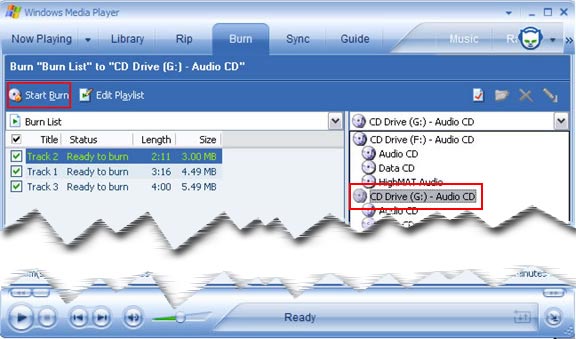 Step 5. Get the MP3 files
The converted playlist and songs will show up on the main window of NoteBurner.
1. You can double-click any song to preview the music, or click the Play button to play selected song
2. Click the Folder button to open the output folder, where you will find the converted MP3 files
Please kindly note: The current version (2.31) of NoteBurner audio converter is only compatible with WMP 10 and lower on a 64 bit. While if you are running a 32 bit OS, you can use Notecable audio converter to convert WMA files with WMP 11/12.