Remove DRM and Edit iTunes Videos with iTunes Video Converter
The movies, music videos and TV series purcahsed from iTunes Store are encoded by DRM protection which prevents you from editting the videos directly. However you can edit iTunes Video in NoteBurner M4V Converter Plus directly.
I have ever been in that case. I purchased Spongebob seasons from iTunes Store. I'm kind of disappointed they only come in blocks of two episodes like they show on TV. If possible, I would like to cut the video file into two separate episodes and edit the theme song and ending credits because it becomes repetitive.
Conventional video editors and video converters do not work for iTunes videos. My friends recommends NoteBurner M4V Converter Plus for me. It combines the features of DRM removal tool and multi-format video converter. It turns out to be an easy job to edit iTunes videos with NoteBurner M4V Converter Plus.
How to Edit iTunes Videos with NoteBurner?
1. Trim an iTunes Video
You have enough reasons to trim an iTunes video. For example, you would like to remove the repeated parts or you just want to cut the video file into two separate parts. With NoteBurner M4V Converter Plus, you can trim an iTunes Video in simply three steps.
Run NoteBurner M4V Converter Plus and import the video you have purchased from iTunes Store to the M4V Converter. The length of the video will be displayed in the window. If you click the scissor icon and choose "Custom time", you will be able to customize the start time and end time. Now you can choose a perferable output format and click the "Convert" button to trim the video.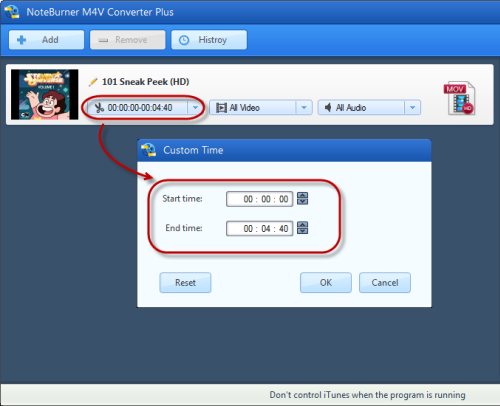 2. Extract Audio from iTunes Video
Will NoteBurner M4V Converter Plus help me extract the song from my purchased music video? Of course! You can even extract the audio file and video file separately with the M4V Converter. Choose "Disable Video" in the video options list and select "MP3" or "AAC" in the output format lists. The song will be extracted from iTunes music video easily.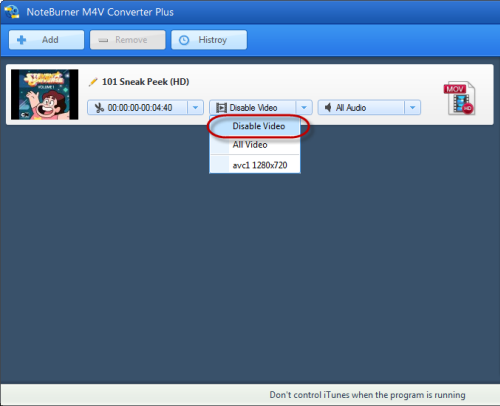 3. Customize Video & Audio Parameters
If you want to edit the video size or video quality, you can also do that within this M4V Converter. Click the "MP4" icon and in the popup dialogue box you can change the pareameters for both audio and video.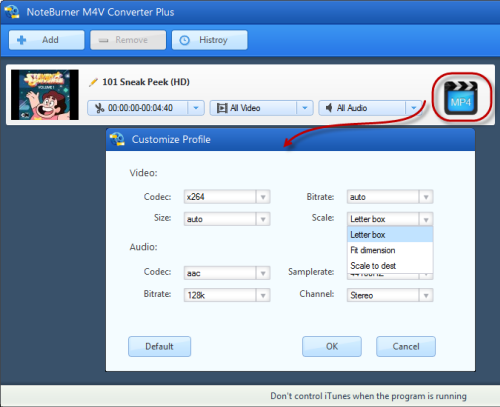 NoteBurner M4V Converter Plus can edit iTunes videos. It is definitely not the only feature. The free version limits to convert 1 minute and you can download to give it a shot.
What's next? Download NoteBurner iTunes DRM Video Converter now!