Best Movies Of 2012 on iTunes
Recently iTunes listed the best of 2012. The top-performing music artists, TV shows, books and movies have been announced which have achieved the most of recognition from iTunes users. Here we will take a look at the best movies of 2012 on iTunes.
Plot Summary
Marvel presents Marvel's The Avengers, the Super Hero team-up of a lifetime. Iconic Marvel Super Heroes Iron Man, The Incredible Hulk, Thor and Captain America assemble for the first time ever in this new action-packed Marvel saga, starring Robert Downey Jr., Scarlett Johansson and Samuel L. Jackson, and directed by Joss Whedon. When an unexpected enemy emerges that threatens global safety and security, Nick Fury, Director of the international peacekeeping agency S.H.I.E.L.D., finds himself needing a team to pull the world back from the brink of disaster. Marvel's The Avengers is packed with action, adventure and spectacular special effects that'll knock your socks off.
© © 2012 Marvel
Plot Summary
Moonrise Kingdom is the new movie directed by two-time Academy Award®-nominated filmmaker Wes Anderson (The Royal Tenenbaums, Fantastic Mr. Fox, Rushmore). Set on an island off the coast of New England in the summer of 1965, Moonrise Kingdom tells the story of two 12-year-olds who fall in love, make a secret pact, and run away together into the wilderness. As various authorities try to hunt them down, a violent storm is brewing off-shore – and the peaceful island community is turned upside down in every which way. Bruce Willis plays the local sheriff, Captain Sharp. Edward Norton is a Khaki Scout troop leader, Scout Master Ward. Bill Murray and Frances McDormand portray the young girl's parents, Mr. and Mrs. Bishop. The cast also includes Tilda Swinton, Jason Schwartzman, and Bob Balaban; and introduces Jared Gilman and Kara Hayward as Sam and Suzy, the boy and girl.
© © 2012 Focus Features. All Rights Reserved.
Plot Summary
Now on Digital HD. Teeming with magic, beauty and pure joy, this crowd-pleasing winner at the Sundance Film Festival has emerged as one of the year's most acclaimed films. Newcomer Quvenzhané Wallis delivers an "Oscar-worthy performance" (Philadelphia Daily News) as Hushpuppy, the tenacious six-year-old force of nature in an isolated bayou community. When her tough but loving father Wink (Dwight Henry) succumbs to a mysterious malady, the fierce and determined girl bravely sets out on a journey to save him. But Hushpuppy's quest is hindered by a "busted" universe that melts the ice caps and unleashes an army of prehistoric beasts.
© © 2012 Twentieth Century Fox Film Corporation. All rights reserved.
Plot Summary
Based on the best-selling books by Suzanne Collins, THE HUNGER GAMES is the first film in the franchise. Every year in the ruins of what was once North America, the Capitol of the nation of Panem forces each of its twelve districts to send a teenage boy and girl to compete in the Hunger Games. Sixteen-year-old Katniss Everdeen volunteers in her younger sister's place and must rely upon her sharp instincts when she's pitted against highly trained Tributes who have prepared their entire lives. If she's ever to return home to District 12, Katniss must make impossible choices in the arena that weigh survival against humanity and life against love.
© © 2012 Lions Gate Films Inc. All Rights Reserved.
Continue Reading: How to get rid of DRM from iTunes M4V movies?
Enjoying movies on iTunes seems to be a feast of eyes. However, how could it be that the movies you have bought can't be played on other devices except iPhone, iPad, iPod or Apple TV.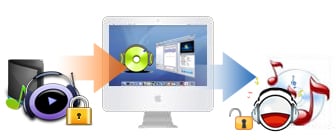 The movies, TV shows and music videos that you bought or rented from iTunes Store have DRM protections which prevent us from copying or transfering M4V video contents to other devices or video players for playing. The best solution is removing the DRM from those iTunes M4V videos, and here we suggest you try NoteBurner M4V Converter for Windows or M4V Converter Plus for Mac (it depends on the OS your computer runs) which is the best iTunes DRM video converter for you to remove DRM from iTunes M4V movies, TV shows and music videos.
What's next? Download NoteBurner iTunes DRM Video Converter now!
NoteBurner M4V Converter Plus for Windows:

NoteBurner M4V Converter Plus for Mac: