Play Streaming iTunes Videos on Sony Bravia TV
With 4K TVs now arriving in numbers and at increasingly affordable prices it's no longer just a technology for the tech-minded early adopter market.
Sony has unveiled world's slimmest Android television, the Bravia X90C, which is 4.9mm at its thinnest point, even less than an Xperia Z3 which claims to be the slimmest Smartphone.
With Android TV support, Sony TVs like the X90C will be able to Google Cast content from smartphones and tablets to the TV, use voice search and even flick though channels using Android Wear smartwatches like the Sony SmartWatch 3. Sony is first electronic company to introduce Android TV, the official Sony blog mentions that the device will be available in spring 2015 but the exact date has not been announced yet.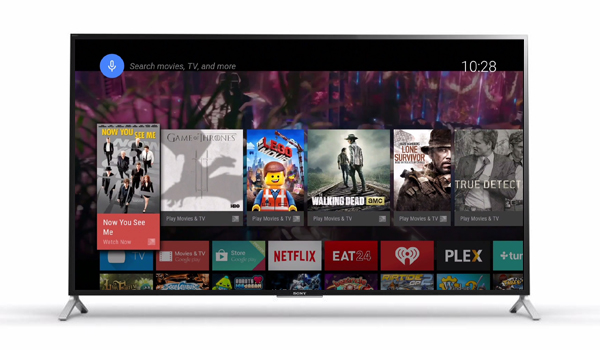 Best Way to Stream iTunes Video to Sony Bravia TV
Firstly, the most essential problem which needs to be solved before you stream itunes videos is DRM protection of iTunes contents. Although the Android TVs has much more different channels than commen 4K TVs , it still can not support itunes media contents, espeially movies and tv shows. In order to solve this problem, you need a tool to remove DRM protection just like the following program.
Here you need, NoteBurner M4V Converter Plus (For Mac & For Windows), a professional iTunes M4V video converter which can help you remove DRM protection and convert iTunes movies and TV shows losslessly to various video formats with 30X faster speed. After the conversion, you can import the converted files to your thumb drive and watch it on Google TV. NoteBurner M4V Converter Plus can also enable you keep iTunes rentals forever!
Please download the program on your Mac PC or Windows PC first for preparation.
NoteBurner M4V Converter Plus for Mac:

NoteBurner M4V Converter Plus for Windows:

Part 1: Remove DRM Protection from iTunes Movies or TV Shows with NoteBurner
Part 2: Stream Converted iTunes Videos to Sony TV by DLNA
If your Sony TV has an android system, you only need an application which acts as a dlna server that identifies itself as a dlna server on your network. Your tv will, when instructed, scan for dlna servers. It will only find dlna servers that have been activated on your computer.
When you activate a program that actually is a dlna server, you can find this server on your tv. You can then access the media that particular server has access to. For example, if you activate the windows media player server, your tv will find that server and you can access only the media windows media player has in its library. This works similar for all applications acting as a dlna server.
Part 3: Stream DRM-free iTunes Movies or TV Shows to Sony TV by USB Devices
On Sony TV, a USB port designed for users to connect the TV with USB devices, and import the external content. To play iTunes purchased or rented movies on Sony TV, we can use this USB port by transferring iTunes movies to Sony TV via this port.
As long as you converted the iTunes movies with NoteBurner M4V Converter, you can put the converted DRM-free MP4 videos to the USB port. And then connect the USB port with Sony TV to sync iTunes movies to it. Now you are free to watch any iTunes movie on Sony Bravia TV.
What's next? Download NoteBurner iTunes Movie to Sony Bravia TV now!
NoteBurner M4V Converter Plus for Mac:

NoteBurner M4V Converter Plus for Windows: